'Come Sail Away'
There may not be any money on the line, but that doesn't make the sailing competition any less fierce.
Sperry Charleston Race Week is entering its 24th edition in 2019, with three days of yacht racing set for April 12 through 14. The event has steadily increased in popularity, attracting talented sailors from around the globe, including America's Cup winners and Olympic medalists.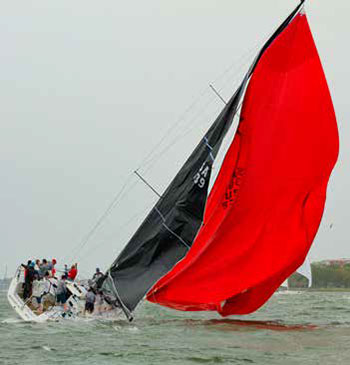 From its humble beginnings of 29 entrants in 1996, when Charleston Ocean Racing Association members established the initial iteration of race week, the event grew to include 285 boats at its peak and has become the largest sailboat regatta in the Western Hemisphere. There are 18 different classes of competition, and more than 300 volunteers help the event run smoothly. Entry fees, based on boat size, vary from $450 to $600.
"We try to keep the cost as low as we can," said Event Director Randy Draftz.
When the event started, attendees came primarily from the Charleston area. In 2018, there were entrants from 27 states and 12 countries. Eighty-five percent of participants now hail from out of town.
"It's grown through the years into one of the top events in the country," observed Draftz.
Four of Race Week's courses are set in Charleston Harbor. One is an offshore course and another, the Pursuit Course, starts and ends in the harbor, with a trip to the ocean in between. The Pursuit Course was introduced five years ago, and new classes are already being added due to the spike in entrants.
Competition is organized under a two-handicap system. ORC – Ocean Racing Congress – uses a velocity prediction program based on boat measurements, while PHRF – Performance Handicap Racing Fleet – uses a performance-based handicap system. Boats start at staggered times with the idea that they are supposed to finish around the same time. An aggregate score of points earned over the three days of racing is tallied to determine the winners in each class.
Sailor Andy Guhl, who lives in Mount Pleasant's Brickyard community and serves as rear commodore of CORA – the organizing authority for Race Week – will enter his 35-foot 1D35 yacht Fogdog for the fourth year in the larger-boat-class offshore races. In 2018, he and his eight-member crew placed first in the Offshore Challenge Series for the second straight year.
"Nobody's professional," he said. "We're just regular folks having fun just trying to race a boat."
Guhl, who retired from the corporate world, moved to the Lowcountry from Baltimore four years ago and works part-time at West Marine. In his capacity as CORA's rear commodore, he organizes all the local racing.
"The magnitude of this event is awe-inspiring," said Guhl. "It's an opportunity to meet the who's who of sailing from around the world."
Bob Musor, who resides in Charleston National, also will compete in Race Week for the fourth time with his 12-member crew. Musor, who has been racing sailboats all his life, bought his 42-foot, J 130 yacht Sceptre in 1995, which he races in the regatta's Pursuit Class. He finished in a tie for third in 2018.
He didn't know anyone when he arrived in the Charleston area from San Francisco but gradually picked up CORA members to join his Race Week crew and built great relationships based on a shared passion for sailing.
"I've been sailing a long time," said Musor, who has sailed to Hawaii twice from California. "I want to pass along the experience."
Musor has raced in events worldwide and said Charleston's regatta is probably the best-organized event he's ever competed in.
"The volunteers do a phenomenal job," stated Musor, who retired after working in Silicon Valley.
Rivertown resident John Keenan has entered his 40-foot, J 120 yacht Illyira in Charleston Race Week annually since moving to the Lowcountry from Manhattan 12 years ago. A past CORA commodore, his nine-person crew is comprised entirely of CORA members.
While their best finish to-date is middle of the pack, Keenan is optimistic about this year's chances. He said Race Week offers an opportunity for locals to "step up their game" and test their sailing prowess against a larger and more competitive class of boats from across the country.
"I like that it introduces unfamiliar boats to the racing scene," explained Keenan, who retired in 2012 after selling Keenan Marine Insurance, the yacht-insurance company he started and ran for 10 years.
Sponsors such as Sperry and Gosling's Rum play big roles in allowing the race to offer live music and parties daily after the racing – another key to the event's success.
Race Week is constantly evolving. Initially held in July, it was later moved to early spring to take advantage of better wind conditions and to attract boats migrating North after the Caribbean regatta season.
"We're trying to continually stay ahead of the curve," Draftz said. "We want to make this better and to grow the sport."
By Colin McCandless