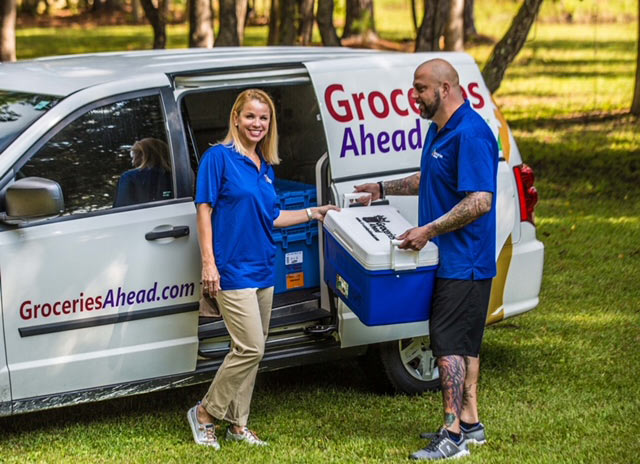 Anyone who has taken a vacation knows the relaxation and joy it can bring — but there are often elements .that can cause stress, too. Prepping, packing, fueling up, buying snacks, driving and "Are we there yet?" questions can continue for hours. By the time you arrive at your destination, you're ready to unpack as quickly as possible and unwind from the drama. But wait — if your final stop is a rental house or condo, it's time to go shopping for food and anything that may have gotten left behind, like a toothbrush or shampoo.
Enter Groceries Ahead, a Charleston business locally owned and operated by Daniel Caruso. Charleston has always held a special place in Caruso's heart — it's where he met his beloved wife, Lisa. After the Carusos met against the Lowcountry backdrop in 2008, they moved to New York shortly afterward to start their lives and family. But when a life-altering accident occurred in 2012, Caruso began to think about flexible career options. His wife's traumatic brain injury required her to stay home, and Caruso spent the next eight years caring and providing for his family. In 2018, the Carusos moved back to Charleston, where they were warmly welcomed.
When the opportunity to purchase Groceries Ahead presented itself, Caruso knew it was the right decision. Though the company had been in operation since 2006, it was a much smaller format, without many of its current nuances. The business has grown steadily, and Caruso's leadership and direction have truly taken the company to the next level.
Caruso helps his clients enjoy themselves while on vacation in greater Charleston by providing top-notch grocery service that goes above and beyond the standard order-and-delivery model. By partnering with local rental companies, Groceries Ahead takes the stress out of renting a vacation home by handling the shopping, delivering and unpacking of items a family might want and need. The Groceries Ahead team ensures each family has exactly what they need by shopping at different stores to obtain items in the brands, quantities and sizes desired — even down to toiletries, baby items and incidentals.
Caruso's goal with each order is for guests to walk into the property and feel like it is Christmas morning, with a fully stocked pantry and fridge of favorite snacks and already-chilled drinks. Groceries Ahead can also accommodate special events, like anniversaries, birthdays and graduations. Unique requests can be included in each order, and the staff will go above and beyond to make sure each customer is completely satisfied.
Caruso's ongoing devotion to his family is echoed in his commitment to ensuring each client has the best vacation experience possible. He recognizes that part of what makes Groceries Ahead so successful is Charleston itself. As a destination, Charleston boasts beautiful views, amazing food and world-renowned hospitality, with the personal touch that so many have come to appreciate. As the "concierge of grocery service" Groceries Ahead is sure to make any vacation or special event both carefree and memorable.
To place an order with Groceries Ahead, please visit their website, at groceriesahead.com.