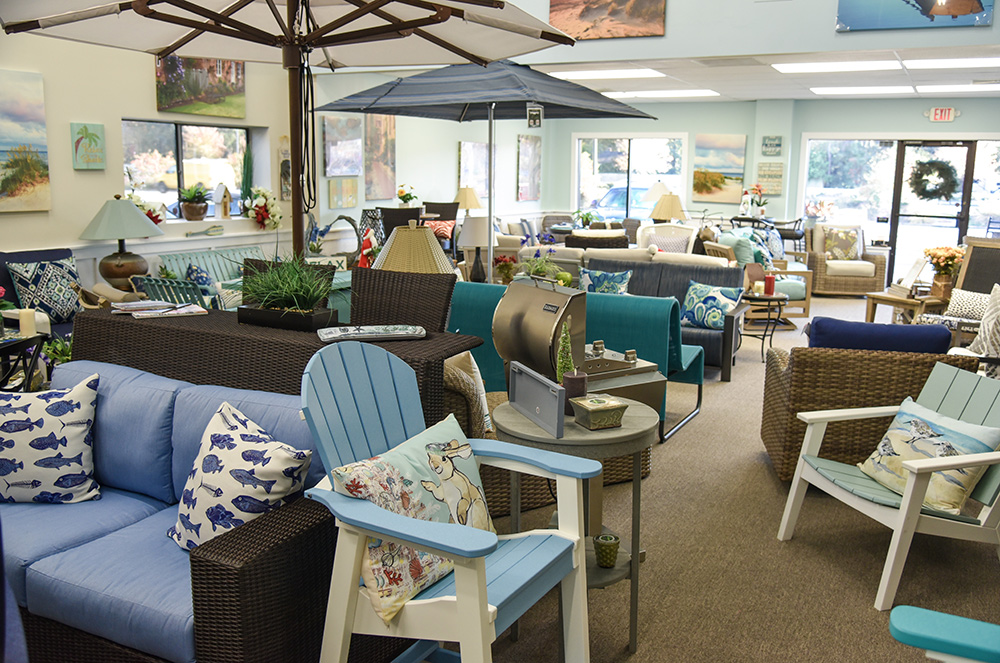 One of the best things about Mount Pleasant is that you can enjoy the great outdoors all year long. In fact, you don't even have to go far. Whether you have a backyard patio, pool deck, front porch or dock, let the friendly and expert team at Backyard Retreats help make your outdoor space into an oasis of relaxation and a favorite gathering spot for family and friends.
Locally owned and family-run, Backyard Retreats offers an array of top-quality outdoor furniture and accessories so you can put your mind at ease knowing everything you need and want is in one spot. From the moment you enter this boutique specialty store, you'll notice the wide range of furniture, from traditional to contemporary, and made of virtually maintenance-free polymer, cast, aluminum and all-weather wicker. Not only are the pieces beautiful and comfortable, they are durable and made to last.
Little things do matter, and that's why accessories make any setting better. Weather-proof artwork, pillows, rugs, lamps, candles and umbrellas are just some of those little extras sold at Backyard Retreats. Most of their accessories also make wonderful presents.
To aid you in using your backyard during cooler months, don't forget to check out the fire pits at Backyard Retreats. Choose a wood burning or natural gas fire pit, and then invite your neighbors over to enjoy s'mores on those cool winter evenings. Some of their fire pits even double as ice buckets.
When Sharon Campbell, an interior designer by trade, opened Backyard Retreats in 1996, the inventory included billiards, playground equipment and hot tubs. Over the years, they have homed in on their expertise by exclusively offering patio furniture and accessories.
For 24 years, Backyard Retreats has been a Mount Pleasant staple with its colorful Adirondack chairs outside the showroom on Johnnie Dodds Boulevard.
"Although we are known for our beautiful row of Adirondack chairs outside the store, we offer so much more for outdoor living," said Darla Miller, Campbell's daughter and executive manager and design consultant.
Campbell, Miller and their staff have a passion for helping clients figure out how to best utilize their outdoor space. "We can go to the location, take measurements and analyze space, and we will then provide a design plan for your outdoor furniture," said Miller, who joined the business when she was in college. "We get to know our customers and listen to their wants and needs."
Backyard Retreats' outstanding customer service helps you from beginning to end, from selecting top-quality furniture to delivering all your items to your home. They know that family and friends always gather where they are comfortable. And that's why Mount Pleasant Magazine readers voted Backyard Retreats the best place to buy outdoor furniture.
Remember your backyard deserves the best. Stop by Backyard Retreats at 544 Johnnie Dodds Blvd today. For more information, visit backyardretreatssc.com.
By Tonya McGue