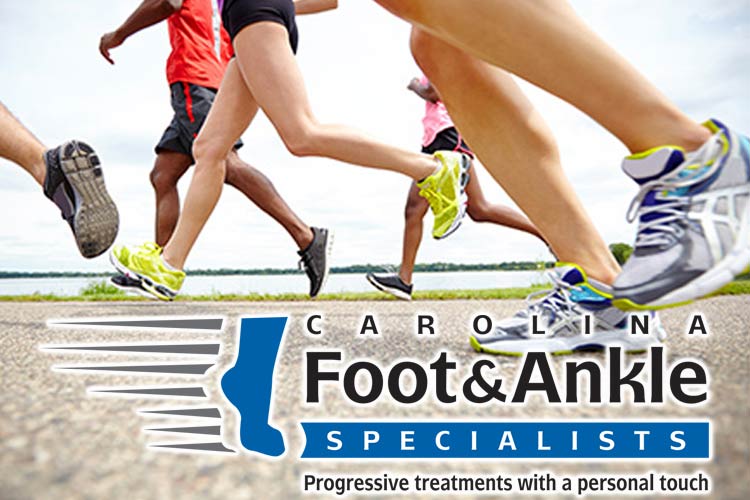 For the second year in a row, Dr. Andrew Saffer and his team at Carolina Foot & Ankle Specialists have won Best Podiatrist. The award is "humbling," said Dr. Saffer. "It means more that people care to take the time to recognize our practice because this community has many options for foot and ankle specialists."
Dr. Saffer connects with his patients because he experienced many of the same ailments. Despite suffering from flat feet and foot pain at an early age, he played sports and still is active in taekwondo. He's even training for the upcoming Charleston Half Marathon. Dr. Saffer loves being part of the community by sponsoring local youth sports, as well as coaching basketball and teaching youth taekwondo.
Over the years, Dr. Saffer has seen his practice morph from a traditional podiatrist office to a more sports-medicine based practice. "The most common foot and ankle ailment that we see is heel pain," said Dr. Saffer. "Heel pain can present (itself) as plantar fasciitis or Achilles tendonitis. For chronic cases we are excited to be the first practice in the Lowcountry to provide EPAT."
EPAT is a non-invasive, effective treatment method for chronic heel and Achilles pain. High-energy sound waves are introduced into the heel, stimulating cells responsible for bone and connective tissue healing. This procedure can be done in the office with no down time.
Although winning two years in a row is quite an accomplishment, Dr. Saffer feels no pressure. "I feel like with this recognition we have a responsibility within the local community to continue to provide excellent customer service," and "help patients get back on their feet faster with the most current, up-to-date treatment options."
Carolina Foot & Ankle Specialists are located at 501 Bramson Court, Suite 301, Mount Pleasant, or visit them at cfaspecialists.net.
By Stephen Boyer