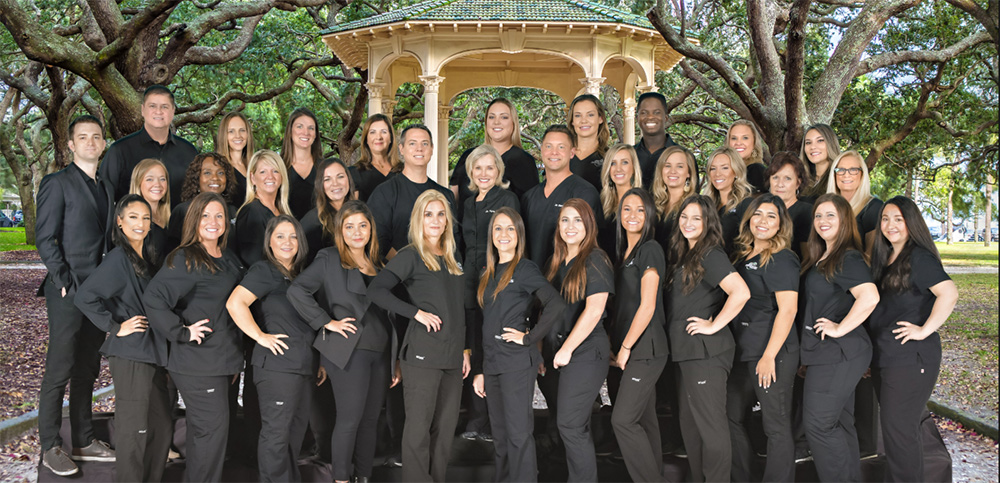 For parents, the thought of children in braces with expensive payment plans can cause night sweats. For adults, memories of fights over dental hygiene and the madness of lost retainers may keep them smiling carefully with closed lips. For kids, the threat of having a mouth full of metal and pain may war with dreams of beautiful smiles.
The teeth-gritting fear brought on by the idea of braces may, paradoxically, help explain Mount Pleasant's appreciation of Charleston Orthodontic Specialists (COS), because they provide the information, services and value people need to allay those fears.
Dr. Nick Savastano, voted Best Orthodontist, started COS in 2017 and was joined by Dr. Justin Garrett and Dr. Lavonne Fore in the Mount Pleasant office. With appointments available six days a week and offices throughout the Lowcountry, orthodontic care needn't interfere with work or school schedules. A popped bracket or loose wire becomes a minor issue that can be addressed in any location, almost whenever it occurs.
Individual treatment plans specifically address the needs of children, teens and adults, and the variety of treatments available means COS has appealing options for the whole family.
This variety may surprise people who have been out of braces for a while. Options range from traditional silver brackets with colorful bands to the discreet and nearly invisible ceramic braces or the Invisalign® system of removable aligners; from WildSmiles®, which allow wearers to use their treatment to express themselves, to Mascot Braces® that proudly proclaim their wearer a Clemson Tiger or a Carolina Gamecock.
Orthodontic care raises a lot of concerns for prospective patients, but for many people, the cost of treatment is the most worrisome. Fortunately, Charleston Orthodontic Specialists believe in transparency in pricing. Check out their website and social media — you'll find set costs for most frequently chosen treatment options. And COS' services include financial advisement and extensive work with insurance providers.
Because they are premier participating providers in most major orthodontic PPOs and HMOs operating in the Charleston area, Charleston Orthodontic Specialists can provide patients with maximum coverage, while billing the insurance companies directly. They also accept military insurance, ensuring excellent care for current service members and veterans.
For patients without orthodontic insurance, affordable low down payments and extended payment plans can be customized to fit their budget.
Mount Pleasant knows that when you need orthodontic care, you want a practice big enough to provide affordable services, and close enough that you can get to know your doctor and the professional, approachable staff.
That's when they know you. That's when they care about you and what you need.
The team at Charleston Orthodontic Specialists loves making a difference in their patients' lives, and they do it every day, helping people improve their self-confidence with beautiful, healthier smiles.
Charleston Orthodontic Specialists is at 695 Johnnie Dodds Blvd., Suite 200, Mount Pleasant. For more information or to schedule a free initial exam, visit charlestonorthodonticspecialists.com.
By Holly Vories