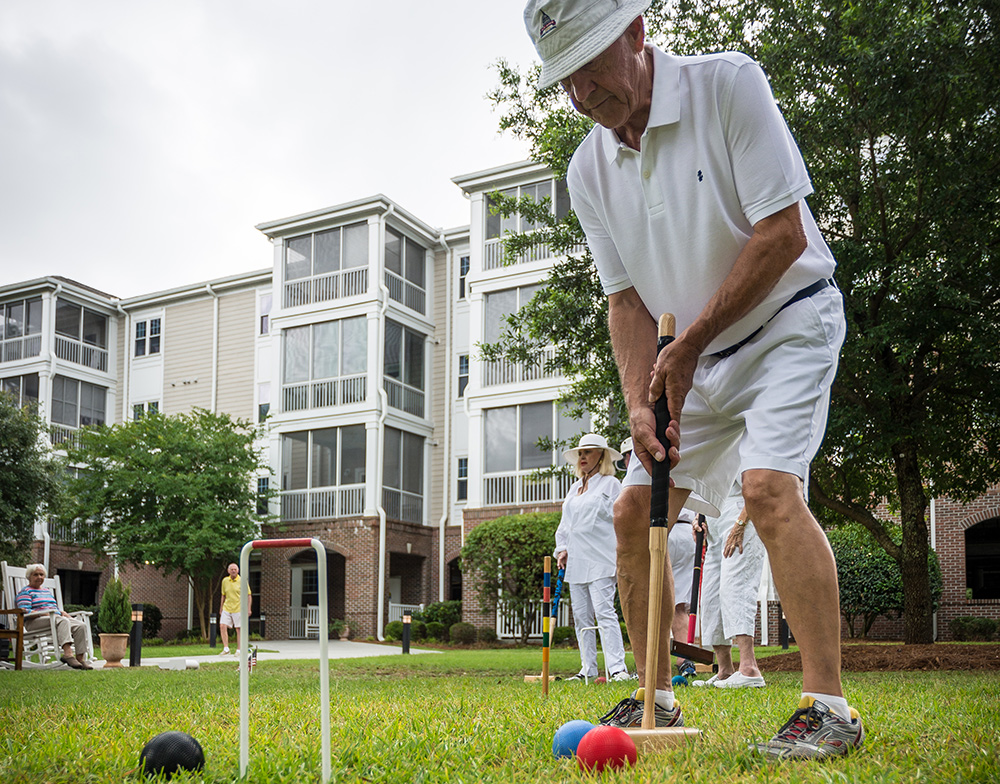 Our readers voted Franke at Seaside the Best Senior Living Community and Best Assisted Living Facility.
Located off Rifle Range Road in Mount Pleasant, Franke at Seaside is a nonprofit, faith-based continuing care retirement community that serves older adults throughout their retirement with a variety of levels of care including independent living, assisted living, skilled nursing, memory support and rehabilitation.
Situated on a serene campus surrounded by lagoons and ancient live oaks draped in Spanish moss, it provides beautiful scenery and ample opportunities to maintain an active lifestyle.
Allison Macfie, Franke at Seaside community outreach director, discussed the wins' significance to staff.
"It's a huge honor that Mount Pleasant considers us the best of the best," she said. "It's the community we serve. We're very proud of it."
Macfie noted that they are fortunate to have longevity and stability of staff, part of which she attributes to them being a nonprofit.
"It (the staff stability) makes all the difference."
She added that this long-term staff retention coupled with Franke being faith-based and nonprofit help set them apart from other assisted living communities.
"The environment we work in is very different than other communities. We really are a Franke family. Our moto is one team, one family, one heart."
Franke has been part of the community dating back to 1892 when it was located in downtown Charleston on Calhoun Street and known as the Franke Home. It became Franke at Seaside in 1996 when it moved to Mount Pleasant.
"We have a lot invested in this community," stated Macfie.
They offer residents an active lifestyle including patio homes, apartments and monthly rental apartments. Additionally, Franke can accommodate individuals on each level of care including assisted living for those with memory impairment.
Their facility provides numerous programs targeted toward their six dimensions of wellness: physical, emotional, intellectual, spiritual, social and occupational.
Seniors stay active in the community, attending orchestras and plays, and there is a resident-based Mission Committee that does philanthropic work such as Habitat for Humanity and Reading Partners.
Onsite is a wellness center, an aquatic center, a dog park, croquet and bocce courts, a giant chess board and a range of dining options.
Franke hosts free education series where seniors become informed about important topics such as dementia. Their shared event spaces hold Piccolo Spoleto and other cultural events.
For those seeking solace in faith, full-time chaplain Alvin Shrum hosts Sunday services and ministers to residents. He is always a presence on campus, talking to residents and providing spiritual support.
There are more positive developments coming this year, including a renovation to their Burgess Center that will expand their wellness and dining services.
"That's going to be really exciting when that is open," said Macfie.
They are also planning an even greater emphasis on the Mission Committee and the nonprofit work they do in the community. A renovation of their Cove monthly rental apartments is expected to be ready by the start of this year as well.
Franke at Seaside is at 1885 Rifle Range Road. For more information, visit frankeatseaside.org.
By Colin McCandless