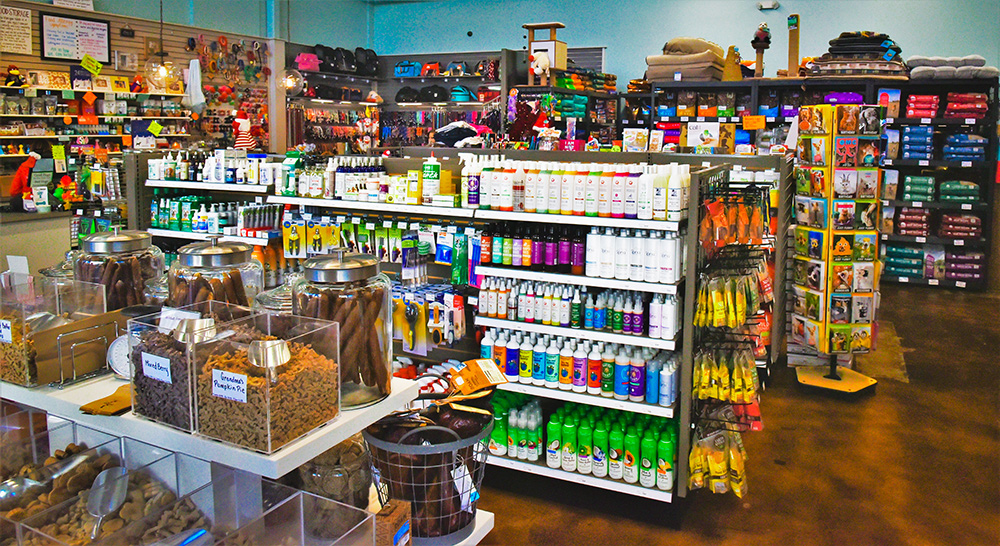 In my next life I'd like to come back as a dog or cat who spends its time lounging about and being pampered at Hairy Winston Pet Boutique & Grocery. If you are a pet owner who considers your furry friend to be an integral part of your family and life — and you want nothing more than to pawsitively indulge, spoil and honor your four-footed friends — then this boutique will give you the occasion to do just that.
Owner Jenny Dudley opened the boutique in 2008 not only to allow herself to lavish love on her own two Cavaliers (Sophie and Hairy Winston) but to provide others with the opportunity to spoil their pets with unique items and healthy foods. Her boutique provides readily available items to anyone who is so inclined to fawn, tend, treat and pour lots of attention on not only man's (and woman's) best friend, but also our feline pals as well.
"I really wanted to offer higher quality items that you couldn't find at chain pet stores and offer a more personal experience," explained Dudley. "When you shop with us, you become part of our family as we truly care about the health and well-being of your pets."
The boutique has received multiple awards and recognition, including first-place winner of Best Pet Store and third-place Best Pet-Friendly Business by Mount Pleasant Magazine, and Best Pet Boutique, Best Local Pet Supplies, Best Tasty Treat Spot and Purrfect Pet Accessories Shop.
To keep your pets safe, Hairy Winston Pet Boutique offers healthy, tasty food selections, including a large selection of "certified humane human grade ethically sourced dairy and preservative-free foods that are organic, holistic, natural, raw, freeze dried, dehydrated, low glycemic, non-GMO, wheat-free, corn-free, soy-free, grain-free, gluten-free, potato-free, sweet potato-free and legume-free foods," along with odor-free bully sticks, mammoth sized bones, chews and treats.
The boutique also carries natural shampoos and grooming products, toys that range from rubber to tough-to-crinkle, collars, leashes and accessories — including custom engraving. You can also swing by for advice and assistance regarding certain allergies and other sensibilities that may harm your pet. Additionally, if you forgot to keep your dog looking and smelling his best, just pop in and use the self-serve dog wash.
"Twice a month we offer podiatric nail trims which helps put your dog's body back into proper alignment and encourages the nail quick to recede faster," Dudley noted.
Good health and happiness in the new year isn't just for humans. So if you're looking for healthier meals, better grooming gear and habits, and some stylin' gear and baubles to treat your furever friend, head to Hairy Winston.
Hairy Winston Pet Boutique & Grocery is located at 1616 Palmetto Grande Drive in Mount Pleasant Towne Centre. For more information, call 843-881-0800, visit hairywinston.com or follow them on Instagram and Facebook.
By Eileen Casey