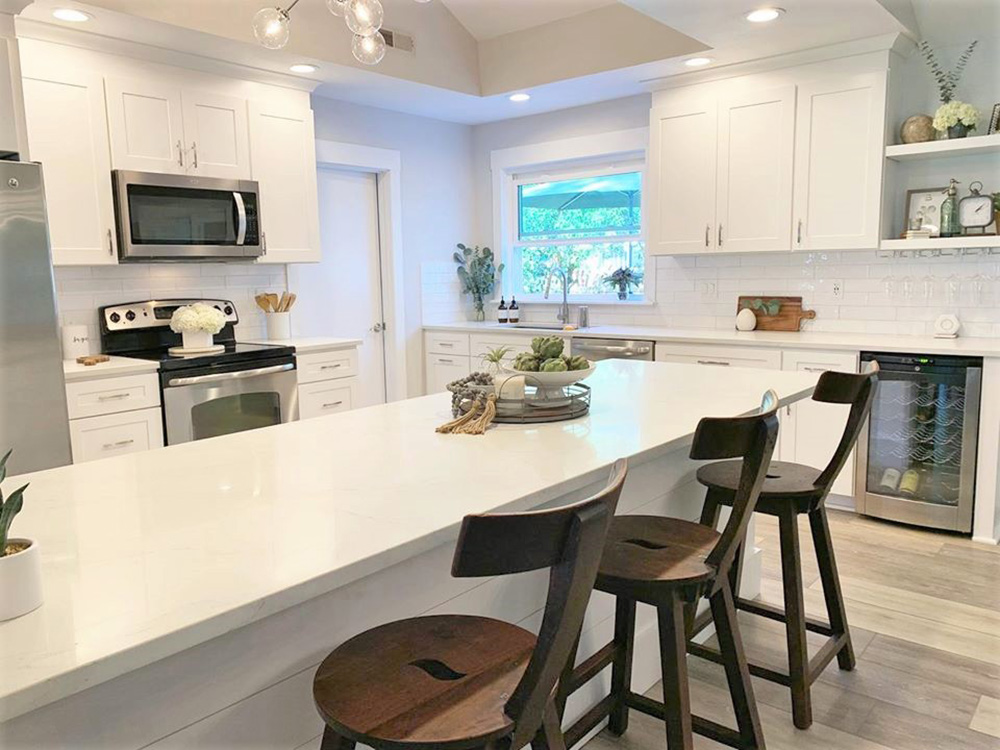 If you ever look at your kitchen and wonder where those colors came from, how those spacious cabinets got so cramped and how 2012 turned into 2020 so quickly, it may be time to consider an update.
At Mount Pleasant Kitchen and Bath, one of Mount Pleasant's Best Home Improvement and Remodeling companies, you can, of course, walk into the showroom, pick the tile, hardwood or cabinets that will bring your kitchen into a brand new decade and have them delivered to your door.
"I'm a kitchen guy," said Peter Munzer, owner and designer. That means he and fellow designer Krista Scheider want to work with you throughout the remodeling process. Careers spent in the kitchen design industry have fully prepared Munzer and Scheider to help you create the kitchen you want and need.
Munzer got his start in upstate New York, working with his contractor dad, followed by three years on Martha's Vineyard in high-end construction. He then returned to New York to open his first kitchen and bath showroom, leading to 15 years of successful kitchen design.
Scheider worked for years in her family's kitchen showroom on Hilton Head, honing her skills as a kitchen designer in Manhattan.
When Munzer comes to talk to you in your home, he considers the space you have to work with and the possibilities available based on your needs, desires and budget. He'll also consider the network of suppliers and contractors working with him to bring your room — kitchen, bath, mudroom — to beautiful life.
That's the consultation step of the process, and it works best with input from both the homeowner and the designer. The next step, design, includes specific input from Munzer or Scheider. Working with measurements taken in your space, they'll lay out a plan for your approval.
Though Munzer comes from New York, the company has a Southern coastal flavor. Scheider's design sensibility developed in South Carolina and Munzer's has evolved from his New York roots, combining to encompass the flair of the coastal South where he and his family relocated to Mount Pleasant, in search of a slower paced lifestyle.
Rather than slowing down, though, in the five years that Munzer's been in Mount Pleasant, he's opened another successful kitchen and bath showroom and brought years of business acumen to the installation of wonderful kitchens and baths.
Just as consultation overlaps with design, design overlaps with installation. Munzer's close connection with manufacturers and contractors helps everyone involved develop and maintain clear timeframes for delivery and completion of projects. Munzer and Scheider remain involved every step of the renovation process, ensuring that the finished kitchen reflects the needs and desires of the homeowner.
Mount Pleasant Kitchen and Bath is a small company, but that network of suppliers and contractors working with Munzer and Scheider mean that they can transform diverse concepts into strong designs into beautifully realized rooms at multiple price points.
Mount Pleasant Kitchen and Bath is located at 826 Coleman Blvd., Unit B, Mount Pleasant.
By Holly Vories