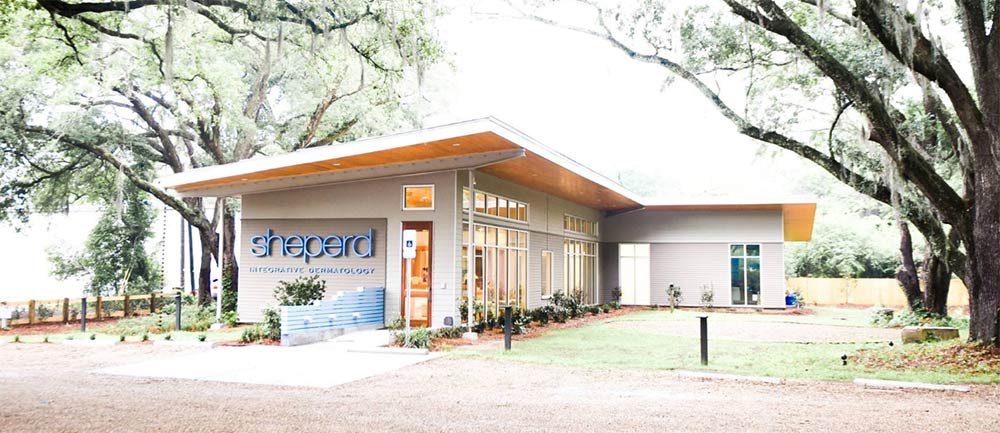 Your skin is a direct reflection of your body's inner health. Sheperd Integrative Dermatology takes a big picture approach to your whole body with a focus on your skin's health and beauty. From beautiful spaces for patients to connect with nature to beneficial treatments with educated staff, it's not surprising that Dr. McLean Sheperd was voted Best Dermatologist.
The office serves as a "retreat" to get away and focus on healing. "We don't have a waiting room around here. You look around — there are no People magazines — we don't have a TV with drug ads running. Our patients experience the Discovery Room where they relax and experience art," said Emmett Lynch. People become present with nature through wide windows with views of a grand oak surrounded by an on-site healing labyrinth. The building is mostly solar powered — and all lights are LED.
On the weekends and evenings when the office is closed, the building is used for yoga classes, chakra dancing or sound healing sessions.
Sheperd Integrative Dermatology offers expert advice on all things skin care. "We have brilliant staff members who went to schools like Stanford and Berkeley," Lynch said.
Dr. Sheperd received her degree in medicine from MUSC where she studied dermatology and dermatopathology. She also completed a residency in dermatology and a fellowship in dermatopathology, both at MUSC.
The office offers integrative skincare services for acne, psoriasis and other skin issues. On the cosmetics side, Sheperd Integrative Dermatology does Botox, PRP therapy, PDO threading, and has a whole-body contouring group.
"We always have room for people concerned about something on their skin. And we love being in Mount Pleasant," Lynch said.
Sheperd Integrative Dermatology is located at 912 Old Georgetown Road, Mount Pleasant. For more information, visit mcleansheperdmd.com or call 843-216-3530.
By Valerie Smith