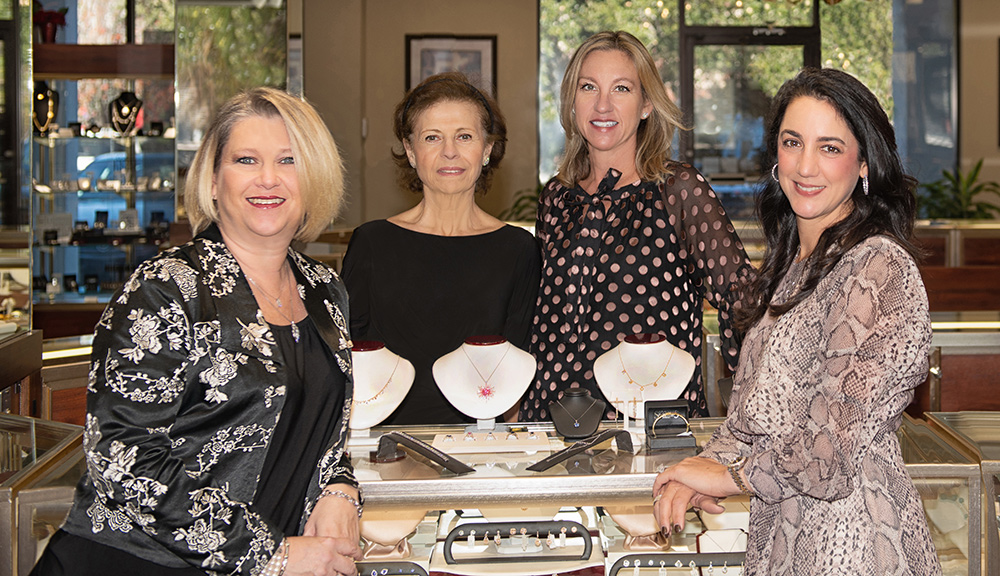 When my mom passed on her diamond to me and my now-husband, we were elated to create the perfect ring — except store after store, no one could help us set this vintage, oval stone. Then we heard about Skatell's and are now customers for life.
From their kindness and patience, to the feeling that they were genuinely excited and honored to help us create this timeless piece of jewelry, it's no surprise that Mount Pleasant Magazine's readers named Skatell's one of their favorite jewelry stores, too.
"Bridal is a big part of our specialty and people come in with their grandmother's or mother's diamond all the time, and we help custom design the ring they want," said Nan Butler, who, along with her husband, Jason, owns Skatell's. "We sell loose diamonds, custom mountings, and attend many of the big shows where we buy loose gemstones to make our own jewelry, from rings to necklaces to earrings."
While Nan and Jason took ownership in 2006, Skatell's opened its doors in 1988, with many of the same staff you'll meet today. Even Nan and Jason worked there in the early '90s right out of college. "We were both born and raised here," said Nan, whose children are fourth-generation Charlestonians. "This is my hometown and I'm proud to be a part of the community."
It's the relationships with the customers that Nan loves most — well, that and the jewelry! "I've just always loved jewelry, looking at, being around it," she said. "Every member of the staff has a passion for jewelry and for creating something unique."
Visit Skatell's in one of two locations: 1036 Johnnie Dodds Boulevard, Mount Pleasant, and 1798 Ashley River Road, Charleston. Call 843-849-8488 for more information or visit skatells.com.
By Teri Errico Griffis