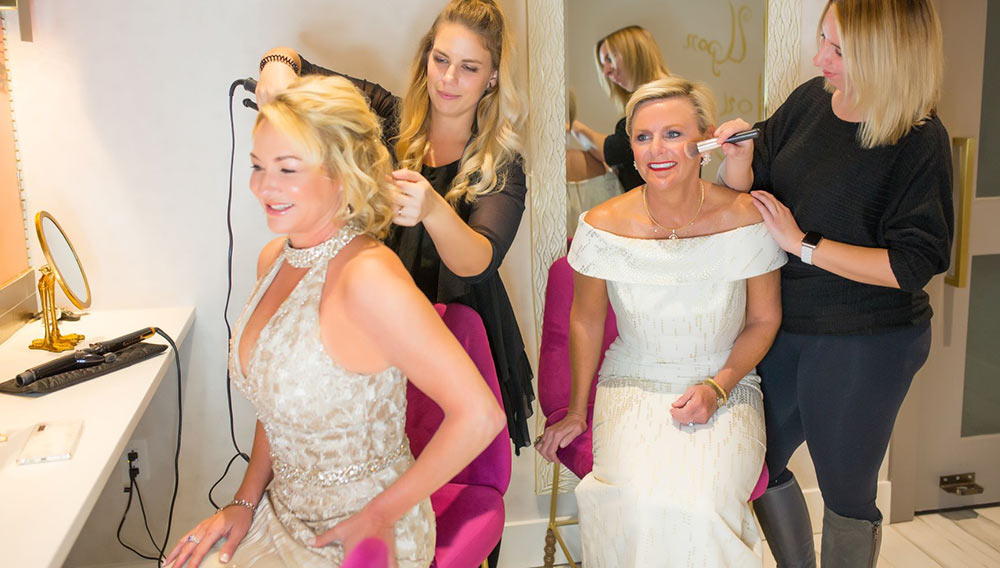 Before any "action" can take place at a photo shoot, event or party, we have to look our best, right? Let's face it. In the age of social media, your picture will end up somewhere whether you are the guest of honor or not.
And, that's where the staff at Vanity Salon comes in. When it comes to prepping you for that photo shoot, that strut down the catwalk or even your pin-up calendar debut — they've got you.
Kim Coleman, the owner of Vanity Salon, has pretty much seen it all when it comes to making people look their best, and it is something she thoroughly enjoys doing.
In fact, you can find her work on the Best of cover of this magazine, and pretty much every Best Of Mount Pleasant Magazine cover shoot for the past seven years. She works with Mount Pleasant Magazine clients on their ads too, helping them come up with a good setting, a good outfit and then, of course, working with them on the appropriate makeup and hair style to round out the unforgettable photo.
And, Coleman is used to the setup of a photo shoot on location. She knows what to bring to make the subject look and feel like a star that day. She's professional and treats everyone like the unique people they are.
Whether the setting is a bridal portrait, a corporation's professional photo shoot, Charleston Fashion where she's prepping models or the firefighters' annual calendar to benefit the Charleston Animal Society, Coleman and her staff are up for any challenge because "it's our craft," she said.
Coleman mentioned that one of the best parts of doing photo shoots, like Mount Pleasant Magazine's covers, is that it gets them out into the community.
"I take pride in my community here in Mount Pleasant because I grew up here — born and raised," she said. Coleman went to Wando High School. "I'm as home grown as it gets!"
She loves to work with the community as well as on Cinderella projects and other "feel better" programs.
"When you look your best, you feel your best. I truly believe that,"she said.
Most of her staff of stylists at Vanity Salon have been former educators (and some still are) on hair and makeup. She said they are often asked to present at trade and hair shows across the country. "We love to share our talents and knowledge with others in the profession. It's an honor."
Coleman added, "We are always looking for the next creative thing. It's so rewarding to make others happy."
At Vanity Salon, there's a warm friendly feel that resonates. Coleman said she wants their customers to feel like they are meeting up with friends when they come to her salon. "You are always welcome here. It's a place where everybody knows your name, so to speak. We're always happy to see you."
Vanity Salon has won Best of Mount Pleasant seven times. They offer all hair services, tanning, eye lash extensions, waxing and facials.
For more information, visit vanitysalonsc.com or call 843-571-1945.