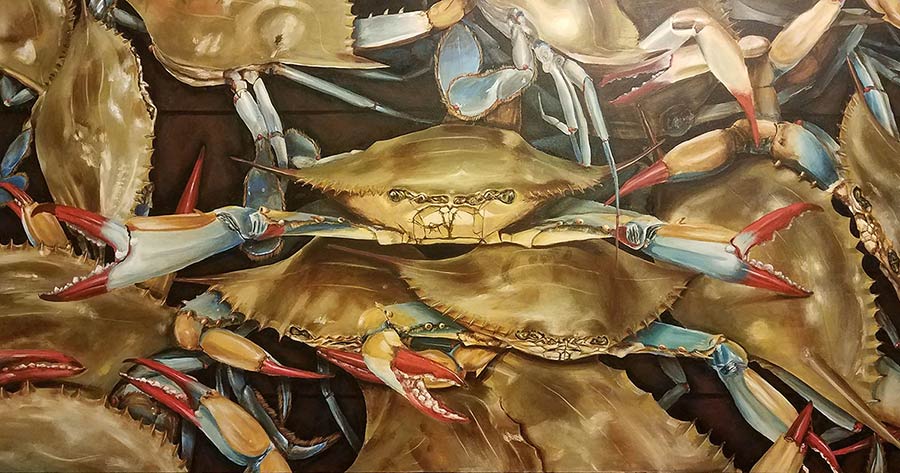 In each of his paintings, Dana Coleman captures the dynamic, awe-inspiring beauty of life as he sees it. His realistic depictions of unique lifestyles, architecture and landscapes beckon the viewer to remain for a while, to think and to ask questions, creating a one-on-one experience that lasts a lifetime.
Throughout the month of March, you'll have the opportunity to see "Growing Up Gullah," Dana's series of original acrylic paintings that chronicle his life growing up in Awendaw, a small but vibrant town along the South Carolina coast. From the local trade of casting nets to catch shrimp to harvesting oysters from the Lowcountry concoction known affectionately as pluff mud, Dana's artwork gives viewers a firsthand look at what life has always been like in "the country."
Those who attend the opening reception March 6 at Neema Fine Art Gallery will receive more than just a look at the results produced by Dana's heritage, his innate talent and his creative mind. Between 5:30 p.m. and 8:30 p.m., he'll be on hand to describe the inspiration behind each of his "Growing Up Gullah" paintings, as well as some of the hidden meanings that lurk beneath.
Neema Fine Art Gallery is located at 3 Broad St. in downtown Charleston, near the intersection of Broad and East Bay.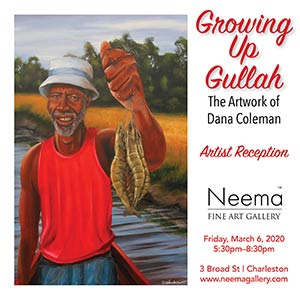 Dana discovered his artistic talent at the tender young age of 5. He wanted to hang out with his older brother, and he discovered that drawing pictures of 18-wheelers and motorcycles impressed Andre, two years his senior, and his friends. As he grew up in Awendaw, he continued to develop his talent, drawing with charcoal and colored pencils. During his sophomore year at Wando High School, his road in life took another sharp turn, courtesy of the late Bob Ross, host of "The Joy of Painting," a long-running Public Broadcast System television show. Dana watched and learned.
"He taught me to how to paint – how to mix colors and shades and everything else," he commented. "Painting is totally different from drawing. You have to understand how to work the paint. It's like the difference between riding a bicycle and driving. In both cases, you're moving forward, but it's different."
After graduating from Wando, Dana moved on to Trident Technical Institute to study graphic design, earning a degree that helped advance his career in the publishing industry. He now serves as art director at Media Services, which produces hard copy and online publications, including Mount Pleasant Magazine.
Even after completing his work at Trident, Dana wasn't certain about his direction along the road of life. He spent four years in Columbia, graduating with a civil engineering degree from the University of South Carolina, but, as he explained it, "The creative side won out."
His time in Columbia wasn't wasted, however. Combining his engineering background with his fascination with history, he began painting homes, buildings and bridges in the Charleston area. He is now among the Lowcountry's most accomplished artists. Most of his work is in some way connected to the Carolina coast, including a painting of a 10-year-old 18th-century slave girl, crafted with intense research and his vivid imagination and presented to Ahmad Tejan Kabbah, the former president of the western African nation of Sierra Leone.
"How do I decide what to paint?" Dana mused. "A better question would be how I decide what not to paint. I want to paint everything I remember. Lots of times, I'll see something that captivates me or reminds me of my childhood in Awendaw, and I'll paint it."