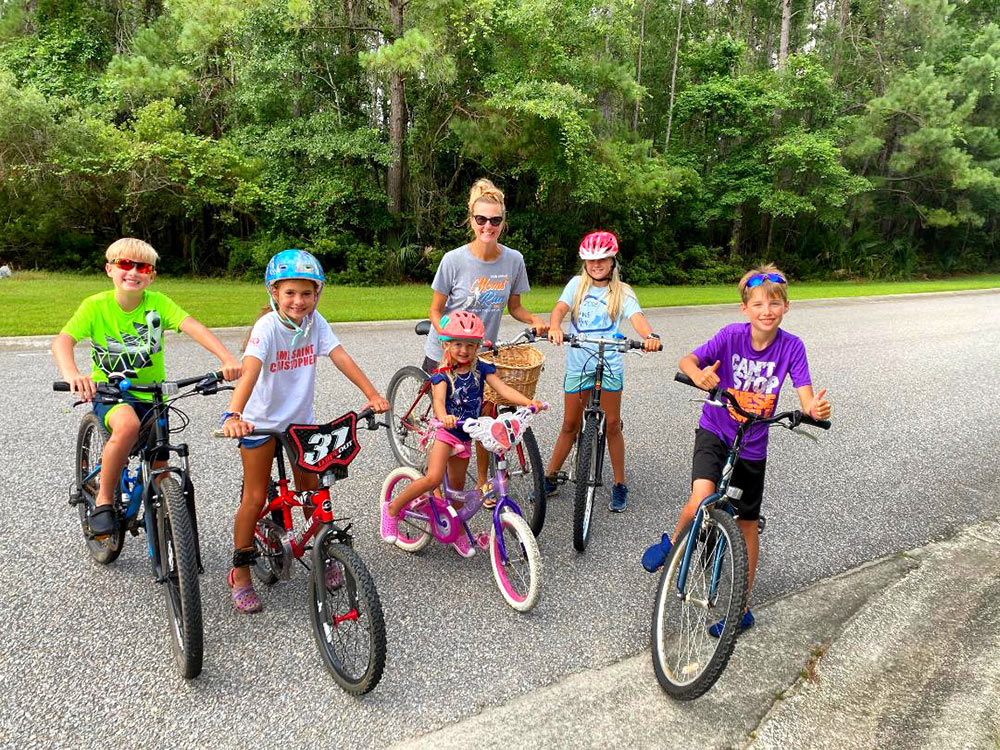 Humans have a need to remain social, even in the most challenging of times. That's why families in the Mount Pleasant area have recently been bonding over an age-old and beloved activity — bicycling.
"We see all ages interested in cycling — it is becoming a family activity for the enjoyment of riding together," said Tom Schott, manager at the Trek Bicycle Store at 1180 Oakland Market Road. He reported a recent increase in pedal-assist electric bikes, trikes and hybrids, all designed to empower riders with the ability to get out in the fresh air.
"Cycling is a great activity because it is a low-impact exercise that gets you outside," he said. "It introduces you to like-minded individuals for some great group rides, or it motivates you to load up the bike and travel to destinations you otherwise wouldn't have traveled to."
Tod Mattson, manager of the Bicycle Shoppe at 1539 Johnnie Dodds Boulevard, gets "lots" of families visiting the store. "We have many young families in Mount Pleasant, and they bring their children here for their first bicycle. I love it when I see the kids come into the store because they are also my future customers," he said.
Mattson said since many neighborhoods in Mount Pleasant were built within the past 20 or so years, they incorporated paths for walking and biking, along with lower speed limits.
"Families can go from one neighborhood to another, without having to cross routes 41 or 17. There are tons of miles of roads and paths in places like Dunes West, Rivertowne and Park West. I even see parents biking their young children to school and then coming back to pick them up," he said.
Lee Edwards, owner of Sweetgrass Cycles at 234 Mathis Ferry Road, recommended the best time to take young children on family rides. "It depends on how well-behaved they are and where you are planning to ride," he advised, adding that it's a good idea to avoid busier roads.
For short and safe family routes, Edwards praised the "quieter streets of Old Mount Pleasant," Carolina Park, Mathis Ferry Road, Mount Pleasant Memorial Waterfront Park and the area around Patriots Point. Mattson, too, likes Old Village, as well as the islands, where speed of traffic is controlled.
For beginners with a thirst for adventure, Schott recommended a trek over the Ravenel Bridge for great views, or a tour of Sullivan's Island and the Isle of Palms.
"Longer rides can be connections of smaller rides, like taking the IOP connector and touring the islands, then going through the downtowns," he added. "Other long routes take you to Awendaw and the Sewee Outpost, where you can do up to 100 miles. We have a lot of great routes and group rides on our website."
Interested riders will discover the Trek website offers routes for beginners as well as accomplished riders, from 10 miles to as many as 100. Store-sponsored two-wheeled jaunts are directed by route leaders.
"As a growing city, there is no shortage of newer routes to discover with great scenery," Schott added. "We are seeing a great increase in gravel riding, especially in the Francis Marion Forest — specifically for those riders who want to escape the streets. As more municipalities are catching onto the growth of cycling, we will see more improved bike routes and lanes. Properly educate yourself on safe routes, and make yourself as visible and safe as possible."
For more information on bicycle choices, visit trekbikesofmountpleasant.com, sweetgrasscycles.com, and thebicycleshoppe.com.
By John Torsiello