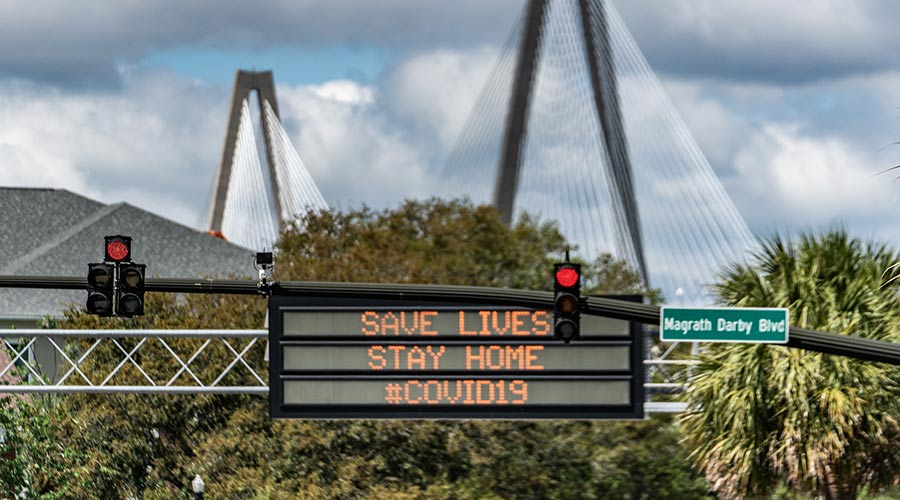 Family lives transitioned quickly in March 2020 throughout South Carolina and the entire United States. Work layoffs, school closures, medical offices closed, as well as many other nonessential businesses shutting their doors for several weeks, even months.
Athletes around the world could no longer take the court, hit the field or start their engines. Theme parks, trails, beaches, waterways and national and state parks from coast-to-coast were off limits. Social activities halted and children could no longer hug their grandparents.
With so many people sheltering at home, creative minds began to flourish. For residents of hurricane- and snow-prone locations, the first week was easy as staying home was somewhat commonplace. To others it was almost a much-needed reprieve to commuting and long office days.
However, as the days dragged on, the usual activities began to dull. One of the first social media trends that impacted family life centered on a story book, "We're Going on a Bear Hunt" by Michael Rosen. In neighborhoods everywhere, people placed teddy bears in windows so that youngsters could walk their communities and go on a bear hunt themselves.
From there, construction paper hearts and decorated Easter Eggs became the trend. "I've seen people walking, biking and driving by in cars and golf carts and pointing at the bears. I still look for my neighbors' bears during my daily walks and bicycle rides," said Dora Hartsell, a paraprofessional teaching assistant with Moultrie Middle School. "I jumped on this idea, because when I used to teach preschoolers, the toddlers loved when we read the book."
People celebrating birthdays and milestones often became the beneficiary of drive-by celebrations. Susan Poston, a preschool teacher in Mount Pleasant, was recently surprised and candid about her parade. "I thought I was just running out to grab a little treat from one of my co-teachers so I wasn't really 'dressed' for a parade," she said. "Completely speechless and wearing my best loungewear, I was greeted by horns blowing, posters, and my entire teaching team. Obviously, they're more than just coworkers. They're more like family! Maybe stay-at-home birthdays aren't too bad after all."
Random groupings of cars were spotted and heard making noise, all to cheer up others who may need a pick-me-up.
The Boy Scouts of America Palmetto Council launched virtual merit badge programs so that scouts can continue their learning and pursuit of badges while at home. The founder of the worldwide Boy Scout movement, Lord Robert Baden-Powell, once wrote that being prepared means "you are always in a state of readiness in mind and body to do your duty."
In this spirit, the Boy Scouts of America Coastal Carolina Council planned a virtual camping contest that has Scouts across the Lowcountry camping in their own backyards.
Another social media idea that went viral was created by the Navy Seal Foundation. Regardless of the virus, Navy Seals are deployed around the world for up to 270 days a year, and now their children have the added stress of staying home.
To cope with the stir-crazy feeling, they asked the children of Navy Seals and Special Operations Force communities to make the best stay-at-home forts possible, using couch cushions, blankets, pillows and such.
Kids would name their fort and include a message to the warriors of this country that included anyone on the COVID-19 battlefield and frontline, as well as civilians. "This opportunity gives kids a chance to share their voice while also having a little creative, old-school stay-at-home fun," said the Navy Seal Foundation. Kids showed off their forts and messages by posting on social media channels using #NSFfortchallenge.
For many families, religion is important, and in honor of Palm Sunday, people everywhere placed palms on their porches. "As a body of believers, it helped connect us despite social distancing as we enter the Holiest of Weeks," explained Poston. "After the idea of uniting the church body by placing palms on our doors caught on, one neighbor even suggested a palm hunt for the kids. Now, that's an opportunity to share the reason for the palms on our doors! We are trying to see the blessing each day."
Christians on Easter Sunday rang bells and sang hymns according to a detailed plan that was passed along on social media. "How Great Thou Art" and "Amazing Grace" were two hymns included in the vocals heard across town.
Another Easter tradition, baskets, also took center stage. A well-known, local toy shop, Wonder Works, which has been a part of the community for 30 years, took orders for individual Easter baskets.
"We were inundated with orders and my team worked individually at the store, with four shifts a day to fill the orders. We wanted to take care of our community so we made baskets by name, age, and each basket included new toys," explained Christine Osborne, owner and founder of Wonder Works. "No two baskets were the same. My staff are magic makers and so are all local businesses in town. We all care about our communities."
Avid video gaming, arts and crafts, puzzles, outdoor chalk, science experiments and all types of exercise were discovered during the pandemic. Best of all, communities all over the Lowcountry unearthed their roots and found joy in each other.
By Stacy E. Domingo