On March 11, 2020 the World Health Organization declared COVID-19 to be a worldwide pandemic. Since that declaration, life as we know it has been turned upside down. From California to New York to Texas and Illinois, we've adopted a life of confinement to flatten the curve, collectively closing our doors and hunkering down. However, even with the common thread of quarantine running through our lives, the effect of COVID-19 on the day-to-day activities of Americans varies as widely as the landscapes in which we live.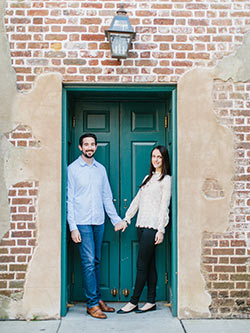 It's morning in Washington D.C., and Lowell Ganin is awakened by his Weimaraner, Emma, who's ready for her morning walk. Before he heads into the hallway of his apartment building, he pops on his face mask. Lowell and his wife, Colleen, live on a busy intersection in the Logan Circle neighborhood and maintaining social distancing protocols while walking the dog is a daily struggle.
"It is very difficult not coming into contact with other people when walking on the sidewalk, running errands or even in our apartment building," he said. "You really become dependent on others maintaining distance as well, which does not always happen."
After their morning walk, the couple takes turns on their Peloton bike, which they were fortunate to find on Craigslist just after their gym announced that it was closing. Getting in a quick workout helps them start the day on a positive note. An advertising entrepreneur, Lowell was working from home prior to the pandemic but had to make an adjustment when Colleen, an attorney, joined him in their 1,200 square foot apartment.
"My wife has taken over the desk that I would normally use, so I work from our couch," he laughed. By lunchtime, another walk for Emma offers a welcome excuse to get outside, and they head to a nearby park.
Before D.C. was on lockdown, Lowell enjoyed the conveniences of city living. His apartment building is across the street from a Whole Foods, making it easy for him to plan dinner in the afternoon and head out to shop later that day. Now, 15 minutes before the store opens there's already a line around the block, and customers buying in bulk have created shortages of the most basic food items, such as chicken, butter and milk.
Prime delivery spots are almost impossible to come by, so now he tries to buy enough groceries to last for a couple of weeks while being extremely flexible based on what's available.
"I feel like I'm competing on Chopped on a nightly basis," he said. Luckily, they still have access to takeout options from amazing restaurants and have made a point of supporting the restaurant community while they're in crisis. Many of the area's Michelin-star restaurants have pivoted from high-end tasting menus to more accessible options, and the Lowells have been excited to experience food from restaurants where reservations were scarce in the past. After dinner the two unwind in front of the TV and do their best to go to sleep at a normal time to keep some semblance of a routine intact.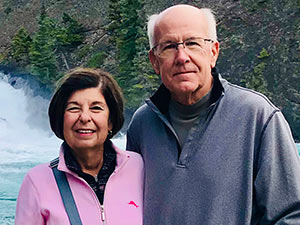 About 1,300 miles away, Marsha Wetmore is throwing the notion of a normal day out the window. Instead of trying to cling to a routine that can't exist, she's decided to fill her time with projects that she's been putting off and new ventures. At her home in Norman, Oklahoma, Marsha has taken to baking, gardening, cleaning her closets and even washing windows.
Keeping herself busy is about more than just filling the hours; it helps to keep her from worrying about her two adult children, who live far away. Marsha and her husband, Bill, were planning a trip to Tucson, Arizona, at the end of April to visit their recently married son but were forced to cancel their plans. Her daughter works for Sotheby's Auction House in New York City and, while she hasn't contracted the virus, living alone in solitude has been difficult emotionally.
Thankfully, Marsha and Bill haven't been forced to give up golf, their favorite past time. A few times a week, they make the trip to their country club, which has remained open but is enforcing strict rules: the clubhouse is closed, the holes have been modified so that balls sit on top, carts are disinfected between rounds and tee times are 20 minutes apart. "I feel far safer on the golf course than I do in a grocery store!" she said.
In the evening, the couple heads over to the gazebo in their community's common area to spend time with some friends at a distance. They bring their own drinks and chairs, set up camp at opposite ends of the gazebo, and play music on their Bluetooth speaker. Though they don't normally drink during the week, a glass of wine or two has become a part of the nightly routine.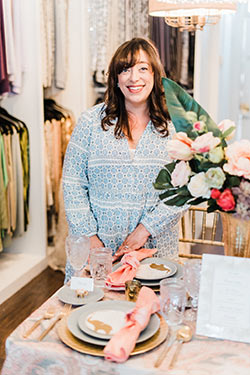 Los Angeles' stay-in-place order has redirected Renee Scotti Dalo's daily focus, but it hasn't slowed down her entrepreneurial hustle. A wedding planner and industry educator, Renee starts her mornings by hosting a 9 a.m. Zoom session with a nationwide group of wedding planners. As social distancing measures began to increase and weddings around the country were being cancelled or postponed in unprecedented numbers, she knew that it was important to bring the community together in a place where they could talk through challenges and mastermind future plans for their businesses.
After she wraps up the call, the day could go in any number of directions: teaching webinars, recording her podcast, creating new content for her education brand and planning for her group coaching program launch are all on the docket. She's also diligently working with her wedding planning clients, supporting them through the infinitely stressful process of postponing the biggest day of their lives.
Although Dalo has plenty to keep her busy throughout the day, staying positive has been a challenge. "I'm an extrovert and a planner, so not being able to be around people—or know when this is really going to end—has been unnerving," she admitted.
Originally from New York, Dalo feels fortunate to have a backyard with a patio during the stay in place order, allowing her to spend time outside without venturing out into the world. When she needs a break from the mental weight of it all, she's found comfort in journaling, reading and staying active with her online Zumba class. Cooking has provided her with the creative outlet she craves, but it's not always easy when you're missing ingredients. "We have had a hard time getting flour. So much so that a friend who lives about 30 minutes away bought some for me when she came across it and drove it over to me. That's true friendship!"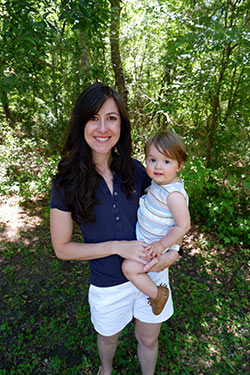 At home in Charleston, the overall map of the day doesn't look terribly different for me. As a wife to a police officer and mom to a one-year-old my routine has stayed in place, with the exception of losing the part-time daycare that allowed me to get work done outside of naptimes. However, work has lessened, so I've embraced a slower pace in this season. My daughter, Sophie, and I go on an exploratory walk every morning on our neighborhood bike path, where we collect rocks and look for ladybugs.
When lunchtime rolls around, I turn to the endless supply of canned beans in my pantry for inspiration. I've always been a meal planner and love to cook, but creating a 10-day meal plan based around non-perishable items to avoid unnecessary trips to the store should be an Olympic sport. I've shunned my normal rotation of dishes and instead embraced helpful cooking guides from Epicurious and Bon Appetit, which have helped me be more flexible. After weeks of coming up empty on my hunt for yeast, I gave in and grew my own sourdough starter so that I could keep alive one of my favorite hobbies, baking bread.
In the evening, we run around the backyard until Sophie is ready to give in to sleep, and then quickly clean up the explosion of toys that has overtaken every inch of the house. My husband and I have about an hour to watch TV together before he heads off to work the night shift.
Being quarantined in your home, whether required or voluntary, is hard. Days become long and monotonous, and the villages that we've built for support have dwindled down to our immediate families, at least for the time being. Although it's affected our days in very different ways, living through this pandemic has caused all of us to have a renewed sense of appreciation for things that seemed so basic just a few months ago. I, for one, am more grateful than ever for my family, my health and to be living in Charleston, a place where isolation can still include the sea breeze, the smell of jasmine and a friendly hello from your neighbors, even if it's from six feet away.
By Lindsay C. Bishop