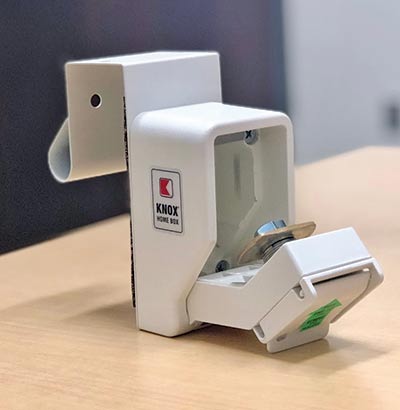 As the COVID-19 pandemic made its way through Mount Pleasant, the town took an innovative approach to police work, redirecting its law enforcement resources to make life a little more bearable and a lot safer for the people who call the fourth largest municipality in South Carolina home.
Mount Pleasant's men and women in blue played an especially important role for the town's youngest, oldest and most vulnerable residents, providing security at local hospitals, helping to distribute much-needed meals and much-appreciated educational opportunities to local schoolchildren and checking on the town's senior citizens on a regular basis.
The Police Department was prepared well in advance to help at East Cooper Medical Center and Roper St. Francis Mount Pleasant Hospital. The Department's 16 school resource officers, who spent their time at local schools before the educational facilities were shut down because of the pandemic, were reassigned to help at the hospitals between the hours of 5 a.m. and 8 p.m. daily.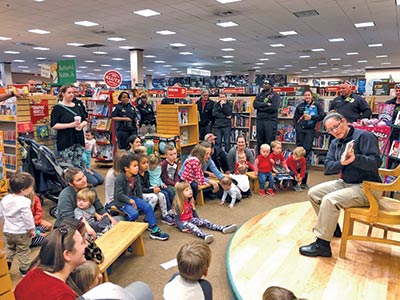 "We knew something was on the horizon, so we met with our community partners," Chief Carl Ritchie explained. "One of the things we discussed was how we could help them manage the situation. The hospitals have their own security guards, but they said they wanted police there also, in case there were so many patients that traffic and crowd control became an issue."
"They were there as a deterrent, just to make sure people were safe and to answer questions," added Investigations Lt. Jennifer Backman, who supervised the SROs. "In our job, we are always looking forward so we are prepared."
The SROs also helped the Charleston County School District distribute lunches three days a week to kids who were no longer eating at school. Their job was to follow behind the buses that were delivering the necessary nourishment to a central location, but, when they realized that some children didn't have transportation to the drop-off point, they took matters into their own hands.
"With any plan, there's often something that needs to be fixed," Backman said. "If the meals were going to Miriam Brown Community Center, maybe the kids in Snowden might not get food because their parents weren't available to drive them there. The children in those areas would text the SROs, who would load up their police cars with food to take to them."
The SROs also helped continue a Police Department tradition started several years ago. When social distancing wasn't an issue, an officer read to elementary school kids at the local Barnes & Noble store every third Saturday. Once that became impossible, the Department went virtual, reading to children on Facebook seven days a week. Ritchie took his turn first, and the SROs handled the job after that.
As if the SROs weren't busy enough, they stepped up to the plate for one more important task. Several Pinckney Elementary School teachers, missing the interaction with their young students, asked if they could participate in a "teacher parade" through neighborhoods in Park West and Dunes West. With Police cars leading the vehicular caravan, the kids were able to wave to their teachers as they "paraded" past.
The Police Department didn't forget about the town's older population during the pandemic. Continuing a program launched a few years prior by Ritchie, the Department gathered information about any illnesses or medications from relatives of senior citizens and installed a "Knox Box" over the door frame that contained a key to the home. The box can be opened only by a Mount Pleasant fireman or policeman.
"All too often, we would get a call from a loved one who hadn't heard from them in several days. We might have ended up kicking the door in or breaking a window," said Ritchie, who noted that by April 2020, around 80 senior citizens had a Knox Box.
The chief added that his officers regularly check on all senior citizens in the Knox Box program, as well as on everyone receiving services from Meals on Wheels, which, during the pandemic, was forced to cut back to making deliveries only once every two weeks.
"They were used to having someone come by every day. We didn't want them to be isolated without some type of contact," Ritchie said.
By Brian Sherman