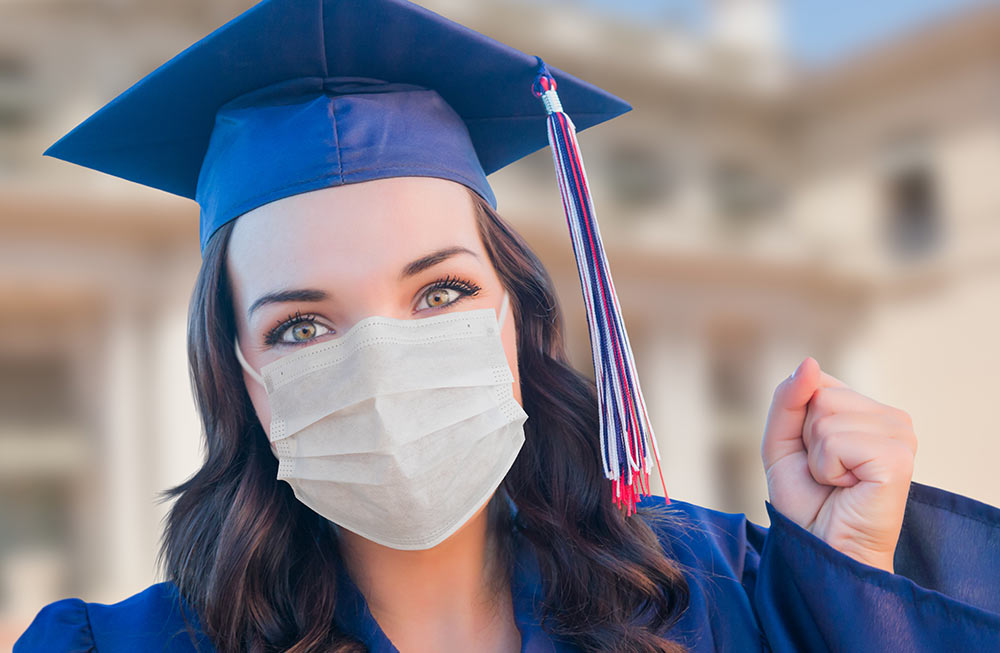 Senior year is an idealized time in American culture — a period of celebrations, planning the future and reckoning with one's identity. We've all watched movies and heard songs that invoke the nostalgia of senior year, and we all have a memory or two to share from our own. For the graduates of spring 2020, however, expectations have taken a sharp and unexpected turn. High school seniors sacrificed the excitement of one last prom, Senior Skip Day and other traditions, while college seniors cut short valuable internships and realized getting that first job might be tough.
For Audrey Marx, a senior at Wando High School, the COVID-19 quarantine has been a time to reflect on things that high-school students often take for granted. Marx, who plays the oboe, had been away in Indianapolis for the Music for All National Festival when she heard the news on March 12, a Thursday evening. Everything — from regular rehearsals to her national performance that weekend — had been completely canceled. She was home by Sunday and admitted she was initially relieved to find out school, too, was canceled, giving her time for make-up work. But after a while without school, she found herself missing the small things that used to frustrate her, like her commute.
"I drove to the campus the other day, just because I was bored," she said. "It was weird to go there and not have to be there."
Abby Gullion, a senior at College of Charleston earning a degree in Historic Preservation and Community Planning, was feeling feverish on Wednesday, March 11, and did not return to school the next day for what would become the final day of her final semester. Looking back on the two weeks it took her to recover, Abby, who was diagnosed with Lupus as a freshman, wonders if she was sick with the COVID-19 virus — but she was never tested. As the CofC campus completely shut down the following week, Gullion scrambled to gather her belongings from the dorm. The college had warned students to take items with them in case there was a week of e-learning after spring break, but no one knew students would not return at all.
"That Wednesday was my last day ever taking a college class. It's really depressing," she said.
Though parties, voyages abroad and other milestones with friends typically mark a senior year, this year's college and high school graduates are far more concerned with the graduation itself. While Marx said "it's not the end of the world" about prom (she went as a junior), she is disappointed about the commencement ceremony.
"It's this thing you've been promised your whole life; you see it in the movies," she said. "I've sat in on graduation every year because I'm in the band. But now, I'll miss my own."
Gullion said CofC sent out a survey to its seniors, asking their preferences for a later ceremony option: October or November at the Cistern, with December graduates in the TD Arena or with the Spring 2021 class. She, like many of her friends, chose either October or November as her top choice, pointing out that wearing black in the TD Arena with December graduates or waiting until the next year is not ideal.
"Spring graduation is supposed to take place at the Cistern, and you're supposed to wear a white dress and carry roses. It's unique and historic," Gullion said.
Still, the students at CofC appreciate having options, and Gullion noted that everyone, from professors to the president of the school, has been exceptionally understanding. Even though her internship at Bulldog Tours ended prematurely, leaving her with roughly 75 hours instead of the requisite 120, her advisor assured her she wouldn't be penalized. Weekly Zoom meetings with President Andrew Tsu have consoled students and their parents as well.
"President Tsu is doing an awesome job," Gullion noted.
So how are these seniors spending the weeks of spring 2020, if not in the classroom? Just like everyone else: quietly with their families, maintaining social distance. Gullion, who is at home in Murrells Inlet, said that the class of 2020 has had quite the rough ride — hurricanes, snowfall and now a pandemic.
"Every year has had a significant event," she said.
Marx is sticking to a routine as best she can, despite the weirdness of COVID-19. "I make sure I exercise and spend time playing my instruments: piano and oboe," she said. "I'm lucky to have something to occupy my time. I've been going outside a lot, too."
Both Marx and Gullion are hopeful that autumn will bring new hope. For Marx, she plans to attend Northwestern University by mid-September — though she's holding her breath to see if that first semester will be completely online. For Gullion, she aspires to move to Charleston on a more permanent basis and pursue a career in tourism and history.
"I want to be there," Gullion said. "History and tourism are so connected to Charleston, and I think it'll be fine. But it is scary."
"Having the internet to see what life is like for other people is so important right now," said Marx. "I hope the internet is helping friends realize that our lives are not that bad."
By Denise K. James