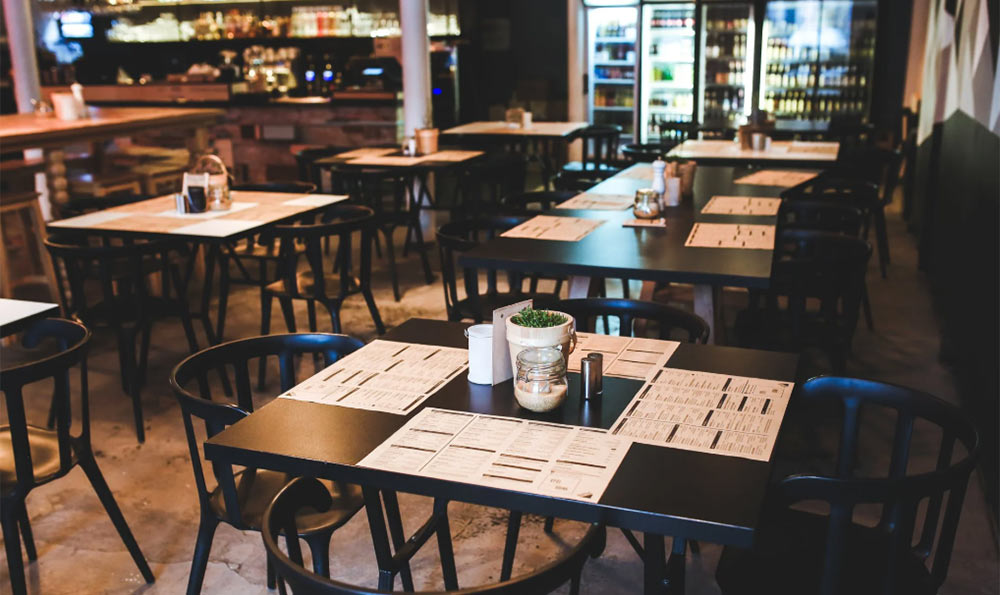 When you take a moment to think about the core values of our town, one of the first things that comes to mind is our hospitality. It's no wonder that we've built a booming industry on the back of the friendly reception and overall care for others that Charleston is famous for. Sadly, in a city where striking up a conversation with a stranger is commonplace, the effects of a virus that require us to hide from one another are all the more visible, and nobody has been hit harder by the economic impact of this pandemic than our world-renowned restaurant industry. Forced to shutter their dining rooms, lay off entire staffs and cover their warm smiles with face masks as they pass bags of comforting food to us through half-cracked car windows — the lives of everyone from small farmers to sommeliers have been turned upside down.
But, where there is passion, there is determination, and our Charleston restaurants have banded together to fight, serve and help those in need in unprecedented ways as we continue to adapt to COVID-19.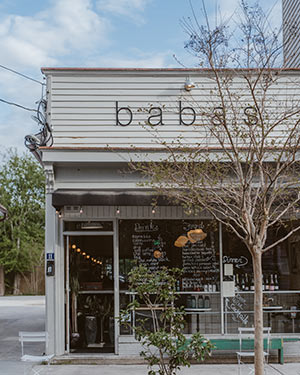 Like so many restauranteurs, Edward Crouse has seen his carefully curated business plan turned on its head as the pandemic unfolds. Crouse is the owner of Babas on Cannon, an intimate European-style café downtown. Now, he's fighting to continue to provide patrons and his team with a safe environment without sacrificing the hospitality and normalcy that we all crave during these tumultuous times.
As Governor McMaster held his press conference announcing school closures, Crouse and his mother were busy rearranging the Babas dining room to accommodate the impending dine-in closure. They contemplated the idea of sliding a table up to the front door, creating a spot where customers could quickly pick up their orders with minimal interaction. But knowing that, for many regulars, a trip to Babas might be their only human interaction for the day, Crouse couldn't bear to rob them of the opportunity for a quick minute of civility where they could be greeted at the counter, and where baristas and bakers could soak in the smiles they worked so hard to put on patrons' faces by crafting something delicious, but also routine.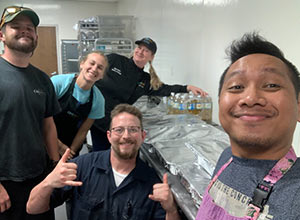 Being a small establishment with a lean staff has benefited Babas throughout this transition; it has allowed them to adapt quickly to changes. From developing their own ordering app over the course of a weekend to rolling out an in-house delivery system in order to keep profits and tips in employees' pockets, Crouse and his staff are constantly convening to discuss their small successes, what changes are coming up and how they can improve. As the weeks progress, the team has begun to take this as an opportunity to hone in on customer feedback in order to meet the changing needs of their patrons. Folks popping in for their morning coffee started asking about whether they could purchase a dozen eggs, a gallon of milk or flour, leading Babas to be a pioneer in the movement towards restaurants providing pantry staples for sale.
Others longed for a way to support local farmers and fishermen without having to seek out individual sources and cook up meals themselves. Babas has always focused on utilizing local ingredients but never marketed the fact, as it was simply the way they chose to do business. Now, Crouse touts his purveyors and has created a weekly dinner menu showcasing fresh vegetables, meat and seafood, providing nourishing and responsible options for those conscious about supporting our local economy.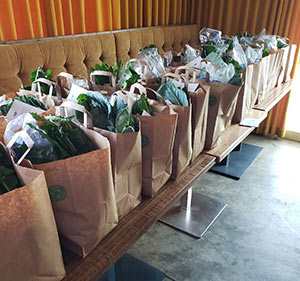 As restaurants around the world struggle to stay afloat, industry leader and owner of Butcher & Bee, Michael Shemtov, has been tirelessly advocating for Charleston's vibrant dining scene and its workers. While joining talks to help shape legislation that will hopefully ease the financial burden of the shutdown, Shemtov has embarked on an incredible effort to put food on the tables of thousands of now jobless restaurant employees through Pay It Forward Charleston, an initiative focused on handing out bags of groceries to hospitality workers in need. Each bag contains roughly $10 worth of provisions at cost and includes staples from local farmers who have seen their restaurant sales disappear overnight with nowhere for the produce sitting in their fields to go. By linking these two groups, Pay It Forward can channel funds to struggling farmers, who are in turn offering deeply discounted items to fill the provision bags.
Since its inception, Pay It Forward has been joined by a host of restaurant groups and supporters determined to make a difference. Red Clay Hot Sauce has pledged to donate 15% of their sales, Off Track Ice Cream is pitching in $1 per pint, and FIG, Mercantile & Mash, Cru Catering and many others have opened their doors with teams of volunteers to serve as distribution points for the bags, allowing each space to stick to a 50-bag per day limit in order to operate in a safe manner. Feed the Need Charleston has taken over fundraising efforts, immediately infusing the project with their own $10,000 donation and quickly allowing Pay It Forward to go from a grassroots operation to distributing 1,800 bags of groceries in a period of only three weeks. As of April 14, they had raised more than $40,000—enough to keep the operation running for three more weeks.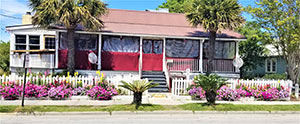 "We are all thrilled with the response of the community to date. What we need to do though is keep the momentum going and have as many people as possible donate today and in the weeks to come," said Mickey Bakst, President of Charleston Chefs Feed the Need. "This effort will continue as long as the F&B community needs us and for it to do so we need the community's support."
The hospitality industry has suffered a massive blow, but there are many others who also are struggling to keep food on their tables. From the moment that dine-in services were suspended, Workshop stall-mates Jacob Schor of Julius Delicatessen and Nikko Cagalanan of Mansueta's Filipino Food knew that they had to find a way to get food into the bellies of those in need. "Our first thought was, what are we going to do with all of this food?" said Schor. The answer was simple; they cooked up everything that they had and delivered meals to homeless shelter One80 Place, the Ronald McDonald House, and soup kitchen Neighborhood House.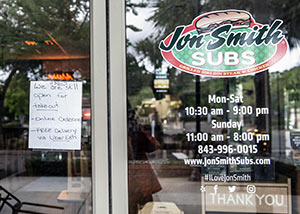 After supporting the initiative for a few days on their own, the two called on the community via a GoFundMe page to sustain their efforts. By the fourth day, they had reached their $2,000 goal and, as the generosity of our community continues to grow, the deliveries continue to expand to other non-profits and hospitals.
As Workshop residents, Schor and Cagalanan are used to running smaller-scale operations to feed individual patrons, but producing up to 200 meals a day, six days a week has turned them into a busy catering company. That busyness has kept them sane as the shutdown wanes on and has helped them to forge connections with other area chefs looking for a way to help. Chefs Brian and Naoko Howard of Stars Rooftop Bar & Grille and Millers All Day have shown up to lend a hand in the kitchen, while restaurants like The Royal Tern pitch in by dropping off fruits and vegetables that they're not able to use.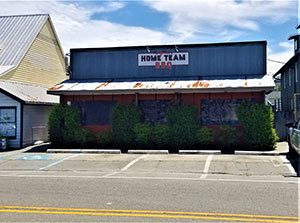 "Food is the best connection," said Schor. "Running this business, I had lost track of the other side of hospitality, the giving side." He hopes to see the generosity and community that this virus has forced us to build to continue long after the dust settles.
Back at Babas, upholding their standard of hospitality now goes beyond how they serve their patrons. As large restaurant groups made the difficult decision to lay off thousands of employees, Babas immediately stepped up and offered a small dose of comfort through free cups of coffee. Crouse quickly realized that there was a need for more than a simple cup of joe and created an opportunity for supporters to purchase a hot beverage, stiff drink or full meal for laid off workers, and he's been blown away by the response.
On the day of our phone call, the kitchen was busily preparing an extra 10 dinners purchased by a patron who simply stopped in to grab his daily sandwich—it was enough to feed an entire kitchen crew. The huge gesture serves as a reminder that every cappuccino, every meal, every Venmo tip is making a difference, not only in a financial sense, but by bringing a sense of humanity to a situation where we all feel out of touch.
COVID-19 may be forcing us to change the way that we relate to each other on a daily basis, but by coming together as a community to lift up people who have sang with us on our birthdays, congratulated us on our anniversaries and dedicated their lives to putting smiles on our faces, we can continue to infuse Charleston with hospitality from behind our masks.
By Lindsay C. Bishop