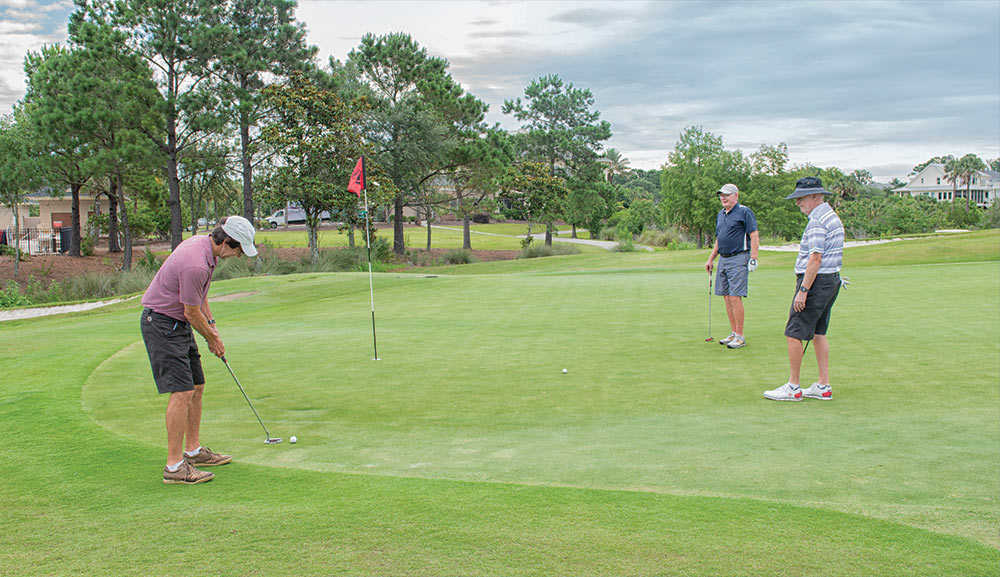 Many Mount Pleasant residents found some degree of solace and escape from the coronavirus pandemic — at least for a few hours — on area golf courses.
As Josh Sens wrote on Golf Magazine's website: "Golf is a boon for the common good (and for both mental and physical wellbeing), provided that those courses are abiding by public health guidelines, and the golfers themselves are taking proper precautions." He added: "Public health is paramount, of course, but mental health is also important."
At Patriots Point Links, Brady Noland, head golf professional, chimed in: "Our continued efforts made our customers feel safe, and we had many positive comments from members and guests about our ability to maintain a functional and safe operation through these times."
Among the steps Patriots Point Links took were running food and beverage operations from a mobile outdoor cart; filling holes on greens with cut pool "noodles" to eliminate the need to remove flagsticks; allowing each player to have an individual golf cart; and reducing groups to three players or fewer.
Other sanitation and social distancing practices included outdoor check-ins for golfers to pay for golf and merchandise, as well as self-service sanitation at the club's practice area. Golf cart sanitation occurred nightly and between uses.
The course at Dunes West Golf and River Club also remained open during the pandemic, reported Rich Rankin, general manager. "We were able to implement and follow many strict guidelines, including six feet of social distancing; one rider per cart; allowing walking; removing water coolers and bunker rakes; leaving flagsticks in and reversing the cup for easy retrieval of golf balls; and asking players not to touch the flagstick."
Pete Dunham, director of golf at Snee Farm Country Club and RiverTowne Country Club, thought his courses would have to close because of the pandemic, but they were able to remain open.
"At Snee Farm, most members do not check into the pro shop — there was a starter on the first tee who took names. Guests and nonmembers at RiverTowne check in, but they had to come into the shop one at a time, and the credit card machine was moved six feet from the register," he said.
Other guidelines at the courses included showing up 10 minutes before tee times, spacing tee times ten minutes apart and implementing social distancing measures, such as four people per group, two golfers on a tee box at one time and walkers remaining 10 feet apart whenever possible.
While many businesses suffered greatly because of the pandemic, play at the Snee Farm and RiverTowne courses was up 50% for March, April and May, compared to last year, according to Dunham.
"I can't tell you how many positive comments we've received from the members," he remarked.
Chase Wells, head golf professional at Charleston National Golf Club, said: "We were very fortunate; the course never closed down. At the beginning, we figured it was inevitable that the doors would close at some point. But everyone here went above and beyond to keep golfers and employees safe."
"We set up a temporary desk, so no one has to enter the shop. The top of the door is covered in plexiglass. If you'd like to enter the clubhouse, we ask you do so using the entrance in the back. Once you get on the golf course, golfers must leave the flagstick in the hole — a foam device is in the hole to prevent the ball from falling to the bottom of the cup. We've also taken all bunker rakes and water coolers off the course. Our pub remained open throughout the pandemic, and limited indoor seating is now available," he added.
Like his peers, Wells said playing golf has provided a safe outdoor activity for people throughout the pandemic. "We've had many golfers thank the staff for working hard to keep them safe. Most golfers have been thrilled they are able to get outside and play a game they love," he said.
By John Torsiello