At the height of the pandemic, gyms and fitness studios were mandated to close their doors, and Mount Pleasant residents were forced to search for alternative ways to workout. Also affected by the governor enforced quarantine were fitness instructors and personal trainers that were no longer able to work one-on-one, face-to-face with clients, but still possessed the ability and knowledge to help men and women meet their fitness goals. Moving forward, various trainers and instructors took to social media to reach men and women in search of fitness coaching, and they provided their instruction and support from a socially distant, safe place – their homes.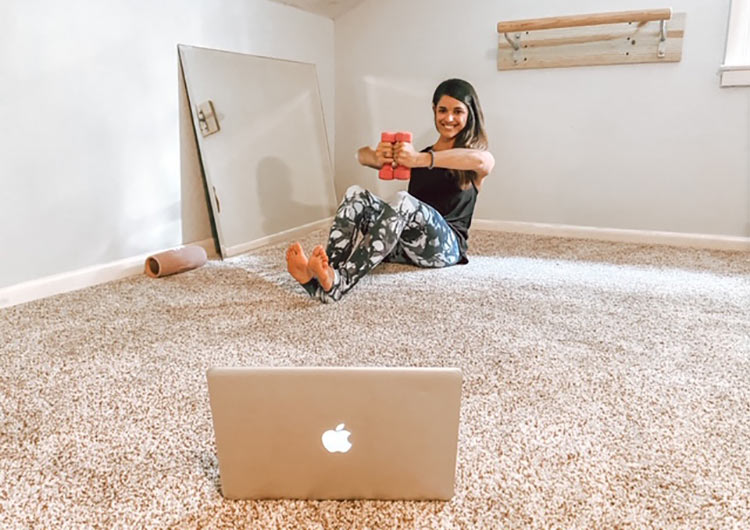 Randi Seckinger, founder and sole operator of Instagram account, @homebodybyrandi, had the idea of launching her home fitness program for quite some time, but was fueled by the state mandated quarantine to act now, when her program was needed most. As a resident of Mount Pleasant, mother of two, and former registered nurse, Seckinger identifies with her clientele's fitness needs during a national crisis, and states the importance of "having an outlet and letting go of some of the stressors that are impossible to avoid during a worldwide pandemic." Seckinger currently offers live streamed classes, as well as a library of recorded classes, and the only equipment needed to participate is a chair, countertop, railing, and light weights. Encouraged and excited at the number of people who currently use @homebodybyrandi to meet their fitness goals, Seckinger anticipates a good number of her clients will continue to use her Zoom fitness program, even when gyms and studios open because "it is a convenient, hard work out from home that also has the component of accountability." Seckinger says that teaching via Zoom has presented a challenge for her because she considers herself a very "hands on" instructor, but she has adapted to fit the current needs of her clients and current social distancing recommendations. In hopes of a better, safer tomorrow, Seckinger anticipates being able to offer socially distanced in-person community classes, but continues to provide ample opportunities, both live and recorded, for her Instagram followers to get in a workout during a time when self-care is so incredibly important.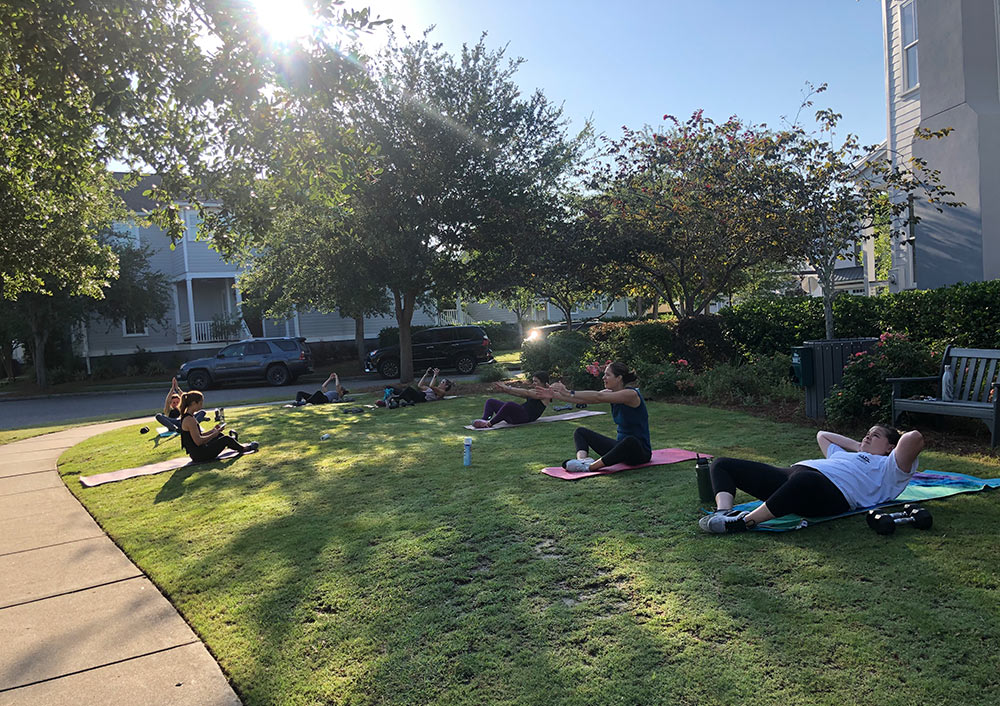 Group fitness instructor and owner of Baseline: A Sasser Studio, Taylor Sasser also launched her new Instagram account, @baseline_sass, during the quarantine and has been offering small group fitness, one-to-one fitness, and live on demands classes to her clients. Sasser, well known in the community as a group fitness instructor, is now branching off to start her own home-based studio. "I wanted to fill the gap for people who needed accountability during COVID," Sasser stated. At the beginning of quarantine, Sasser started using her own personal Instagram page to record workouts and when the client demand for more workouts became present, Sasser began streaming live workouts on Zoom. Sasser explains that what makes her online classes unique is that "no two classes are the same. Each day has a different focus," and she believes this keeps her clients engaged, excited and committed to physical fitness. Most of Sasser's current clients have "stayed with her" during her years instructing at various local studios in the Mount Pleasant area, and she noted having seen "bigger strength and weight loss improvement in the past month [of quarantine] than ever." There appears to be not only a need for at home training, but a significant benefit as well. As the weeks passed and the social distancing guidelines continued to relax, Sasser expanded her personal training to one-on-one and small group classes, offered outside, and she is currently in the process of expanding to a brick and mortar studio. Sasser does, however, plan to continue offering online fitness classes for her clientele who are interested in pursuing a workout at home.
Despite the reopening of gyms and studios, Mount Pleasant residents remain conflicted about their comfort level with returning to group fitness. Online classes remain popular amongst the community, and it is very likely this will become the new normal for fitness enthusiasts seeking a more controlled environment in the months, and possibly even years to come.
By Jennifer Harrison