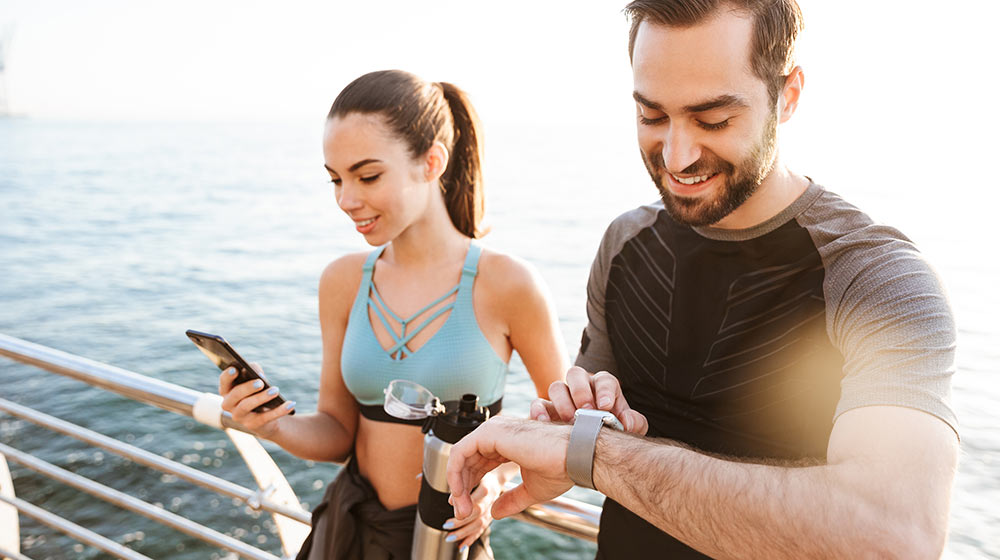 If your New Year's resolutions whisper sweet promises of a new exercise regiment, how long before they dissolve into a puff of smoke, like steam lifting off a morning cup of joe? If you're like me, a healthier you is always on the horizon — but just how realistic is it? Exercise classes sound great, but are not always consistently convenient. Working out at home presents daily distractions from a well-thought-out routine.
As our phones get smarter, it's now easier to find a middle ground: exercising with accountability at your own leisure. These types of networking apps help you find "your village" and can act as your personal trainer. Some even reward you with cash back.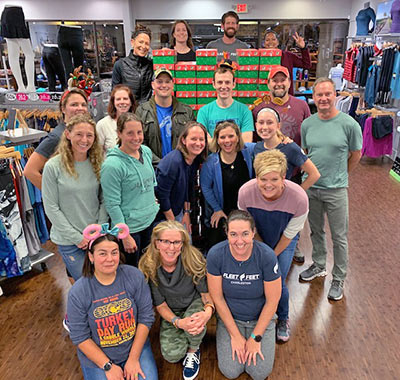 I asked some of the knowledgeable staff at Fleet Feet, who eat and breathe exercise, for their opinions on using technology to promote fitness.
Wade Wiley, general manager, is an avid runner and enjoys strength training. His advice: "For those who are new to the fitness world, sports apps can be a great tool." He recommended the Garmin Connect app which works with the watch. "It keeps up with my daily activities, sleep, hydration, stress and more."
Fellow avid runner and cross-trainer Justin Hart happily suggested using technology to activate a healthier lifestyle. "Phones and watches are a great way to get people outdoors, especially when you have a history of runs and can see improvements through data." Running apps, such as runkeeper.com and the Nike run app, he said, "will automatically notify you of PRs and offer recommendations to prevent overuse accidents." Hart also noted that heart rate-based training would not be easy to do without gadgets. His go-to apps include Garmin Connect for data collection, Strava for networking, Endomondo for data analysis and Fleet Feet for mileage awards.
Adrianne Dukes loves to run but can't resist a good yoga or dance fitness class. "I wish people were self-motivated enough to just get out and go for the fun of it, but in this day and age, if phones can jump-start that, I say embrace it." She pointed to the Achievement app that links to her watch and Strava account. "I get awarded points for working out, meeting my step goal, getting a good night's sleep and more. After 10,000 points I get a $10 reward added to my PayPal. Translation: I get paid to take care of myself."
Dukes also recommended the Relive app which creates a moving map of whatever route you run, walk or bike so that you can see the actual journey, much like running it in real time. It even integrates photos you take along the way.
"I am all for whatever gets someone off the couch," said Fleet Feet staffer Sarah Lerner, who runs and lifts weights. She suggests Tabata training or high-intensity 4-minute interval training (HIIT) workouts. To assist in your workout, you can find timing apps on the internet or easy-to-follow YouTube videos. "If someone is dead set against going to the gym or it intimidates them, access to fitness on your smartphone is a great alternative."
connect.garmin.com
A great tool for tracking, analyzing and sharing health and fitness activities from your Garmin device.
endomondo.com
Keep it interesting by setting goals. The app's virtual trainer will let you know if you're on track to meet them. Compete against yourself or challenge or cheer on friends.
myachievement.com
Achievement Studies enables you with the ability to uncover insights on your health — and shares it with its scientists to learn about the human body in general. Help yourself, help others!
relive.cc
Relive creates videos of your routes to inspire you and others with your unique outdoor adventures.
strava.com
If you're a serious runner or cyclist, keep track of your most recent runs and rides in one place, plus track distance, speed, elevation, calories burned, heart rate, power and cadence, all synthesized into easy-to-understand graphics.
By Pamela Jouan