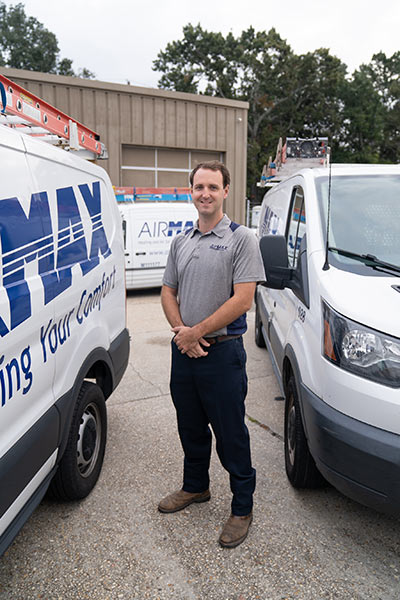 Lief Erickson has been working as a technician for AirMax for almost seven years, and his love of this small, family-owned business shows. Erickson's parents moved to Charleston in the 1960s, and he's a Lowcountry native through and through. After graduating from Wando High School, Erickson went on to receive an associate degree in criminal justice from Trident Technical College. He began working as a technician for a competing company to help pay the bills while working toward his degree and enjoyed the job so much that he decided to continue down this path after graduating.
Though Erickson was passionate about helping people solve their heating and cooling issues, he grew tired of working for a large company and sought a place where he could spend time establishing a relationship with his clients and take a more comprehensive approach to creating a comfortable environment in people's homes. Having attended high school with Rudy Box, Install Manager and son of AirMax owner Medd Box, Erickson was excited about the opportunity to join the AirMax heating and cooling team. "Working for a family-run business, it's easy to communicate with everybody — not only management but my coworkers, other service technicians and also with customers," he explained. "I like being able to get to know customers on a more personal basis. At AirMax, everybody's not a number."
Outside of work, Erickson enjoys spending time with his girlfriend and their rescue mini-dachshund, Penny. He enjoys getting outside and spends his weekends duck hunting, four-wheeling and rooting for the University of South Carolina football team.
For more about Mount Pleasant, SC heating and air or for questions about AirMax call (843) 614-3276 or visit AirMaxSC.com.