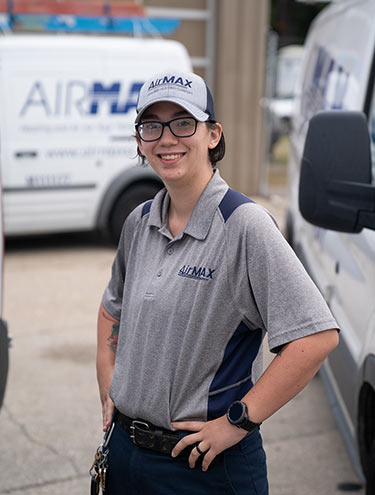 Tori Adams has been working as a technician for Charleston heating and cooling company AirMax for five months, but she already feels like part of the family. Originally from Hawaii, Adams moved to Summerville with her father during her freshman year of high school and graduated from Summerville High School. Adams began her career in the heating and cooling industry with a company that focused on commercial properties seven years ago. After a few years in the field as a technician, she moved into a project coordination role in the office, but she missed the face-to-face interaction with customers that being a technician granted.
Having worked with AirMax Dispatch Coordinator Julie McCrackin at a previous company, Adams was excited when she learned that AirMax was hiring technicians. Now that she's back in the field, she's diving right into her favorite part of the job. "I like to do maintenance because you get to take your time," she explained. Performing a deep clean of clients' existing systems to make sure that they're experiencing peak performance is what she enjoys most, and that includes giving them a good report on her way out.
Adams appreciates the family-oriented work environment that AirMax has cultivated. "They really look out for their employees," she shared. When her husband landed in the ER and needed emergency surgery, the management at AirMax not only supported her in taking time off to care for him and their two children but went the extra mile, sending a care package to her home the following day.
When she's not working on HVAC systems, Adams is still working with her hands, diving into any creative art project that she can find. Currently, she's in the middle of painting a three-piece abstract sunflower on canvas for an AirMax colleague.
For more about Mount Pleasant, SC heating and air or for questions about AirMax call (843) 614-3276 or visit AirMaxSC.com.