By Colin McCandless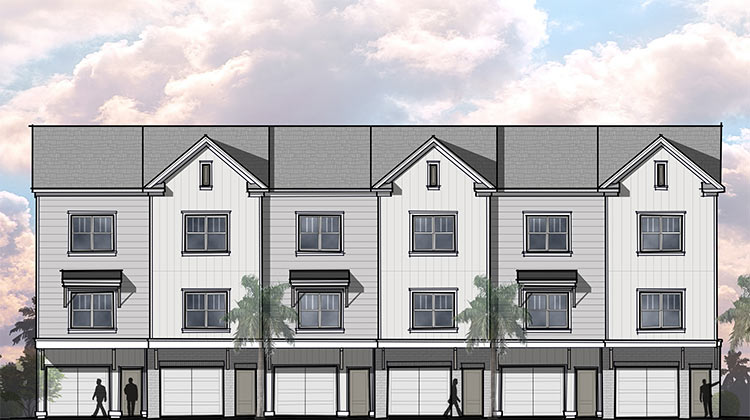 It is no secret that rent and home prices in Mount Pleasant are expensive, and rush hour traffic is tedious, but thanks to a community partnership among elected officials, businesses and nonprofits, steps are being taken to address these two interconnected issues.
In February, Mount Pleasant's Town Council approved the first workforce housing development. The plan called for a 42-unit condominium complex on Gregorie Ferry Road, off Highway 41, with a project groundbreaking originally slated for summer 2020. Then COVID-19 hit in March, and design and plan reviews were delayed as scheduling became uncertain.
In response to the changing financial landscape during the pandemic, along with the new norms of social distancing, the site plan was redone, which affected the project in various ways. Housing will still be built at the same site, but instead of constructing 21 one-bedroom and 21 two-bedroom condos as first proposed, the development plans, in partnership with Carolina One New Homes and The Berry Companies, have changed to include 36 townhouse-style homes, arranged in six buildings of six units each. The development, called Gregorie Ferry Towns, is priced between $240,000 and $269,000. These 1,016 to 1,254 square-foot townhomes have two bedrooms and two baths, with a garage and options to upgrade to an additional room. The third room can potentially be used as another bedroom, storage or an office. While the original condominium design entailed a three-story condo with shared entrances and common hallways, in the redesign, every townhome has its own separate entrance.
The project's inception dates to 2016, when former Mount Pleasant Mayor Linda Page and Town Council created an Affordable Housing Taskforce, charged with developing recommendations to address the worsening workforce housing crisis. The taskforce presented its findings in 2018. One recommendation was to create a 501(c)(3) to help tackle Mount Pleasant's housing situation. That organization, which achieved nonprofit status in November 2018, is called Housing for All – Mount Pleasant. The town of Mount Pleasant provided $50,000 in seed money and delegated them the authority to devise a set of initiatives focused on workforce housing.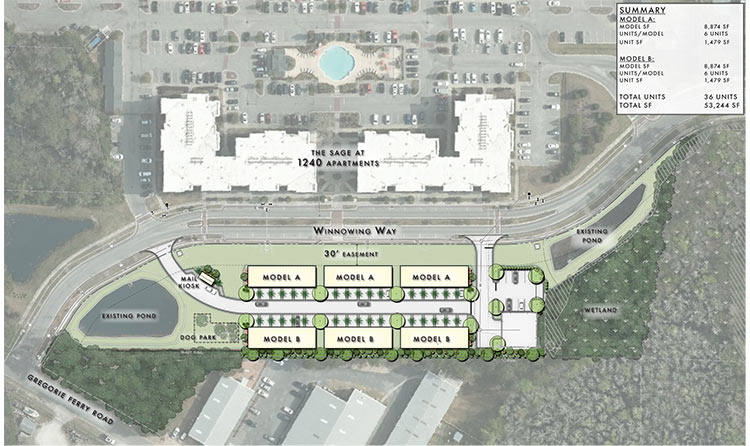 Wendy Bauerschmidt, Housing for All – Mount Pleasant's executive director, outlined their four strategic goals as education, advocacy, preservation and development. Education is a critical component, as there are many misconceptions about what workforce housing is, noted Bauerschmidt. Despite Mount Pleasant's high median income of $90,000, many jobs are retail or service-oriented, and there is what Bauerschmidt terms a "geographic mismatch" — the primary cause of the traffic congestion.
Daniel Monroe, senior account executive of PR with the marketing agency Rawle Murdy Associates (RMA) — which started working pro bono for Housing for All last year — explained that housing equality means economic development, since providing affordable residences for employees will help improve quality of services. Currently, more than 70% of Mount Pleasant's workforce lives elsewhere because of high living costs. "It's an unsustainable path," noted Monroe. "The more we can have people work near where they live, the better it will be for everyone."
According to Housing for All, Mount Pleasant's average monthly apartment rent is $1,400, and the average increase in regional rent prices since 2010 is 49%. This affordability gap for workers creates a commuter community, resulting in traffic gridlock and lower quality service, from childcare to retail, for residents. Bauerschmidt cited the example of teachers and health care workers. Mount Pleasant has great schools, but if you have exceptional teachers driving an hour or more to commute every day, it affects lesson planning, after-school activities and building relationships with parents. She observed that the coronavirus has served as a stark reminder of how essential health care employees are and our need for an adequate workforce.
"With the changes in the economy, the need for workforce housing has only increased," said Bauerschmidt.
This is why Housing for All advocates for policies that create more workforce housing opportunities. Additionally, they partner with other local nonprofits, such as East Cooper Habitat for Humanity, on preservation — examining ways to keep long-time residents in their homes, despite rising living costs.
Gregorie Ferry Towns is an example of Housing for All's development objective. The project aims to help professionals, including teachers, health care workers and first responders with an annual income between $40,000-$62,300, own a home in Mount Pleasant. Monroe asserted that Housing for All champions a great cause, and this made it easy for RMA, which has a wealth of experience in real estate and development in Charleston County, to offer support. Bauerschmidt added they are "enormously grateful" for RMA's assistance and expertise.
Partnerships are crucial in endeavors such as this — everything from elected officials and developers to arrangements with local banks to provide loans with low or no down payment. The town has been very supportive, and Bauerschmidt looks forward to their continued support on future projects. "It's been a great collaboration and a commitment to stay the course," she said. "It's really been special in this difficult time."
A deed restriction will ensure Gregorie Ferry Towns remains workforce housing for 75 years, and there are caps on the sales price and income range. The goal is to help the homeowner build equity and also keep it affordable for the next person.
Since the site plan changed, the project's next steps involve meeting with the Town Council and the planning commission for the revised site plan approval and design review. Bauerschmidt expects the plan to be approved in November. From there, groundbreaking is expected to begin in January 2021, and project completion is anticipated by late spring. Housing for All has begun marketing the project, and, as of the time of this article, eight townhouses have already been sold, including the entire first building. "Interest rates are low, and buyers want to take advantage of that now," noted Bauerschmidt.
While this project is certainly a start, Housing for All acknowledged there is more to be done.
Bauerschmidt said they will continue seeking opportunities for further workforce housing, as well as a housing project specifically geared toward seniors.
Town grant funding is limited following the pandemic, but Carolina One New Homes is donating $500 per unit, and the Berry Companies is donating 1% of sales from the Gregorie Ferry townhouses back to Housing for All to fund future projects.