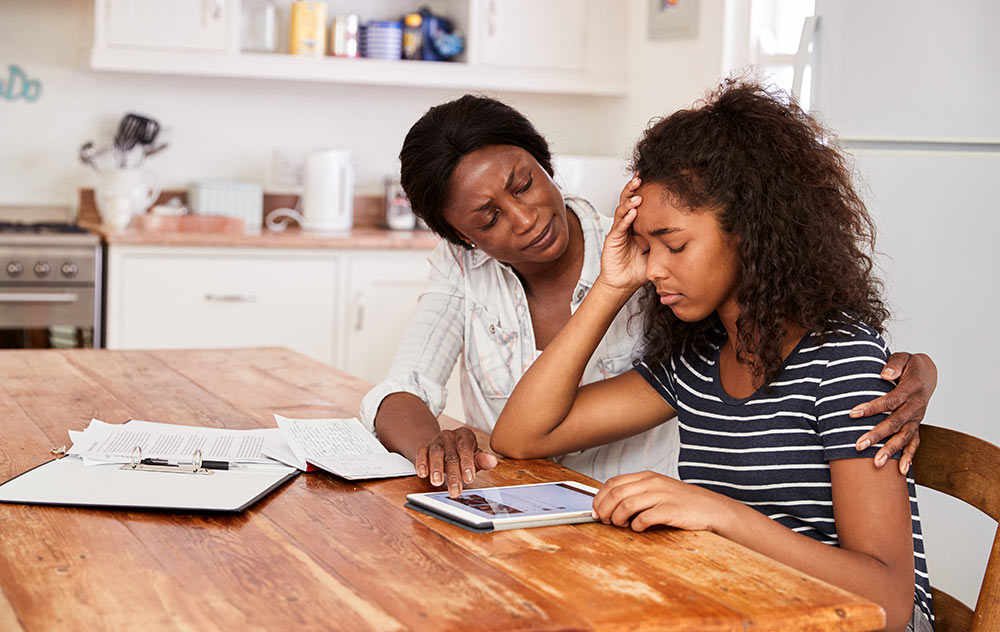 Too often, it seems our children have the weight of the world on their shoulders. Some of it is normal teenage angst, while other cases are more severe. The pressure to succeed in life — preceded by the pressure to excel in high school and college — can manifest as early as elementary school.
Principal Gayle Morris of Cario Middle School was alerted to stress and anxiety as a growing concern for her students by eighth grade counselor Scott Trottier.
"Several grade's teachers had mentioned to him that they had students with test anxiety. Some parents had reached out to say that their children were having a hard time getting out of bed to go to school," she explained.
They decided to hold a workshop, and Trottier already had the perfect host in mind. Ashlin Blum is a Licensed Independent Social Worker of Clinical Practice (LISW-CP) in South Carolina, as well as a Board Certified Behavior Analyst (BCBA), with a practice in Mount Pleasant (www.empoweredfamilysc.com).
"He had contacted us about conducting a free workshop to get information out there for parents and kids," explained Trottier.
The school held separate, voluntary sessions for seventh and eighth graders during recess, as well as another for interested parents after school.
"He walked through conversations with kids to validate their concerns; helped parents identify what is normal, healthy stress, versus what is not; and went through coping mechanisms, such as designated worry time, deep breathing exercises and setting positive routines," Trottier added.
Morris pointed out that student stress is a widespread issue, certainly not specific to Mount Pleasant. "There is a definite trend, but we believe having a conversation takes away the stigma that something is wrong," she emphasized. "Having workshops like these show that, as a school, we are listening to our kids and are not going to let them go down a dark path alone."
Blum, who was happy to help, said: "I have a background in disability services, and I am an autism specialist. I see a lot of depression and anxiety issues with those kids and in general. It is my impression that most middle school kids are dealing with some anxiety component, due to academic pressure."
He encourages parents to take steps to discern the issue.
"Look for changes in behavior, such as dramatic outbursts, abandoning outside interests to focus exclusively on homework or the opposite — wanting nothing to do with school."
The next step is for parents to talk to kids and find out what is bothering them, which can be challenging, according to Blum. "Parents aren't always comfortable having honest conversations with their teenagers, who, by virtue of their age, are trying to be more independent and don't always see the value in talking it out. They end up in counseling when parents are at the end of their rope."
There has to be a balance between letting kids be kids and not letting school fall by the wayside. Blum suggested developing a schedule that works and sticking with it.
"Time management is not taught in school. It's hard for kids to find time to study appropriately, and, when they do, they are multitasking. Just watch your children doing homework and see how many screens are around them," he pointed out.
That's why Blum works with kids on forming routines and not procrastinating. He helps them self-monitor and learn "how to be in the moment and not worry about the future" with methods like yoga and deep breathing.
Anna Dassing, principal at the new Lucy Beckham High School, brandishes a copy of a Washington Post article with a headline that sums it up: "Students in high-achieving schools are named an 'at-risk' group, study says."
Because Lucy Beckham High opens this fall, Dassing and her team are already rethinking how students can have more control over their day and, hopefully, less stress. They have a three-step plan.
"Every day, students will alternate Independent Learning Time (ILT) with health or personal finance. ILT will allow them to catch up on homework; make up a test; see a teacher or guidance counselor for extra help; go to the media center for yoga or mindfulness; or visit the student center for a snack. Health and personal finance will also be interwoven, with ways to deal with stress," she said.
Built into the middle of each day are two more blocks of valuable "me" time for students. Based on a national EL Education model, the school will be implementing Creating Relationships, Exploring Within (CREW). CREW is a locally approved course that allows students to get class credit. For 40 minutes each day, approximately 15 students meet with a teacher to build positive relationships, monitor academic progress and develop character.
"We got the idea from River Bluff High School in Lexington, South Carolina, an EL Education school," explained Dassing.
Claire Gatlin, Director of School Counseling for Beckham High, added: "The single most important thing to a child's success is a relationship with a trusted adult. CREW ensures that."
Lunch will follow CREW. It will be 50 minutes, so all students and teachers have the same time to eat, catch up with friends, play a sport and generally decompress. Students will have the run of the school — not just the cafeteria. "It sounds daunting, but I like to say, 'that's the best that can happen?'" Dassing said, smiling. "Giving them space also relieves social pressures between peer groups and gives kids a chance to eat alone in a classroom, if they prefer."
During their junior and senior years, students will have an AP option — CAPSTONE or Research, depending on their interest — that will add an extra layer of community interaction.
Blum is thrilled to hear that Beckham High School will be tackling student stress and anxiety in such a proactive way.
"I want to get the elementary and middle school kids and their parents and teach them time management and coping skills, so that by the time high school comes around, things are in place," he commented.
With Mount Pleasant schools addressing these issues now, perhaps, in due time, students will feel they have the necessary support to achieve success.
By Pamela Jouan