In August, I had the opportunity to walk the halls of Mount Pleasant's newest high school with Principal Anna Dassing. The building exemplifies Lowcountry style: flooded with light from large windows, accented with wood and adorned with iconic local images. While there is no doubt the physical space fits the area, so does the curriculum. Dassing and her team worked tirelessly to realize the late Lucy Beckham's vision.
This vision, with a close eye on relevant career paths for students, includes offerings in Coast Guard JROTC, veterinary science, building construction and journalism/communication. In addition, each day includes a CREW — Creating Relationships Exploring Within — block for all 9th and 10th graders, which serves to build life and academic skills and offer social and emotional support. Academics are rounded out with many performance arts offerings, 2- and 3-D art studios, science labs and maker-spaces, plus a sports program that includes two gymnasiums, a weight room, two practice fields and a competition track and field circuit.
Peyton Vranich is a Beckham Bengal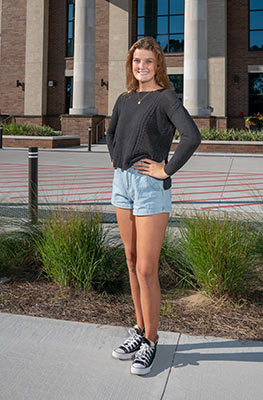 Do you remember what high school was like — the crowded hallways with sticker-hijacked lockers, Friday night football games, awkward dances and fashion fads? High school is a rite of passage. It's the first few years of independence and the last few years of freedom.
Peyton Vranich is a freshman at Lucy Beckham High School. She's a typical student and athlete: hardworking and quietly confident. She moved to Mount Pleasant when she was 6, and she loves it here. You will find sand in her flip-flops and the smell of saltwater in her hair. She will tell you the first taste of freedom she experienced was roaming the streets of Old Village on her bike. When she is older, she will reminisce about sitting at the counter at Pitt Street Pharmacy in the late afternoons with her friends.
Her day-to-day life is similar to that of many teenagers who will walk the halls of Lucy Beckham High School over the years. Ultimately, these students will define the shape of this sparkly new academic facility. Peyton's story is just one thread of the Beckham fabric that is being woven.
"If I had to point to what defines who I am today, I would have to mention that I started figure skating when I was 6 years old. I used to get up at 5 a.m., take a 6 a.m. lesson at the Ice Palace and then go to school. I competed regionally. Figure skating is an individual sport. It's just you out there on the ice. It taught me to be tough and also realize that being on your own is sometimes okay. I did miss having the support of a team, though, and so I eventually gave it up to focus on something else I really love: lacrosse.
I have to admit, in the beginning lacrosse was all about wearing the uniform and hanging out with my friends, not skills. But as I got older and the competition got harder, I realized that I wanted to push myself to be a better player. My teammates motivated and supported me. That support was essential in making me want to improve my skills and to be a better teammate.
I guess I am approaching high school with a combination of these early experiences. I'm not a little kid anymore, guided through school. It's really up to me to figure it out. Having Independent Learning Time built into my day is invaluable. Since most of us have after-school activities, it's a good way to stay organized and get some homework out of the way.
I have only had a few CREW sessions, but it's great to have the support of a teacher you can go to independently to ask questions. It makes the transition to high school a little easier. I think, going forward, CREW will be a good place for life lessons as well.
I'm excited about the social aspects of high school compared to middle school, where things were more contained. I'm glad we have One Lunch, so that I can see my friends, many of whom are sophomores that I don't have classes with. There are so many academic options that are pretty cool as well. I have friends who are in the building construction classes and love it. Veterinarian science is going to be a big draw for some kids I know. I'm still finding my own path, but it's great to have options like these.
I feel pretty lucky to live in Mount Pleasant and have the opportunity to be a Beckham Bengal. When I think about it, it really is a perfect fit for where we live. I can't wait to see what the next four years have in store for me."
A Peek Behind the Curtain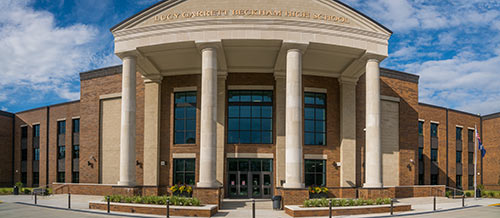 If raising a child takes a village, it should come as no surprise that it took many visits to many different schools to give Lucy Beckham High School its definition and scope. Principal Anna Dassing pointed out that her mentor Lucy Beckham started to visit other high schools before her untimely passing. With the baton passed, Dassing threw the net far and wide.
Riverbluff High School in Lexington, South Carolina is probably one of the biggest influencers for Lucy Beckham High School, in terms of their flexible schedule modeling and CREW and independent learning components. Riverbluff follows an EL Education Language Arts curriculum that engages teachers and students through compelling, real-world content. At Beckham, teachers from different subject matters collaborate on units. Dassing also went to Summerville High School and Carolina Forest in Myrtle Beach to see the One Lunch concept in action.
Dassing even visited schools in the New England area to observe competency-based education, a system in which education is handed back to the students for true ownership in their learning. This empowers them to make important daily decisions. She also had the opportunity to travel to San Diego and check out what West coast schools are doing in their classrooms.
Dassing was recently trained in New Tech, a system that uses problem-based learning as a form of inquiry-based instruction. This gave her the chance to visit schools in the Midwest — Iowa and St. Louis — and see some real life applications first-hand.
And, of course, there is Wando, their big sister school. "We took the best of the best from Wando to replicate here," she noted. "This entire process was about amassing ideas, seeing what was possible and then adding to it to make it even better."