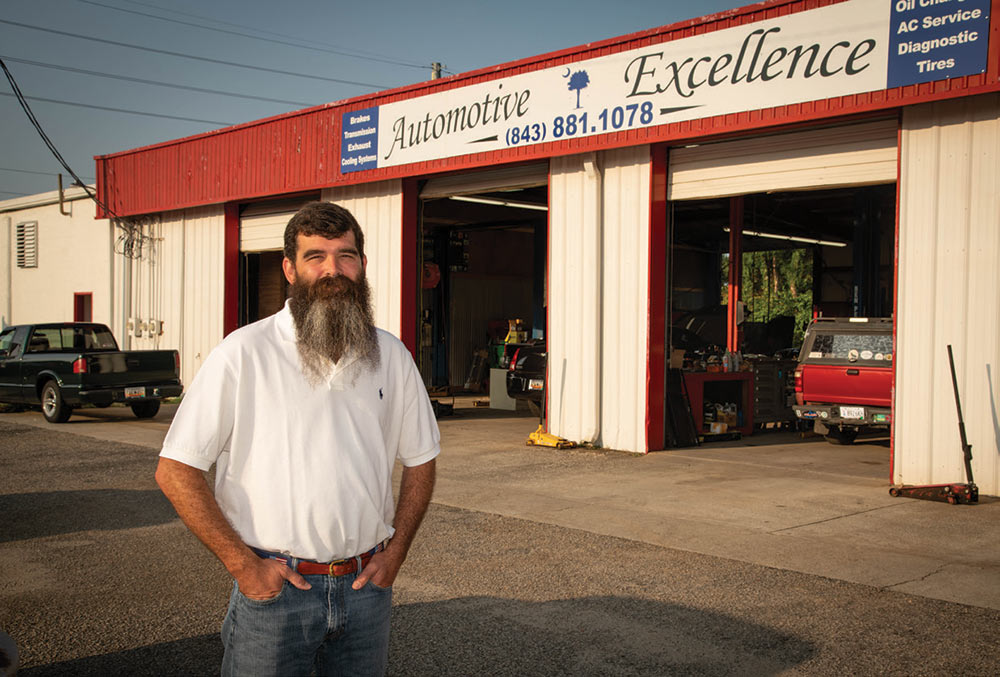 You might not expect it from a lifelong mechanic, but Johnny Page, owner of Automotive Excellence, said he owes his success to growing and cultivating one very important thing: customer relationships.
"We're a family-owned business and family run. Our employees are close as blood, too. But the real heart of it is the trust we build with our clientele," Page explained. "We try to make sure each customer who walks through our door feels like a person – not just a number."
Page's vehicle maintenance and repair shops have been serving Mount Pleasant and the surrounding area since 2001, opening just six days after September 11. Despite the unexpected shift in national priorities following the events of that day and the resulting economic downturn — as well as several to follow since — Automotive Excellence has flourished, through reliance on honest recommendations and dedicated service. The business now inhabits two locations, 1237 Ben Sawyer Blvd. and 1084 Johnny Dodds Blvd., and proudly serves clients from across the Lowcountry.
"My dad always told me to treat each customer as if it were my mom stranded on the side of the road," said Page, who spent many years working in his father's mechanic shop before striking out on his own. "It's really that simple.
It's worked, and that's why we are blessed to have so many repeat customers and word-of-mouth recommendations."
Page relies on a no-nonsense approach for repair quotes and advice and encourages the same in his workforce, many of whom, if not directly related to Page, have been employees for many years.
"It's always, 'Do the best you can, be honest, and then come back to do it all again the next day,'" he said. "We're so lucky to have staff who work hard and uphold those values."
For people seeking a reliable repair shop, Page recommended asking critical questions when choosing a mechanic. He said to avoid shops that don't offer a written explanation of the services needed and a detailed list of charges before completing any work. Further, he explained, a shop should not do any work on a vehicle before giving the customer the rundown and gaining expressed approval to continue.
"You have to be a good communicator and able to explain the services in a way the customer can understand," Page said. "If a shop won't take you in the bay and pop the hood to show you exactly what's wrong and what needs to be done to fix it, I would consider another option."
For Page, though, it always comes back to strong connections and continuing trust.
"I know we've really done our job when a customer comes for additional services and requests a certain mechanic by name," Page said. "That means they've built a relationship with that person, and that's what we're striving for here."
For more information on Automotive Excellence, call 843-216-1599 for the Ben Sawyer Blvd. location or 843-881-1078 for the Johnnie Dodds Blvd. location.
By Meredith A. Hagen