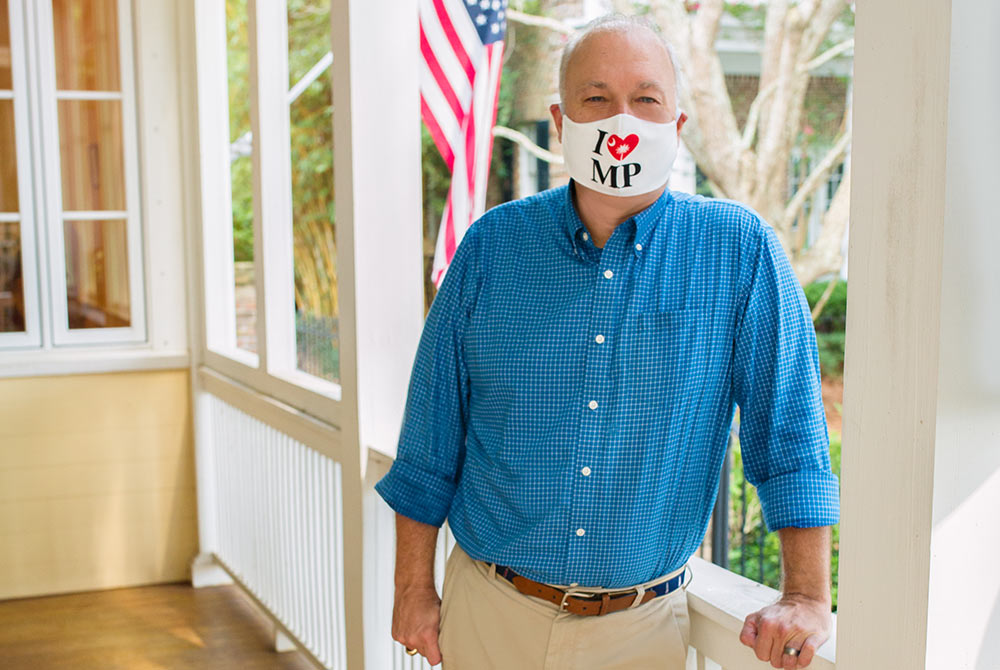 When I was elected as a member of Mount Pleasant Town Council in 2015 and then as mayor in 2017, I ran on the campaign that as the fastest-growing municipality east of the Mississippi, our community was losing its quality of life. I entered public service with confidence — I knew what our citizens expected my priorities to be.
Then the novel coronavirus showed up in early 2020, and suddenly, all priorities changed. What was at stake was no longer quality of life, but life itself.
I will always remember the first coronavirus meeting I was involved in. It was hosted by the town in early March, in our Emergency Operations Center at Town Hall. Staff members were present from SCDHEC and MUSC, as well as the local school district, hospitals and most assisted living facilities.
Toward the end of the meeting, I was struggling for a frame of reference. There were no cases in our community yet, and I wanted to grasp the potential magnitude of the virus' threat. So I asked, "To put this in perspective, how many deaths have been attributed to the common flu this season?" Like most laymen in the early stages, I assumed coronavirus was much like the flu, but somehow more nuanced. I quickly learned otherwise.
In times of chaos and confusion, having clear, established priorities makes up the navigation chart that keeps the town on course. For COVID-19, the town's operational objectives have been to maintain continuity of critical services, such as fire, police and sanitation; to reduce risk of exposure to essential town personnel; to protect critical healthcare infrastructure; and to reduce risk of exposure to our citizens.
Under the capable direction of our town administrator, Eric DeMoura, Mount Pleasant has professionalized our emergency preparedness and operations in a magnificent way. Our emergency coordinator, Amanda Knight, has taken us to a new level. This team proved highly effective in the well-known "Bridgemageddon" incident of 2018, when one of the bridges on I-526 failed without warning.
In mid-March, I began keeping a handwritten record of all my activities as mayor. There were teleconferences late at night, phone calls with decision-makers in the public and private realms and medical briefings from health care professionals. It was just so much to keep straight, and I knew I would need notes for reference.
Our daily staff teleconference on March 13 revealed that 12 states had declared a state of emergency. At 3 p.m. that day, there was a teleconference to decide whether to hold the Cooper River Bridge Run. This annual event involves over 40,000 participants, the municipalities of Charleston, North Charleston and Mount Pleasant, as well as the largest mobilization of law enforcement in the state. On the call were County Council Chairman Elliott Summey, Charleston Mayor John Tecklenburg, North Charleston Mayor Keith Summey and members of the bridge run committee, including Helen Hill, CEO of the Charleston CVB.
I already knew that Mayor Tecklenburg and I shared the same concerns. Though race participants and enthusiasts might be comfortable risking exposure, it was an unacceptable risk for our first responders and public service workers, especially considering how many states and countries the participants represented.
The initial teleconference ended with the group thinking we could delay the decision for a while. Soon enough, a unanimous decision was made to reschedule the Bridge Run for August. But that too would eventually change.
The most demanding and active day for me by far was March 31 — the day I issued a stay-at-home order. Though all of my conversations with health care leaders, emergency planners and fellow elected officials indicated a "go," I did not sleep the night before issuing it. But as I said in the press conference announcing the order, the majority of Town Council members had individually expressed either outright consent or at least no intention of overturning it, which the law allows the Council to do.
My wife Suzette and I prayed about it together. We talked it over, and we both remembered a decision I had made at the beginning: I would have to live with many things I would do wrong during this ordeal, but I could not live with losing the lives of Mount Pleasant citizens because I hadn't done enough. I would rather be criticized for doing too much than for doing too little.
After the press conference announcing the stay-at-home order, calls and messages began flooding in from all over. Prior to issuing the order, I had never felt quite so alone as a leader. After issuing the order, it meant the world to me that other leaders and even many citizens went out of their way to make me feel anything but alone. In moments like this, it becomes evident how connected we really are and how our decisions affect so many others.
Still, there have been many low points. One was the loss of Hugh O'Neill, manager of Cantina 76 on Coleman. There have been cancelled weddings, cancelled sporting events and a cancelled Blessing of the Fleet. My personal friend and lobbyist for the town of Camden, South Carolina, Jack West, became one of the first people in our state to die of COVID-19. Then my pastor and friend, Bishop Steve Wood of Saint Andrews, contracted the virus and was hospitalized for 10 days, in intensive care on a ventilator. His story has been publicized since then and shows how ugly this virus has been, even among those who survive.
But we can't look at these low points and not consider the highs. What are they? Mount Pleasant citizens started the Feed Our Heroes program, in which the public purchases meals to deliver to those working the front lines. This program helped struggling restaurants and boosted the morale of workers risking virus exposure. Neighborhoods and schools held drive-by graduation events for students. People paid for the car behind them while in restaurant drive-thru lines. Resident musicians, like Bobby Houck of the Blue Dogs, held Facebook Live concerts that fans watched while hunkering down at home.
Helping businesses safely reopen and stay open became my top priority, which is why I accepted an invitation from the Mount Pleasant Chamber of Commerce to do a weekly "Mondays With the Mayor" Zoom program. I also serve on the One Region Task Force, which consists of leaders across the region who work with MUSC to adopt and promote safety procedures for businesses.
I don't know anyone in a decision-making capacity who thinks they've gotten everything right. Facts have changed. Medical advice has changed. Decisions have had to be made quickly, with the information available at the time. There was no template for this like there is for a hurricane. We only knew we had to somehow flatten the curve.
The staff members of one of our local hospitals were recently honored with a police car and fire truck parade in the hospital parking lot. During the parade, I stood with the hospital's top executives, expressing my gratitude for their dedication to the well-being of our citizens. "And we thank you for taking reasonable protective measures," they replied. "They have helped flatten the curve."
We have all learned in our physical separation from each other just how important our emotional connections are. We have vowed not to ever again take little things for granted – like going out with a group of friends or to a movie or concert. We will never forget this year.
By Will Haynie