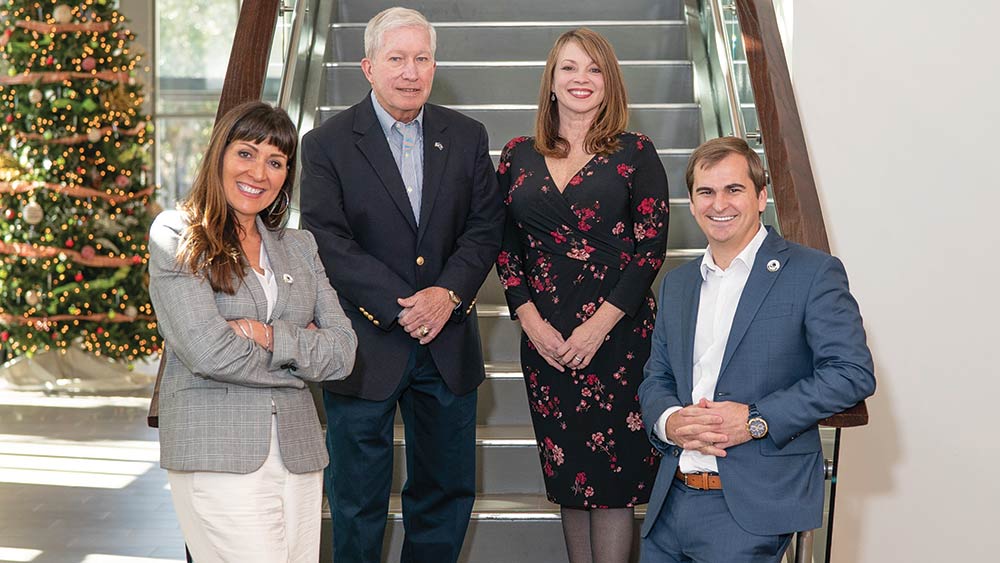 The voters of Mount Pleasant have spoken, and, for the third election cycle in a row, they have made major changes in the makeup of the Town Council. When local residents went to the polls last Nov. 5, they chose four new Council members, none with any previous political experience: Howard Chapman, Brenda Corley, Laura Hyatt and Jake Rambo.
The new Council members are individuals, motivated for varied reasons to donate their time and talent to making Mount Pleasant a better place to live. Corley and Hyatt will combine with Kathy Landing and G.M. Whitley to give Mount Pleasant its first Council ever that includes four women. Two of the new Council members grew up in Mount Pleasant, while the other two are relative newcomers, having moved here 42 and 19 years ago, respectively. The Council now can lean on the expertise of an educator, a former educator, a pharmacist and a retired engineer/transportation expert.
On the other hand, the quartet of new Council members have more in common than their inexperience in the world of politics. For instance, they're all about dealing with the pitfalls that go along with determining the direction of a town that has more than doubled in population in the past 20 years, from infrastructure and transportation to growth and quality of life – and they're all anxious to get down to the business of tweaking and completing Mount Pleasant's Comprehensive Plan.
The four new Council members have one more vitally important thing in common: They're all ready to roll up their sleeves and go to work to do what's best for the people who elected them.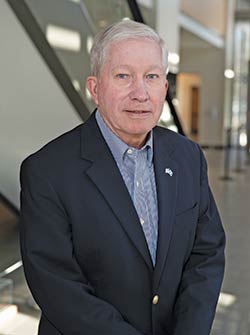 COUNCILMAN HOWARD CHAPMAN
"You have to have respect for each other."
During his lengthy career, Howard Chapman has gained extensive experience as a professional engineer and an expert on transportation, planning and emergency management, amassing knowledge and honing talent that will serve him well as a member of the Mount Pleasant Town Council.
Though these attributes will undoubtedly help the Council address many of the problems that go along with living in one of the fastest growing towns in America, a major reason Chapman entered politics for the first time at the age of 73 was "to bring civility and respect back to the Council."
"There has been too much arguing and back-biting," said Chapman, a Mount Pleasant resident since 1978. "You have to have respect for each other."
Chapman earned a degree in civil engineering at Virginia Military Institute in 1968. After adding a master's from the University of South Carolina to his résumé, he landed a job as the city of Charleston's assistant director of traffic and transportation. Less than two years later, he was the director, a position he held until 1998, except for the year he spent as city engineer and traffic engineer in Boca Raton, Florida.
During his nearly three decades with the city of Charleston, Chapman also was a consultant for several other government entities, including Charleston County and Mount Pleasant. He was the first executive director of CARTA, the Charleston Area Regional Transportation Authority, and served as chairman of the Charleston County Transportation Committee. In addition, he was part of a three-person committee appointed by South Carolina Gov. James Hodges to study the state's evacuation guidelines following Hurricane Floyd.
Chapman's lifetime of public service hasn't been limited to transportation issues. After Hurricane Hugo's disastrous visit to South Carolina in 1989, he was appointed as a deputy to Charleston Mayor Joe Riley and helped with the distribution of food, clothing and building supplies throughout the Lowcountry, serving as director of emergency operations for the city until 2005. In 1992, he was sent to Florida to help the victims of Hurricane Andrew.
A major in the South Carolina State Guard, Chapman was honored with the Military Department's Meritorious Service Medal in 2017 for his efforts as an advisor during Hurricane Matthew.
Chapman's influence has extended beyond traffic and emergency preparedness. He was a member of the Mount Pleasant Planning Commission from 2009 until 2017, part of that time as chairman.
Chapman cited traffic as one of the most important issues facing the current Mount Pleasant Council, especially the decision concerning the widening of Highway 41 from the Wando River to Highway 17. Eventually, local and county officials might have to decide whether to ask some residents of the Philips Community to give up their homes when the road grows from two lanes to four.
"I want to work with the Council and the county to come up with a solution. We need to build trust," he said. "It's not going to happen until we sit down with the residents and jointly come up with a solution. I'm coming in with my eyes open. I'm willing to look at all the possibilities."
"We need to get things done by working together," he said. "I want to represent the entire town. I want to be a Council member for everybody. I don't care if you supported me or not."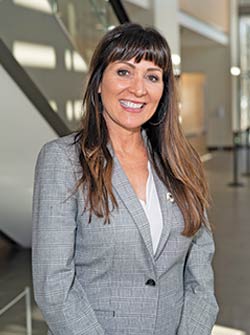 COUNCILWOMAN BRENDA CORLEY
"A charter school does not operate in a vacuum."
Brenda Corley considers herself to be a lifelong learner, and, looking at her résumé, a person might tend to agree, considering that she's earned three college degrees. That list of educational accomplishments might be misleading, however, because it doesn't reference how she learned to speak English – by watching "Sesame Street" and soap operas.
Corley, who spent her first 17 years in Puerto Rico, mastered the English language well enough to become a leader in the world of public education. Now in her fourth year as the first and only principal at Oceanside Collegiate Academy, Mount Pleasant's highly-rated charter school, she is also one of the newest members of the Town Council.
She realizes that the town and her school both benefit when they work together.
"A charter school does not operate in a vacuum," she pointed out. "We're not who we are without buy-in from the community."
For example, the school, which now has 675 students in grades 9 through 12, was ready to open in the fall of 2016, but the building was not, so Oceanside's classes were held in McClellanville. The town of Mount Pleasant provided practice fields for Oceanside's athletes, and now, according to Corley, "the town uses our gym more than we do."
Corley arrived in the Lowcountry in 2001, after earning her high school diploma in Dallas, attending Stephen F. Austin State University in Nacogdoches, Texas, and completing her degree at the University of Central Florida. She earned her master's in school counseling at The Citadel and later returned there for her master's in educational leadership.
Along the way, she taught Spanish at Clark Academy in James Island and was a guidance counselor at Summerville High School and a guidance director at Cane Bay High School. Then she received what she considers to be the most important phone call of her life – from Lucy Beckham, who was at the time the principal at Wando High School in Mount Pleasant.
Starting out at Wando as an assistant principal, Corley eventually became the dean of the Ninth Grade Academy and an associate principal. After five years at Wando, she moved on to the top job at Oceanside.
One factor that encouraged Corley to enter politics for the first time in her life was the "craziness" at Council meetings.
"I thought, 'I'm a counselor. Maybe I can help,'" she said. "I think that craziness is gone. The Council members are all good people. We're moving in the right direction."
Corley said the most important issues facing Mount Pleasant are infrastructure and managing growth.
"People are going to keep coming. Towns that aren't growing are dying," she commented. "We're all here looking for a safe, quaint, beautiful town. We're a big town, but people still know each other here.
She pointed out that it's critical for Mount Pleasant to transition from a construction-based economy and attract businesses that will grow along with the town. She added, however, that it really doesn't matter what she thinks.
"We are a voice for the people," she said. "I have to get a good grasp on what the people who put me in office want. All politicians need to stay true to that."
Corley is optimistic that she'll be able to handle her new "part-time" job.
"After opening a high school, it doesn't matter what comes next," she remarked. "Nothing can be harder than that."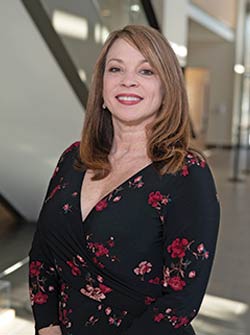 COUNCILWOMAN LAURA HYATT
"Mount Pleasant must remain financially strong."
Mount Pleasant's population has soared since Laura Hyatt, the youngest of five kids, was growing up in the Moss Park neighborhood. No longer a sleepy suburb of Charleston, her hometown is among the fastest-growing municipalities of its size in the entire nation. And though much has changed in the past half century or so, some things have remained constant for one of the newest members of the Town Council.
For example, she still lives in her childhood home in Moss Park, and she still is so enamored with her hometown that she hopes her 12-year-old daughter, Ava, will follow in her footsteps and spend her life in Mount Pleasant as well.
"The main reason I ran for the Council is my love for my hometown and passion for the direction the town will go in the future," said Hyatt. "I have a school-age daughter, and I hope she'll make Mount Pleasant her home."
Hyatt, who never sought political office before November 2019, graduated from Wando High School, the College of Charleston and the Medical University of South Carolina and has been a pharmacist for almost 30 years. Despite Mount Pleasant's population explosion, she thinks the town is headed in the right direction.
"We're managing growth a lot better now," she pointed out.
She added, however, that it's important for the town's population growth to continue to slow down "so our infrastructure can catch up." That, along with a focus on economic development, are the keys to maintaining Mount Pleasant's quality of life.
"Those two things help with livability and the viability of the town. Mount Pleasant must remain financially strong," she stated.
To Hyatt, economic development does not mean building more homes and apartments. Instead, she would like to see Mount Pleasant attract companies that can offer local residents highpaying jobs without taxing the town's infrastructure. She said Mount Pleasant should target businesses in the medical and information technology arenas, along with those looking for a place to establish their corporate headquarters.
Hyatt is anxious to get to work on Mount Pleasant's Comprehensive Plan, which was supposed to be completed by the end of 2019.
"That's not going to happen, but we want to get it right," she said. "The Comprehensive Plan was a major driver for me. I wanted to be part of the decision. It's important for the direction the town takes in the next decade."
Hyatt said the Comprehensive Plan needs to be revised, pointing out that she wants to redefine the concept of high-density hubs, "which are too large and too tall." She hopes the Council will wrap up its work on the plan sometime this spring.
Though she has never run for office before, Hyatt has remained involved in her community, occasionally speaking at Council meetings, mostly about issues related to zoning.
"I've always been engaged and stayed informed about things going on around town," she said.
One of four brand-new Mount Pleasant Council members, Hyatt said she hasn't yet decided whether she'll seek re-election when her term is up in four years.
"I have to see how it goes," she commented. "If I'm an asset to the town, I would consider it. I love living here, and I love the town and the people who live here."
"Some turnover is good," she added. "The people have spoken. That's who we represent. We don't represent ourselves."
COUNCILMAN JAKE RAMBO
"You can't expect to be the fastest growing town east of the Mississippi and not expect unintended consequences…"
Jake Rambo was born and raised in Mount Pleasant, leaving only to earn a bachelor's degree in education at the University of South Carolina. He's seen a population explosion and a multitude of changes, and now he has the opportunity to play a major role in determining the future of the place he has called home for 32 years.
Rambo, a former teacher and principal in the Charleston County School District and now one of four brand-new members of the Mount Pleasant Town Council, has seen the town morph from a sleepy bedroom community into one of the nation's fastest-growing municipalities.
"Some of the ways Mount Pleasant is different are good, but a lot of them are not so good. I have a desire to preserve the sense of community and the environment I grew up in," he said, explaining why he sought a seat on the Council.
So where has Mount Pleasant gone wrong in the past three decades? Rambo cited unsustainable growth as the major culprit for many of the problems he and his fellow Council members must now deal with.
"You can't expect to be the fastest growing town east of the Mississippi and not expect unintended consequences such as traffic, drainage issues and the impact growth has had on recreation programs and schools," he said.
According to Rambo, the first thing the Council needs to do is take a close look at the town's Comprehensive Plan, make some changes, approve it and move forward.
"I'm thankful for the citizens who worked it out together, but there are major flaws," Rambo said. "The first business of the Council should be to dive into the Plan and identify things we agree on and things the residents of Mount Pleasant don't want to see."
For example, Rambo said that during his Council campaign, he knocked on more than 1,500 doors, and not a single person he spoke with was in favor of more residential density. Nevertheless, he said the plan currently calls for urban overlays that increase density in some areas.
The town's financial situation is another issue Rambo hopes to tackle. The problem, he said, is that 90% of Mount Pleasant's property is residential. Commercial property owners pay taxes at a higher rate and use less of the municipality's resources.
Rambo pointed out that Mount Pleasant especially needs more office space to accommodate companies that might consider moving to the town.
He said that he would like to look at impact fees, which have been increased exponentially in recent years. He noted that hiking fees has produced more of those unintended consequences.
"The idea that development should pay for itself is a great concept," he said. "But small businesses can't build here. The impact fees are a drop in the bucket for large corporations."
Rambo said he would also like to delve into whether Mount Pleasant needs a full-time mayor and if establishing single-member Council district might be a good idea. He added that he also wants to see recreational opportunities for local residents expanded.
He added he's all about improving the way Council members interact with one another.
"We need to set an example for the community and treat each other with respect and dignity and handle disagreements like adults," he concluded.
By Brian Sherman