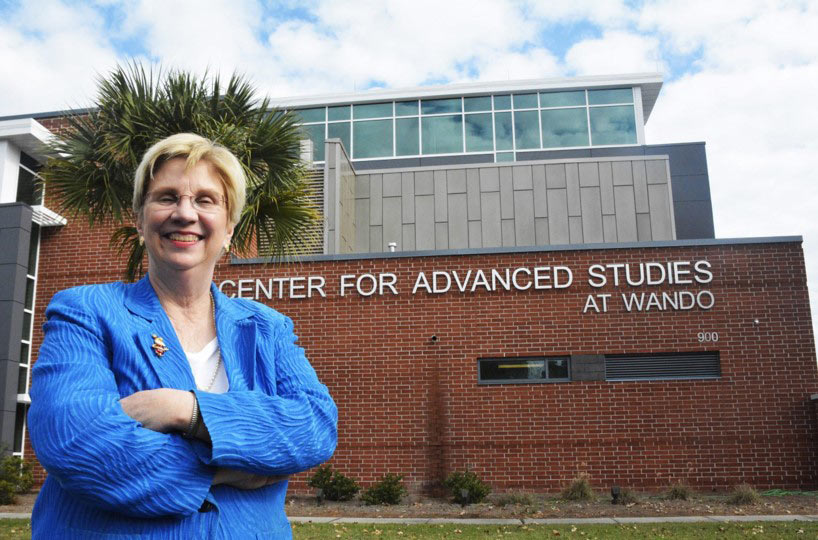 Though small in stature, Lucy Garrett Beckham was larger than life. The impact she had on Mount Pleasant high schoolers over her tenure as Wando's principal – and the resulting ripple effect on the town itself – is immeasurable. After all, people flock to areas known for good schools, and it's evident that having her as a leader changed this town in many ways. This December marks five years since her unexpected passing, as Lucy Garrett Beckham High School closes out the first semester of its first year open. So, who was the namesake of Mount Pleasant's newest high school? In short, she was a visionary, whose goal was to prepare her students for life.
Beckham was born in Fountain Inn, South Carolina, the daughter of a math teacher and a state legislator. She was educated in Greenville County's public schools, before moving on to Presbyterian College and graduating from College of Charleston with a bachelor's in mathematics. Later, she also earned a master's and specialist's degrees from The Citadel. After 17 years teaching high school math, she moved into administration and leadership, where she spent the next 22 years.
Beckham maintained high expectations but was easy-going and candid – traits that won the hearts of many. Awards over her lengthy service as an educator run the gamut from Stratford High School's Teacher of the Year to 2010 MetLife / NASSP National High School Principal of the Year to the South Carolina Order of the Palmetto and Mount Pleasant's Order of the Gavel.
The majority of her administrative years were spent at Wando High School. "When I arrived on June 30, 1998, the school administrative leadership had all retired on July 1. Not because of me – they didn't know I was coming," Beckham grinned during her speech at Wando High School's 2002 graduation ceremony. "The bookkeeper, Ms. Burlingham, started the same day I did. She had never kept school books before. The school had switched from a traditional schedule to a four-by-four that summer before I arrived. We had a new cafeteria manager who never worked in high schools and a new custodian."
It didn't take Beckham long, working with her fresh team, to begin exponentially improving Wando. "She proved that a large, public, non-magnet high school serving a diverse student body could produce outstanding results and earn numerous state and national awards," said Anna Dassing, current principal of Lucy Garrett Beckham High School and a mentee of Beckham's. "She was always looking for a way to create more opportunities for her students and wanted to be sure they had a path and a vision for the future, whether it was college, a career in the military or going straight to work after graduation. Her greatest fear was that a student would fall through the cracks, drop out of school or not have a plan for after high school. She wanted to prepare them for life."
With these priorities driving her, Beckham spearheaded a variety of academic opportunities — including what is now the East Cooper Center for Advanced Studies, which provides technical skills and training beyond high school level to any East Cooper high school student.
She had been helping conceptualize a new high school since 2012 – not as a rival but as a complement to Wando – and was named Executive Principal of East Cooper Schools just months before her 2015 death.
Beckham was a beloved daughter, sister, mother, grandmother and friend, and an inspiration to tens of thousands over her years in education. Today, faculty and staff at Beckham High School honor their namesake in many ways. The high school's first Lucy's Leadership Award was presented to math teacher Kristin Manna – recognized not only with a certificate, but with the loan of Beckham's podium, worn down over many years and complete with an indentation where she rested her foot while teaching. It will be passed on to each new recipient.
"Kristin exemplifies Lucy's 'students-first' attitude and leadership amongst her peers by working tirelessly to help them learn, implement CANVAS and tackle teaching virtually and in-person at the same time," Dassing explained. "She is solution-oriented and willing to creatively problem-solve issues and never gives up, just like Lucy."
Science teacher Callie Dollahon spent the summer of 2020 rooting dozens of cuttings from a plant that sat in Beckham's office for years and gifted every teacher and staff member with one, tied with a note featuring Beckham's favorite motto: "Do what is best for kids," along with inspiration: "This small plant, cut from Lucy's very own, symbolizes the legacy that LBHS is built around. Her vision for schools challenges educators to grow kids. As the plant grows, remember that you are part of that legacy, and grow with them!"
Beckham's legacy will continue to live on for generations, at both Wando High School and Lucy Garrett Beckham High School, and it will be carried with students wherever they continue to grow.
"Lucy Beckham loved her students, her schools and her community. She lived every day to the fullest and, in many ways, was always building Beckham," concluded Dassing.