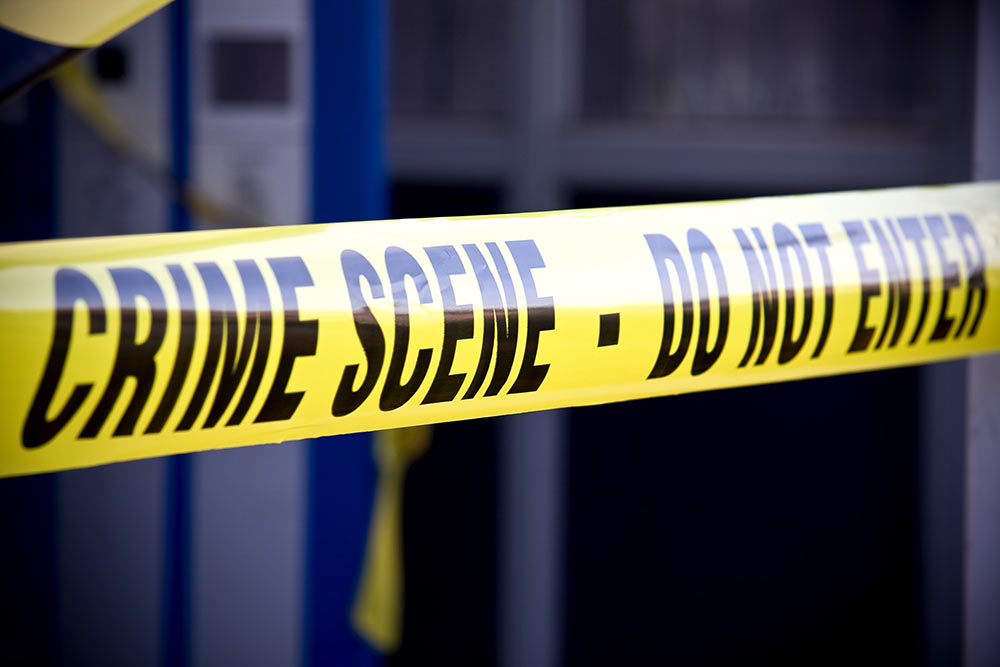 True crime has been a popular genre for a while, and the gorier, the better. Into this mix two years ago stepped an unlikely trio — two roommates whose only tie was a start in Massachusetts and the fiancé of one of the women. The three now live together in Mount Pleasant, and although that sounds like it might induce some homicidal-level stress, the only murder is on their podcast, "Talk Murder to Me."
"Talk Murder to Me" is like sitting around with friends while having a beer — or several beers, the three of them amend — if those friends happened to harbor an avid interest in all things homicide. Jon Perry said he comes up with the topic ideas after a lot of research, and he likes to highlight the obscure and peculiar murders. His fiancée, Nicole LaPorte, and roommate, Jen Collins, offer commentary as he tells the tale, often using newspaper reports from the time period.
For Perry, telling stories is the result of his upbringing as the literal "(grand)son of a preacher man" from rural Gilbert, South Carolina. "Growing up, my dad never listened to music," he said. "I remember listening to Bible stories or audio books. I guess it was a natural progression to podcasting." But podcasting about murder? Perry hedged. "We do some murders that happen in a church .…." he said.
LaPorte said Perry is a natural for the role. "Not everyone can tell a story and tell it well, but he's a good storyteller," she said. And she's not the only one who thinks so – the twice-weekly show has grown to almost 50,000 listeners a month, some from as far away as Australia and most of them female.
"All females seem to love true crime," she mused.
The podcast is produced in the guest room at the trio's Mount Pleasant home, where they built a studio, complete with sound paneling. They've also started doing occasional live podcasts from places like breweries, with almost 100 people in the audience each time.
When they are not discussing murder, Perry also produces a medical comedy podcast called "Quackery" on the network he started, Talkocast, and LaPorte works in human resources. Collins is a school counselor. "I originally wasn't going to tell people about my murder podcast. I was kind of hesitant to let that part of my life go public — I was afraid I'd get fired," Collins admitted. "Somehow, the word got out, and now people stop me and ask if I'm the one who does that murder podcast. It's surreal. I did not get fired, and I actually got asked to talk to a class about podcasting. I don't tell students what the name of the podcast is, though."
Other than not sharing the murder theme with students, nothing else is off the table for the podcast. "If you find a line you don't think we'll cross, send it to Jon, and he will," LaPorte said with a chuckle. "My line is far from Jon's," Collins said. "He'll be talking about a murder, and I'm like, 'nope, absolutely not.' You have to put a ball and chain on my legs to keep me from walking away from the table."
"The gruesome episodes get more downloads," Perry reported. "I'm giving people what they want." "Yeah," Collins added, "but are they interested because it's so gruesome or because they want to learn more about how to do it? I'm not sure I want to know the answer."
They mentioned a particularly graphic episode — episode 69, for those who want to listen — about PeeWee Gaskins, a serial killer in Columbia, South Carolina. "I actually interviewed his lawyer on the episode," Perry recalled, with relish. "I found an autobiography from PeeWee Gaskins that the United States had actually banned. I found it on the dark web. It was disgusting."
LaPorte said she's accepted being engaged to someone who's so fascinated by gore. "We joke that he may know the perfect way to kill me, but [police know] it's always the husband, so at least I've got that going for me," she joked.
By Helen Mitternight