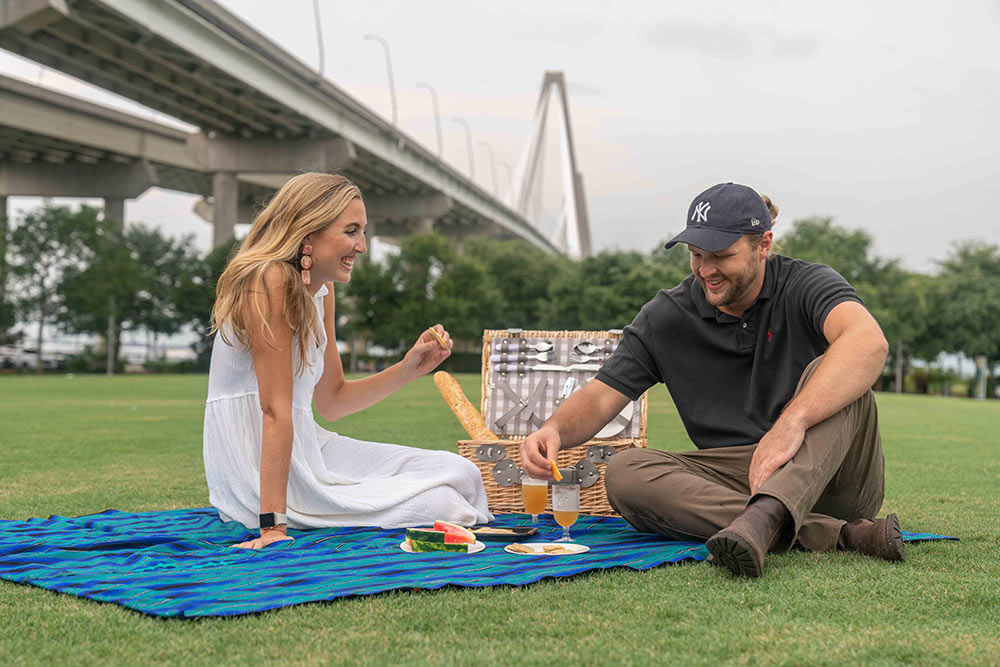 It's that time of year — the oppressive heat has subsided, yet the sun is still setting well after dinnertime, and you want to spend every waking moment outdoors. That can only mean one thing. Pack up some delicious bites, and get ready to enjoy a meal al fresco. It's time for a picnic!
For me, spreading out a blanket in the lush grass with a beautiful array of food feels freeing yet private. There's nothing I enjoy more than heading out to a beautiful spot with my family, a basket of scrumptious goodies in tow. If you're hoping to do the same but aren't quite sure where to begin, here's the breakdown of how to plan and execute the perfect picnic, time and time again.
The Basket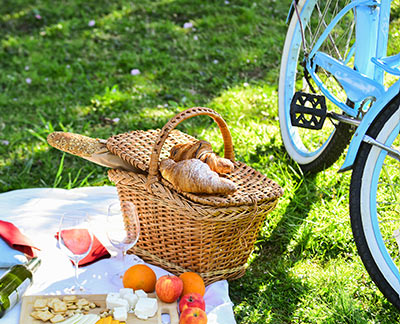 Having a fully loaded basket isn't essential, but if you want to make picnicking a part of your regular routine, investing in the right setup will cut your picnic prep time in half.
If you like to feel a little fancy while you dine outdoors, the ladies at Out of Hand in Mount Pleasant have put together a variety of baskets to fit every picnic personality. The Sweetheart Picnic Basket for two features vintage china plates and glassware, a full set of silverware and pretty embroidered cushions, ensuring you and your date will be comfy and stylish.
If you prefer to keep things simple, or don't trust the kids with vintage china, you can easily build your own picnic tote. Start by picking up Scout's BJ Tote Bag at Palmetto Moon — it's durable, lightweight and easy to clean. Next, pile in your picnic essentials:
Dining set – Take an eco-friendly approach by opting for reusable and durable melamine plates, acrylic glassware and lightweight flatware, so that you're not having to restock after every outing.
Cutting board and folding knife – These come in handy for slicing cheese, charcuterie and fruit.
Picnic blanket – Look for a water-resistant blanket to keep things dry on days when the grass is dewy.
Extras – Don't forget a bottle of sunscreen, bug spray, hand wipes and a trash bag to clean up afterward.
The Food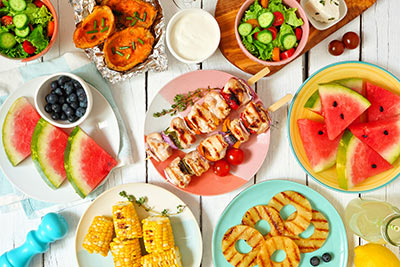 Now that you have all of the essentials, it's time to plan your meal. In order to set your picnic up for success, I recommend following a few simple guidelines:
Choose foods that are going to be tasty and safe after sitting out for a while. You can never go wrong with cheese and preserved meats, which are at their most flavorful at room temperature. Avoid dishes that need to be kept cold, or anything that gets soggy. Toting around a big cooler, stopping for ice and worrying about the temperature of your food just adds unnecessary stress to a laid-back event. Swap out the mayo in your potato salad for vinegar, and relax.
Prepare dishes that are easy to eat. Anything that's going to require an entire ream of napkins is just going to create more mess later, so choose one- or two-bite snacks, sandwiches and food that's low on the grease scale. If you have to slice and serve something, it's probably better eaten at a table. Luckily, mini-pies are just as delicious as their full-sized counterparts.
Incorporate as much fresh, local produce as possible. Why? Because flavorful fruits and veggies from the farmers market elevate any dish, and enjoying the local bounty is really what picnic season is all about.
Whether I'm throwing together a quick lunch basket or planning a leisurely outdoor dinner, my favorite picnic meals center around kabobs. Easy to eat and flavorful, they're a healthy, filling cook-ahead option that tastes just as good hours later. Pesto works as a crowd-pleasing marinade whether you're cooking chicken, pork or beef, and it's a great way to make use of the basil in your herb garden. Pack some pita bread, plus extra pesto or hummus for dipping, or turn kabobs into sandwiches. As for my chosen side, a simple salad of local tomatoes, melons and feta cheese, topped with good olive oil and flaky sea salt, is easy and refreshing.
You can't have a picnic without dessert, and low-mess, handheld treats are a must. Turn your favorite crumble recipe into an easy-to-eat bar, opt for ice cream sandwiches, or keep it simple with chocolate chip cookies.
Orchestrating the perfect picnic doesn't mean spending hours in the kitchen. If an escape from cooking is what you're after — but you'd like to enjoy something more complex than a sandwich — many local restaurants and caterers offer family meal specials that pair perfectly with fresh air and sunshine.
It's easy to focus on the food and overlook drinks, leading to a last-minute scramble for soda at the convenience store. Pick out something with a bit more flair, like a sparkling lemonade, and you'll see how a little bit of planning can make the entire outing feel a bit more special.
The Picnic Spot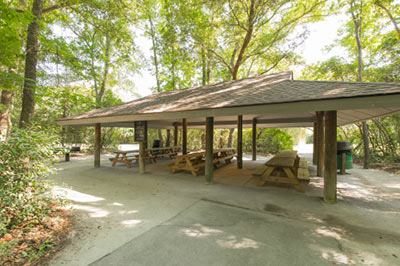 East Cooper has loads of beautiful places for a picnic, including all the essential amenities you need to feel right at home. When you're scoping out potential spots, keep an eye out for public restrooms, trash cans and water fountains. Here are a few of my favorite places to throw out a blanket and dine al fresco.
Isle of Palms County Park is the key to enjoying a beachy picnic without getting sand in your sandwich. The park offers an abundance of picnic tables just steps from the surf, a playground to keep kids entertained, restrooms and grills, in case you'd prefer to do your cooking on-site. Parking fees range from $5 to $15, based on the month and day of the week, but parking is free with a Gold Pass, a membership that grants access to all Charleston county parks and is essential for picnic enthusiasts.
Palmetto Island County Park is another Gold Pass participant and an ideal place for families to set out their spread. The 943-acre park features bike paths, boardwalks, an off-leash dog park, boat rentals and an open meadow that was made for throwing a frisbee. Covered and open-air picnic tables make this park perfect at any time of day, and the $2 per-person fee equals an affordable way to spend the day with your family.
If you're in search of a picnic spot with a view, Mount Pleasant Memorial Waterfront Park can't be beat. Located at the base of the Arthur Ravenel Jr. Bridge, the park boasts sweeping views of Charleston harbor, along with lawn space for picnics and a nautical-themed playground. When you're done chowing down, the adjacent 1,250-foot pier is dotted with comfortable swings to watch the sun go down and indulge in soft-serve ice cream from the River Watch Café.
So, grab a basket, load it, up and enjoy all the outdoor adventures our area has to offer. The perfect meal awaits just beyond those four walls.