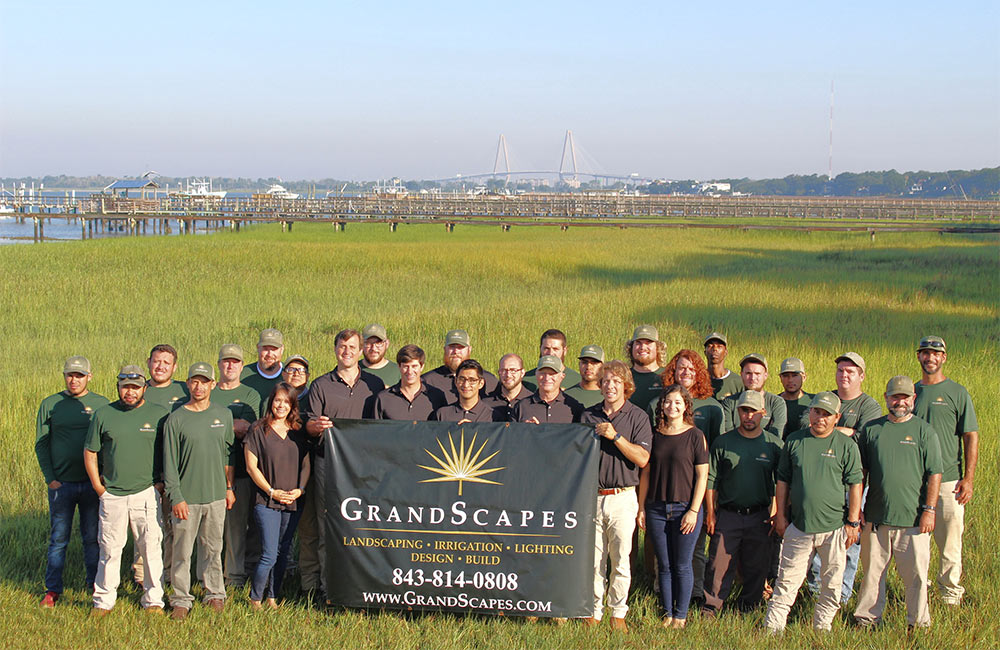 If you live in Mount Pleasant, there's a good chance that you've seen the work of Grandscapes, Mount Pleasant's premier landscaping company. What you may not know is that this locally-owned and operated small business is also a fantastic place to work.
Owner Adam Dukes fell in love with the Lowcountry during a summer internship while studying landscape architecture at the University of Georgia. In 2009, Dukes founded Grandscapes, offering the full gamut of landscaping services – from design to installation to maintenance – to homeowners in Mount Pleasant and beyond.
What truly sets Grandscapes apart from other landscaping companies isn't their beautiful designs or meticulous maintenance, but the incredible amount of heart that Dukes pours into every member of his team. "Adam cares a lot about his employees," shared administrative assistant Stephanie Hollingsworth, "and he works hard to show them that they're each an important member of the company and their contributions are appreciated."
Dukes takes a hands-on approach to managing Grandscapes, from maintaining regular communication with every member of the team to hosting regular cookouts to bring everyone together and instill a family mentality that's evident not only in the way that his staff talk about him, but also in their work ethic. "Adam is involved in every part of the business," explained crew leader Michael Allen. "He even helps load up trucks in the morning. He takes the initiative to go above and beyond what you would expect of the owner of a company, and when (team members) see that, they're inspired to do the same."
Grandscapes has seen a lot of growth since Allen started working for the company four years ago, and Dukes makes the education and growth of the Grandscapes team a priority – both personally and professionally. "I really care about how our team members are doing on a day-to-day basis, but I also care about their future. It's important to me that they're able to develop skills here that go beyond basic landscape knowledge and are useful in both their future endeavors and personal lives," he explained. Allen echoed that sentiment, sharing how useful the continuing education is for himself and his team. "Every month, we have a topic of focus. One month we may learn about the different types of grass, and the next we'll focus on proper equipment use and maintenance. It helps us do our best work and give the best service to our clients. For instance, by sharing construction knowledge with maintenance technicians, they're able to spot small problems and offer solutions before they become larger issues."
More than anything, it's the family atmosphere that all of the employees at Grandscapes buy into that truly make this team special. "There's a really positive and supportive attitude here. If you have something going on in your personal life, we go above and beyond to help each other out, and that goes for Adam, too."
If you're looking to take the next step in your landscape career and want to work with a team of professionals who care deeply about their jobs and each other, visit grandscapes.com to learn more.