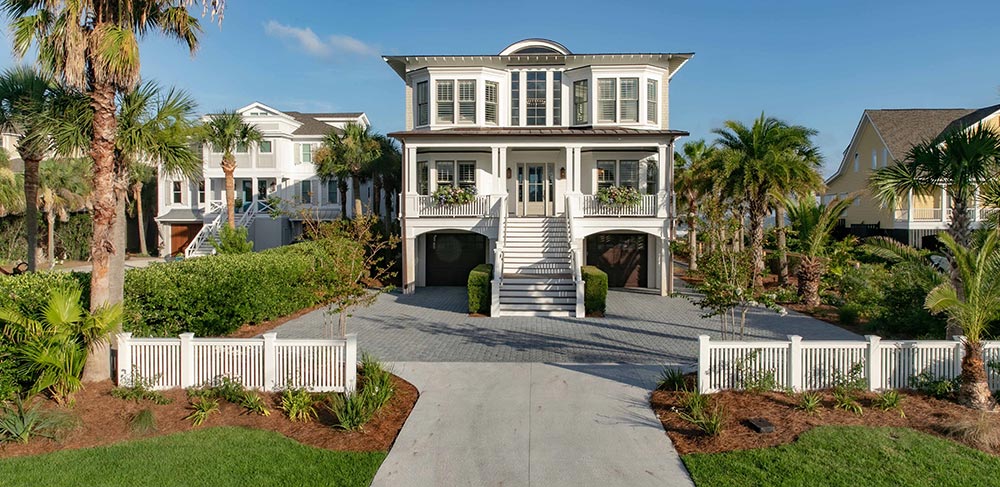 GrandScapes is a full-service design, build, and maintenance company located in Mount Pleasant. It services the greater Charleston area, providing residential and commercial maintenance along with design and installation. Adam Dukes, owner, believes it's his team that makes the business a rousing success.
"We are always looking for the best in the business to join us as we continue to grow. We pride ourselves on maintaining good, open communication within the team," he said.
The "good, open" communication also extends to the firm's clients. Just ask Amy Leonard, an Isle of Palms resident who contracted GrandScapes — voted Mount Pleasant Magazine's Best Landscaper from 2017 to 2021 — to turn her property into a stunning oasis.
"One of the reasons I went with GrandScapes is that I live in San Diego and couldn't be on property during most of the work. I had to trust them, and they were wonderful," she enthused. "The work lasted a few months, and they sent photos from the property and kept me in the loop during each phase."
The project was extensive, as Leonard said her beachfront property had become overgrown. "They did a great job. They turned the backyard into a beautiful, usable area and also landscaped the front of the property. People ask me, 'Did you just buy this [home] new?' That's the difference the project made."
Building the best team to do great work and provide an enjoyable experience for clients is always Dukes' goal. "With a great team, we will naturally be more capable of doing great work — which in turn will make for happy clients," he noted, adding that GrandScapes currently employs around 30 extraordinary team members.
GrandScapes recently invested in the team and expanded its training program by implementing a monthly appreciation breakfast. "We provide breakfast and have a speaker cover the topic of the month in a brief 10- to 20-minute session. We have trained on equipment safety, installing irrigation systems and self-care in these extreme summer conditions, to name a few," Dukes said. "We continue discussing these topics throughout the month, with five-minute mini-sessions twice a week."
Dukes looks with anticipation toward the growth of his company and pointed out that the firm's clients extend beyond Mount Pleasant proper to Isle of Palms, Sullivan's Island, Daniel Island even downtown. "I want to continue growing the business so that we can continue providing opportunities for upward mobility for our team," he shared.
And more growth seems probable, since GrandScapes will tackle any project. "We love total renovation projects, from designing the space to installing hardscapes and softscapes to maintaining the property once the project is complete," he commented. "That being said, we also enjoy more specific jobs, like installing synthetic turf or a pool deck and patio."
According to Dukes, Mount Pleasant is an ideal headquarters because there is so much growth and potential in the town alone. "You have Old Village, with older homes getting renovated, and then there's I'On, with new developments ready to be landscaped to each individual's dream property. Not to mention the surrounding neighborhoods of Daniel Island, Isle of Palms and Sullivan's Island, which are growing just as fast," he said.
For more information, visit www.grandscapes.com.