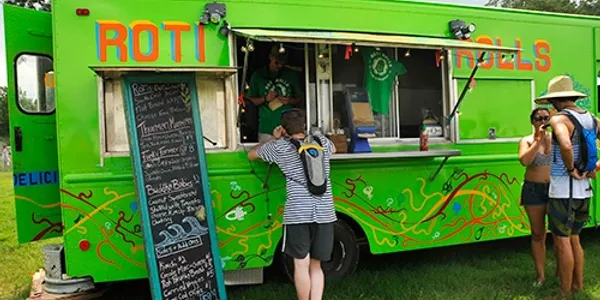 You've likely seen their big green truck parked at an event you've attended in the last 11 years. It's eye-catching for sure, but it isn't just the nice-looking ride that has garnered such a large following after all this time — it's the stuffed roti.
Roti Rolls, which is roti on wheels, serves a variety of options, ranging from Caribbean, Indian, Asian and Latin to good 'ole Southern soul, all with fresh local ingredients.
You might adventurously decide to choose the Mother Clucker, served with Cajun-style smoked chicken and cotija cheese, but the classics, according to co-owner of Roti Rolls Alton Ankersen, are the Thurman Murman, the Eye Opener and the Funky Farmer.
"Thurman Murman is our most popular and longest-running roti. It's house-smoked local pork , Creole mac and cheese and house-made kimchi, all rolled up in our pillowy pocket of love."
These popular menu items have certainly contributed greatly to the secret of their success, but their reputation runs far deeper.
"I think Roti Rolls is unique because we strive to use only local and sustainable food. We love supporting our community as our community supports us. It's the old saying 'what goes around comes around," Ankersen said.
And, what goes around certainly does come around, since Roti Rolls has been named Best Food Truck for 11 years straight in the Charleston City Paper. "We have worked hard and made delicious local food with an Indian Asian zing to it for our community for years, and hopefully we can continue the tradition."
What does the future hold for Roti Rolls? Ankersen quickly answered, "Expansion into other cities and states." The sky's the limit for the big green food truck, also known as Roti Rolls.
For more information, visit eatrotirolls.com.
By Theresa Stratford