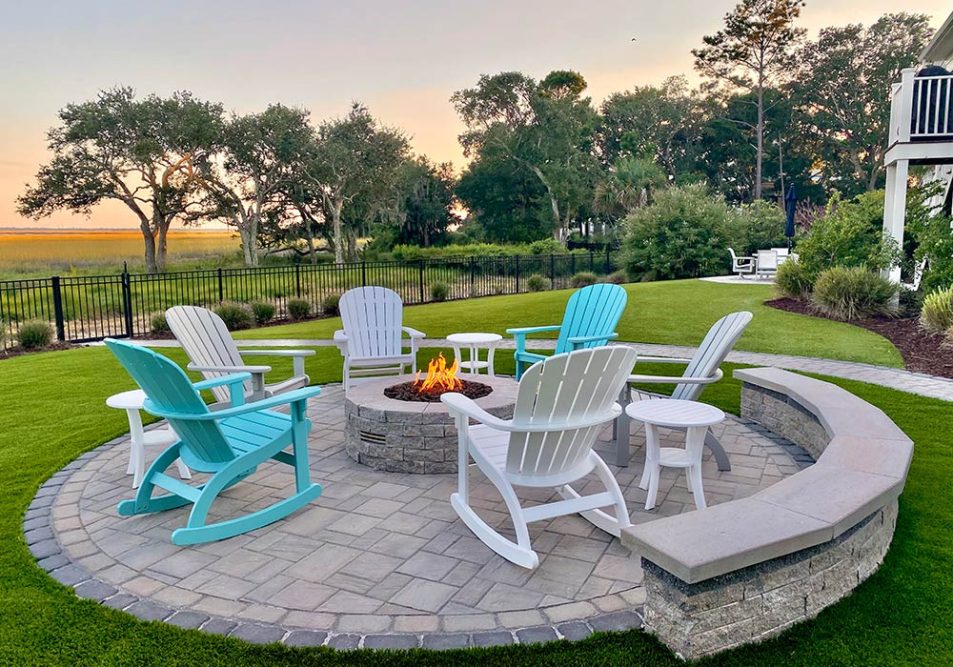 Felicia Baugh and her husband Steve, co-owners of Mount Pleasant-based company Set in Stone Hardscapes, moved around the country for years before finally settling and starting their business.
Steve's Air Force career meant theirs was the nomadic life characteristic of a military family. Eventually, he left the service, and they moved to Charleston in search of better opportunities and a place to anchor their growing family.
The burning desire to start their own business was one that Steve and Felicia couldn't ignore. Steve returned to college to study business and worked in landscaping while finishing school.
Felicia worked as office manager for a home improvement company, which provided her invaluable insights into daily business operations.
One area the Baugh's esteemed in their previous homes throughout the years were outdoor living spaces. "We love spending time outside. Every couple of years, we were moving to a new duty station, and the first improvement we always made to our new home was to the backyard," said Felicia.
The leap to starting their own business happened rather spontaneously, while Steve was working in landscaping. One patio project led to another, and the couple realized this was it. Felicia left her job to help with design and office duties. Steve took every certification class he could find and hired some extra hands, and the enterprise that would become Set in Stone Hardscapes gradually took shape from there.
"We are family-driven and veteran-owned," emphasized Felicia, pointing out that Steve provides the estimates and production support, and Felicia's sister, Anna, recently joined the family business after graduating from USC.
Their team specializes in custom outdoor living spaces, encompassing patios, walkways, fireplaces, fire pits, driveways, water features, outdoor kitchens, pool deck remodeling, retaining walls and more. Set in Stone is a Certified Pro Installer of both Techo Bloc and Lowcountry Paver and a Certified Artificial Turf installer for Lowcountry Turf.
New Design Showroom
The Baugh's ran their business exclusively out of their Mount Pleasant home until recently, when they acquired a brick-and-mortar space located in the Shoppes at Seaside Farms for their new design showroom.
The showroom features an outdoor kitchen, patio displays, turf displays, a water feature, pergolas, outdoor lighting and TVs displaying a gallery slideshow of their projects. "We know one of the toughest decisions our clients will make is material selection, so we wanted to create a place where they can come to be inspired and see, touch and feel samples to help them visualize their project better," noted Felicia.
Autumn's arrival brings a rise in customer demand for outdoor fireplaces and fire pits. "This time of year, we see an uptick in fire features to prepare for cooler months," said Felicia.
"Hardscapes are a big investment for most people, and our goal will always be to be a contractor worthy of your trust," she added.
Set in Stone Hardscapes offers veteran and first responder discounts. If you have an outdoor improvement project in mind, visit setinstonehardscapessc.com and fill out their online questionnaire to get the process started.
By Colin McCandless