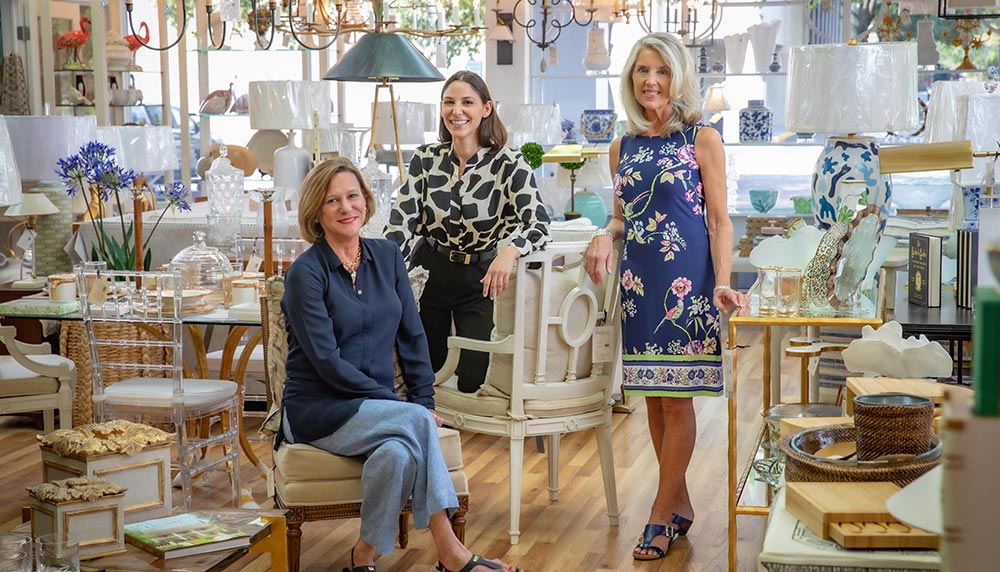 Founded by Gigi Chapman in 1985, deGuise Interiors is known for bringing together the natural beauty of the South Carolina Lowcountry — its architecture, culture and local arts — with an impeccable eye for design. Growing up in historic Charleston, Gigi is the product of a family of talented artists and interior designers. She was raised with a profound appreciation for the local aesthetic, which was instilled in her by her fifth generation Charleston family.
Located in Mount Pleasant, deGuise Interiors is a fine home furnishings store and full-service interior design firm. Their talented designers offer design services in Charleston, Mount Pleasant, Kiawah Island and Daniel Island. A visit to their store or website is enough to make deGuise's clients and customers want to throw out all of their homewares and start over, or add unique touches such as stunning wall sconces, heirloom-quality table linens and eclectic decor to their already deGuise-worthy homes.
deGuise Interiors' style has been referred to as "Southern design with original flair" and that's exactly what Gigi and her design team aim to bring to their newest offering, a specialized gift registry for brides, grooms, families, professionals and more. "Our new gift registry allows registrants to shop deGuise's wide selection of furniture, gifts and accessories, both in-store and online," said Michele Wilson, the mastermind behind deGuise's latest undertaking.
"We have fabulous brands for registry clients to add to their list, whether they are getting married or simply hoping to make it easier for loved ones to purchase items they know they will love for birthdays, special occasions, holidays and more," explained Michele, a former tennis player who has long admired Gigi's work and was inspired to join her team as registry specialist.
Working alongside Gigi, Michele and Despina Filippakis, who has served as Gigi's design assistant for a number of years, registry clients not only gain access to deGuise's impressive in-store product lines but also get to choose from thousands of carefully curated products through deGuise's partnership with the Bridge Catalog, an online boutique that allows deGuise Interiors to expand its inventory without crowding their beautiful showroom.
Registrants have the opportunity to consult with the deGuise team, including Gigi herself, who is often onsite and happy to offer tips and suggestions. They work one-on-one with Michele, browsing deGuise's high-end, exclusive and unique products, while enjoying the quality and expertise for which Gigi and her team are known. "There is good to be had," asserted Michele, while gushing over the crosssection of remarkable furniture, lighting, bedding and more that is available to registry clients.
The only comprehensive gift registry in Mount Pleasant, deGuise Interiors is launching their registry this fall and cannot wait to spoil their couples and other registry clients. Registrants must select a minimum of 10 items to build their wish list and benefit from Gigi's expertise, Despina's fresh perspective and Michele's attention to detail. DeGuise Interiors' ability to bring good taste to life is second to none, and their enthusiasm for bringing this new offering to the Charleston area is the icing on the celebratory cake.
To learn more about deGuise Interiors, visit deguiseinteriors.com, or call 843-971-1491.
By Isabel Alvarez Arata