A Mount Pleasant Magazine tradition, this year's Best Of party was the biggest yet. For the past nine years, Mount Pleasant Magazine has worked to highlight the Best in town, and, with more tickets sold in 2021 than ever before, this year's party was quite a hit. Guests enjoyed a night of music, food and fun, all while celebrating Mount Pleasant businesses and professionals.
The Food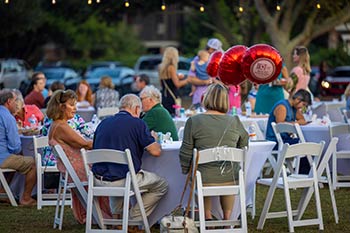 Guests were able to enjoy multiple options for dinner. There were three food trucks, so guests could pick anything from Lowcountry boil to Tex-Mex. Meals from Roti Rolls, Charleston Caribbean Creole and others were all included for the cost of a ticket. Also included was an open bar that kept drinks refreshed all night long.
The Entertainment
Although conversation flowed easily both indoors and out, guests had no shortage of additional activities to choose from.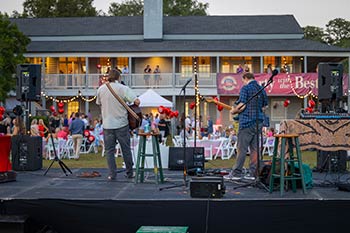 The Fat Bastards, a local musical troupe, provided live music for the party. All night long, these musicians kept the crowd entertained with covers of familiar favorites, each perfect for keeping a party lively.
Guests also got to experience portable axe throwing. Thanks to Blade and Bull, many people were able to test their strength and their aim using the company's ready-to-go axe throwing stations. Each lane target was divided with metal caging to keep everyone safe, and everyone enjoyed having this unique activity at the party.
To capture the fun and friendship, there was also a photo booth filled with props for party-goers. Jeremy Colley of Southern Studios LLC took pictures at the booth and throughout the party.
All guests were entered in a drawing for the chance to win prizes donated by last year's winners. Some of our lucky guests won prizes such as a $500 gift certificate to Hall's Chophouse or pet packages for their furry family members.
The Venue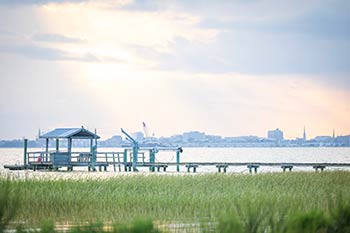 This year's party took place at Alhambra Hall in the Old Village of Mount Pleasant. Located on the water, guests enjoyed sunset views of the Ravenel Bridge and the Charleston waterways during the party.
Alhambra's history begins all the way back in 1847, when Charles Jugnot and Oliver Hillard created Hort's Grove, a quaint picnic spot by the water. 90 years later, Alhambra Hall was constructed for the town to use for events and entertainment.
The Guests
Laughter and music filled the atmosphere throughout the party, and guests savored the entertainment and fun. Susie Molony, owner of Southern Belles, plus some of her staff all enjoyed the evening, and she offered to share her memories:
"Two members of my staff and I thoroughly enjoyed the 2021 Mount Pleasant Magazine's Best of Party at the beautiful Alhambra Hall. Not only was the setting breathtakingly beautiful, the live music and food vendors added so much to the festive atmosphere. I especially enjoyed getting a rare chance to meet and socialize with other business owners. We met some new ones and saw some old business acquaintances we rarely get a chance to see. It's kind of like a 'family reunion,' getting to celebrate each other's accomplishments and appreciate the recognition from a locally owned publication that does so much for small businesses and good causes."