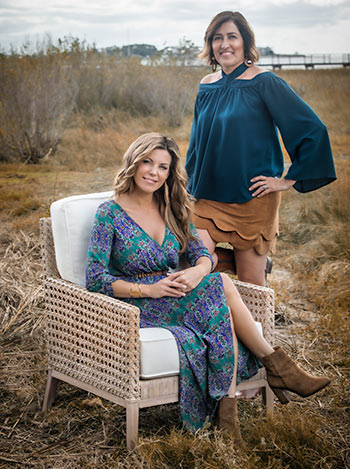 If you know what you like but can't quite put a name to it, don't worry. Angie Balderson, owner of Haven's Furniture, and Vilmarie Bennett, the store's interior decorator, can help you. In fact, their expertise in timeless décor and trending styles has helped them recently earn Mount Pleasant's Best Interior Decorators, Best Furniture Store and Best Outdoor Furniture Store awards.
For example, you may recognize traditional and modern pieces, but can you identify the "beachy" or "coastal" themes that are so popular in this area? Balderson carries all styles but easily makes a clear distinction between the latter two: "Beachy style incorporates accessories such as sea shells, turtles and other items you would find at the shore. Think surf boards, beach houses, pops of color and lots of fun. Coastal is more timeless with airy, calming colors such as light blues and tans. It is a little more sophisticated, so you might throw in something modern such as a cowhide rug or gold accessories," she explained.
Bennett, a New Englander herself, understands how folks feel when they move here with furniture that just doesn't seem to quite fit. She is an expert at blending cherished pieces with subtle color changes and a few carefully chosen accessories to create relaxed living – the Southern coastal way.
Being knowledgeable is important and necessary, but being friendly and approachable is invaluable. Imagine inviting this skilled decorating team to personally drop by and discuss what could be improved in your current décor. For a modest fee, which is absorbed if purchases are made through the business, these ladies offer reputable, honest advice and practical, affordable solutions.
"We can work with any style, but when asked, we also tell people how they can improve their living space without breaking the bank," said Balderson. "Although our products are high-quality, we are definitely less expensive than the big box stores."
Haven's Furniture displays a broad selection of affordable, customizable pieces, from sofas and coffee tables to rugs, lamps, artwork and exciting accessories. Outdoor furnishings that will bring any deck or patio to life are also available. Additionally, the store sells non-toxic, maintenance-free Fusion™ mineral paints in 50 colors, appropriate for a total room or furniture makeover. With furniture, fabrics, paints, art and accessories, Haven's Furniture is truly a one-stop decorating store.
In recognition of her many achievements, Balderson was invited to assist with the photo shoot for this edition of Mount Pleasant Magazine. It seemed she is as much at home decorating a magazine cover as she is at assisting clients in decorating their spaces. For the owner of Haven's Furniture, the mission is simple: "I love furniture. I love design. And I want to make people happy."
For your decorating needs, consider dropping by Haven's Furniture, at 1518 North Highway 17, or Haven's Furniture Showroom, at 492 A La Mesa Road, both in Mount Pleasant. Or visit online, at havensfurniture.com.