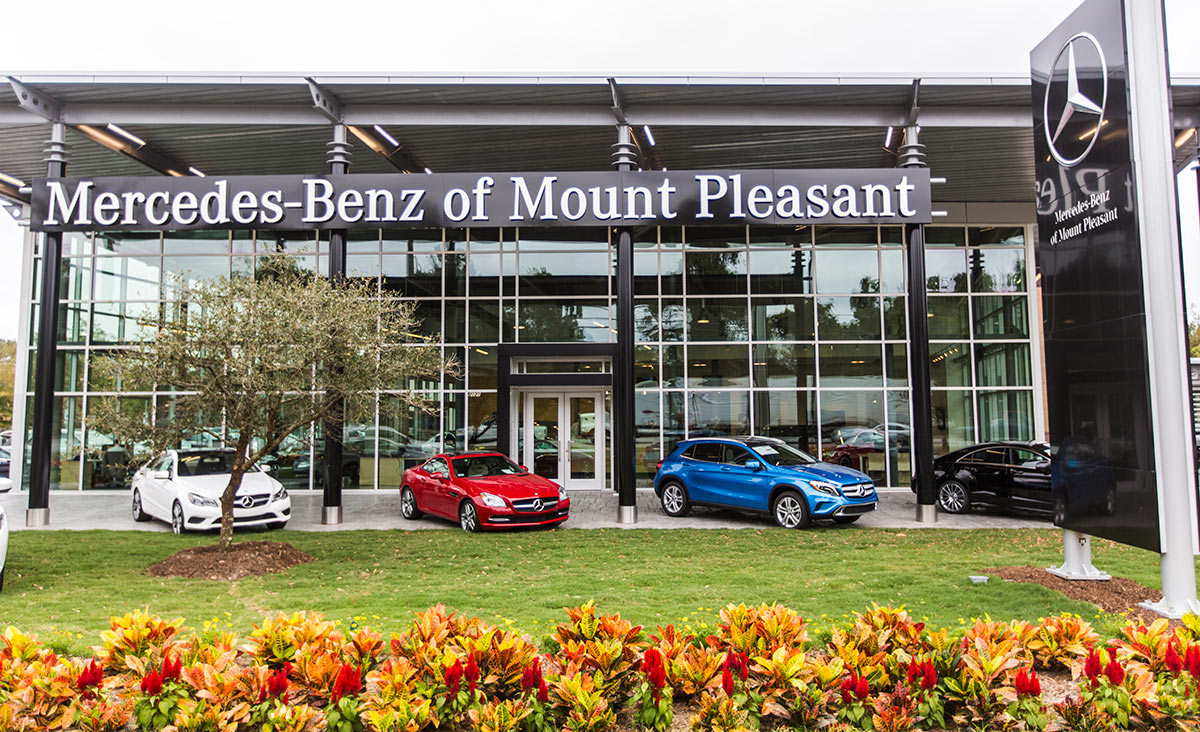 Mercedes-Benz of Mount Pleasant, owned by Baker Motor Company, has worked diligently since it opened to create a culture that fosters unity, personal growth and a service-oriented mentality.
This philosophy of doing business has elevated the customer experience and differentiated the dealership from the competition. In fact, Baker Motor Company won Best Place to Work by Automotive News Top 100 in 2013, 2014 and 2015. The company was also named Number One Dealership in the country on that same prestigious list.
Fulfilling dreams is a theme at Baker Motor Company — for the staff, the community and especially the customers. According to AJ Geffert, dealer group general manager, "the quality of our product, its aspirational nature, and the associated lifestyle keeps owners coming back."
This steadfast commitment to quality is why Baker Motor Company was named Best Place to Buy a Car by Mount Pleasant Magazine readers.
Baker Motor Company opened its doors in 1988 with a single Mercedes-Benz dealership and has continually added more brands, services and locations to its cache, as well as more employees to assist clients. The company continues to be heavily involved in multiple philanthropic efforts. Owner and President Tommy Baker is described by Geffert as "a benevolent man with a deep affection for the Lowcountry," who has committed time and resources to a range of initiatives designed to improve quality of life for local residents.
Baker has served in the past as Chairs for MUSC Children's Hospital, the College of Charleston School of Business and YEScarolina. He was fundamental in raising capital for the brand new MUSC Shawn Jenkins Children's Hospital and establishing the School of Business at The Citadel. Baker Motor Company also supports the American Heart Association's Lowcountry Heart Walk and East Cooper Community Outreach.
Of course, 2020 was a challenging year for many businesses. But Baker Motor Company found a way through the uncertainty and maintained a high level of success during the pandemic.
"I am proud to be able to say that our business has thrived during the pandemic," said Geffert. "When our industry was deemed 'essential' back in March, our 300-plus employees chose to stand with the company and come to work when it might have been easier to stay home. They braved the unknown and put themselves on the COVID-19 frontline to serve our clients and did so without sacrificing the Baker experience. In many instances, the clients' expectations have been exceeded due to an array of new offerings, like our Shop-Click-Drive program, pick-up and delivery for service and vehicle sterilization at no charge."
Some businesses, said Geffert, saw COVID-19 as a "crutch" or an "easy excuse" as to why they couldn't operate normally. But Baker Motor Company saw it as a challenge. "This was an opportunity to differentiate ourselves from the competition by offering more services and amenities than normal, while still taking the utmost care of each and every client. We have accommodated some unusual requests this year and, quite frankly, I think the pandemic has made our group even better at what we do best – taking care of the client."