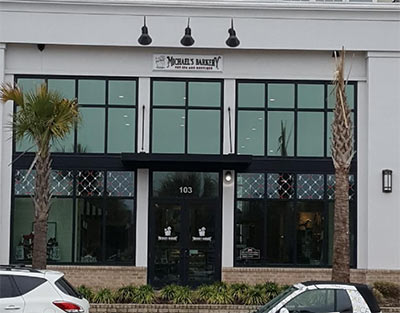 Michael's Barkery Pet Spa & Boutique, winner of Best Pet-friendly Business, may have just turned one last November, but that's still a wealth of experience in dog years, and they are already accumulating Best Of accolades like seasoned professionals.
Their staff member Courtney Larrier also won one of the best in the Best Dog Trainer category. They were named one of the Best Pet Stores, and their online presence excelled too, as they won one of the best in the Best Local Pet Instagram, Best Local Pet Website and Best Local Facebook Page categories.
"It's amazing and awesome," said owner Karen Patrohay of what these victories mean to her and her husband, Scott, who both run Michael's Barkery. "We strive to be your local, friendly pet store."
Discussing Larrier's win as a Best Dog Trainer, Patrohay cited her calm demeanor and educational background — she earned a degree in animal behavior, ecology and conservation.
Michael's Barkery provides a full line of grooming services, pet supplies and gifts, and homemade dog treats prepared with fresh ingredients and no preservatives. They also sell online.
The store is named after their son Michael, who has an intellectual disability. For his senior high school project, he derived an idea for a business that makes and sells dog treats. The family decided to bring his idea to fruition and incorporate people with cognitive disabilities into the business staff – from the bakery to retail.
Now a year in, they are forging ahead.
"We're really excited to have received such an outpouring of votes," remarked Patrohay.
To learn more, visit michaelsbarkery.com.
By Colin McCandless