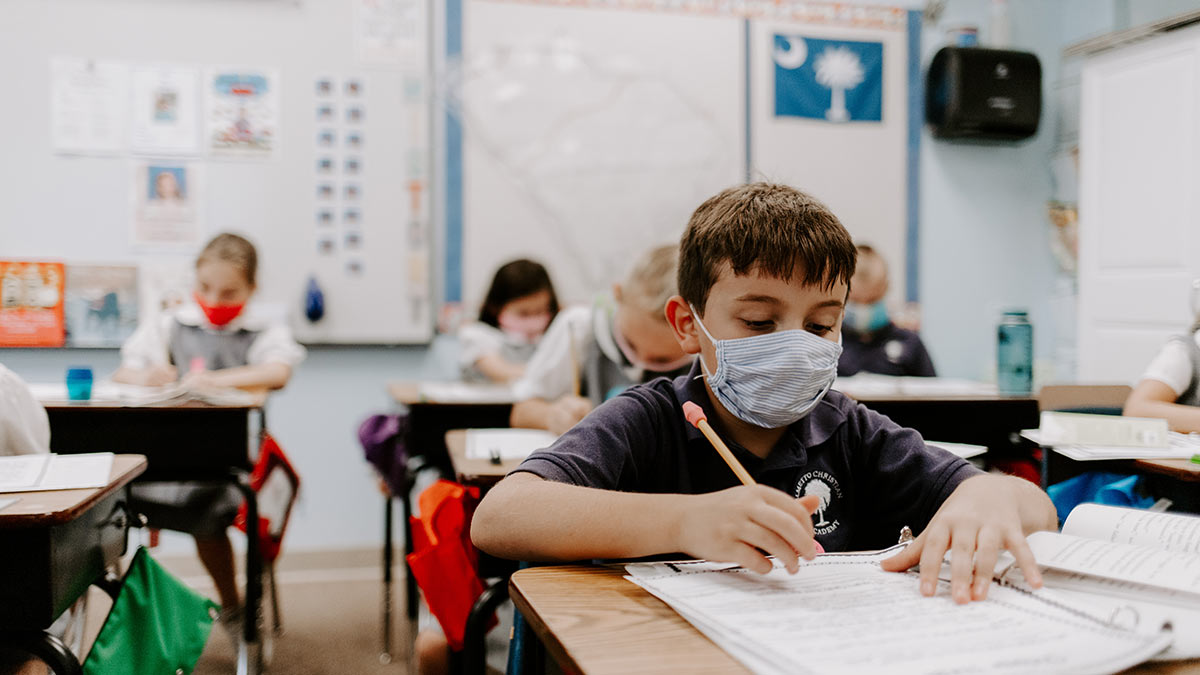 Despite the setbacks of the pandemic, students at Palmetto Christian Academy are thriving.
The school reopened to all students in August for in-person learning and took many of the same precautions other schools have — emphasizing handwashing, using sanitizer, social distancing and wearing face masks. Headmaster JD Zubia said they also upgraded HVAC filters with UV lights where possible and added an additional school nurse. They also surveyed parents to determine their comfort levels in getting kids back into the classrooms.
"We wanted to make sure that we were doing what they were expecting, in order to feel safe in having their children return to school in person," Zubia said.
And Palmetto Christian certainly gained approval, since this year they were named Best Private School, Best School to Adapt to COVID-19 and the school nurse, Ashli Rushing, was named one of the Best in Mount Pleasant.
Since reopening after the shutdowns, the school has completed its football, volleyball and cross country seasons without missing a game. "Most importantly, though, we have a wonderful group of students and parents who have been very understanding and cooperative in following our plan of action and requirements," Zubia said.
The headmaster's previous career experience of leading health care teams through Y2K and September 11 has helped prepare him for leading his school through a worldwide pandemic. As headmaster for Palmetto Christian the last five years, Zubia learned in his previous roles the importance of putting gifted people in place and letting them do what they do best. One of his own crucial tasks is keeping everyone connected, calm and moving forward.
"I think I feel the most pressure in making sure to communicate to all the different stakeholders in the PCA family — students, parents, staff members, faculty, grandparents and alumni. They all care about our school and want to know what's going on, especially during a crisis," Zubia said. "My goal is to make sure I get everything done and done well."
Of all the new processes that the PCA family has had to implement, Zubia said the toughest has been the virtual learning program.
"Think about how difficult it would be to teach in a classroom, perhaps for 20 years, and then the next thing you know, you are asked to set up an iPad in your classroom, learn how to use a new learning management system and then teach some of your students virtually," he said. "We are proud of how well our teachers have adapted to this ever-changing environment and have continued to provide an exceptional Christian education."
While things do look a little different this school year, PCA's foundation remains firmly in place. The Christian school family finds gratitude in many things, including its weekly Chapel — even if it is live-streamed — and in its Measures of Academic Performance (MAP) test scores, which were significantly above national average for all grades, kindergarten through eighth.
"In a time where our teachers have worked so hard to meet their students' academic and emotional needs in a whole new way, these scores helped affirm their efforts," Director of Curriculum and Instruction Myra Finneran said. "PCA teachers go above and beyond to ensure their students not only receive the highest quality of education, but also are cared for emotionally and spiritually. Seeing our students learn and grow, despite the challenges, has proven to be our most rewarding moment this year."
For more information on Palmetto Christian Academy, visit palmettochristianacademy.org, or call 843-881-9967.