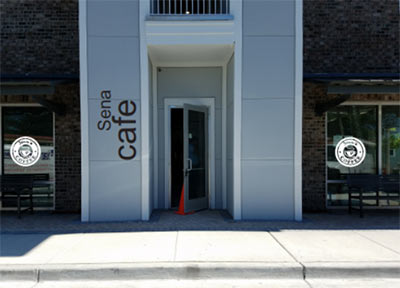 If you've ever stopped into Sena Café for a hot espresso or tasty lunch, you know you don't have to be Southern to embody hospitality. Hailing from Serbia and Bosnia, owners Ogi and Sena Jovic opened their quaint café two years ago with the dream of offering locals a place where they would feel welcome, comfortable and leave with bellies full of delicious food.
"We want our customers to feel like they're family," explained Sena Jovic.
Sure enough, our readers felt the love from the Jovics and returned it by honoring them with the title of Best Barista and a nomination for Ogi in the Best Chef category.
Aside from offering tasty hot beverages, Sena Café serves up a diverse menu, ensuring that anyone who visits them can find something to eat. Their most popular dish is a decadent lobster roll on brioche bread, dressed with their special house-made sauce, but they also offer healthy options like the Keto-cado, a keto-friendly mixture of grilled chicken, avocado, tomato, cucumber, olive oil and lemon juice, piled high in an avocado shell and topped with crispy bacon. The majority of the ingredients featured on their extensive menu are sourced locally, ensuring dishes are made with fresh components and the Jovics support other local businesses.
Over the past year, Sena Café has gone above and beyond to ensure the safety of their guests, incorporating strict sanitation standards, providing outdoor seating options and spacing tables seven feet apart. The Jovics are thankful to the community for awarding them with Best Of nominations, and look forward to continuing to feed us for years to come.
For more information, visit senacafe.com, or stop by 2170 Snyder Circle, suite 117.