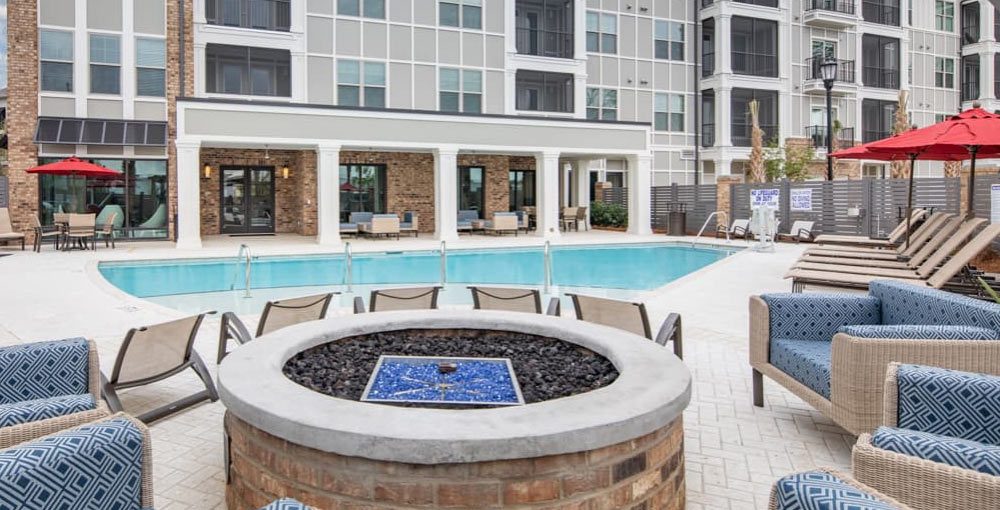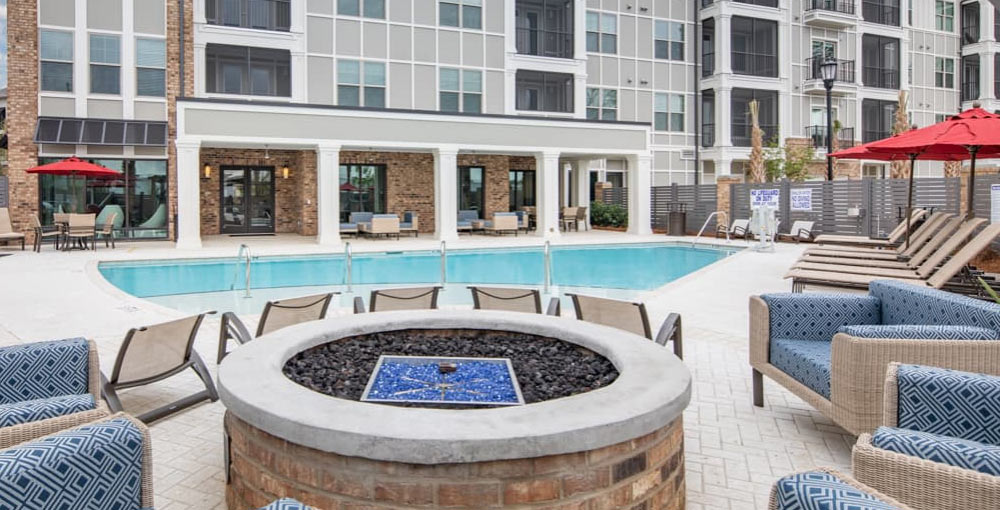 Located in the heart of Mount Pleasant with easy access to Hungryneck Boulevard, the 526 connector and Towne Centre, the luxury apartment .homes of 1201 Midtown are both convenient and stunning. 1201 Midtown is located not even 15 minutes from the Isle of Palms and Sullivan's Island and within walking or biking distance to multiple trails. It also boasts being one of the most pet-friendly complexes in the Charleston area. Despite all of these perks, what sets 1201 Midtown apart is its resident-first attitude.
The leadership team has worked hard to cultivate an environment that values its residents first and their fur babies second. The recent winner of the Best Pet-Friendly Apartment Community in Mount Pleasant, 1201 Midtown has a very inclusive pet policy. Residents may have up to two pets, and there are no weight or breed restrictions — a bonus for Lowcountry animal lovers. Guaranteed to be your pup's new favorite residence, 1201 Midtown boasts two enclosed dog parks where pets can be off-leash.
Spend your days enjoying other community features, which include two saltwater pools, two grilling areas, an indoor fitness center, outdoor gym space, a hammock garden and a firepit. Socially-distanced events, such as pet adopt-a-thons and regularly scheduled food trucks, make the property appealing if you're seeking a strong sense of community. The spacious seating areas, game room and fully-stocked coffee bar with plenty of open space to spread out within the large clubhouse also encourage safe socializing. Residents are able to keep up-to-date with community news and events through the monthly newsletter.
This accommodating attitude is reflected elsewhere as well. Residents can select flexible leases that range in length from 3 to 14 months, providing additional freedom to students or residents on the go. For individuals looking for a classic Southern feel, the complex offers multiple units in its Phase I buildings. It also recently opened its second phase that has a more modern feel. The Phase II buildings offer spacious 1, 2 and 3-bedroom units that feature desirable touches like gourmet kitchens with quartz countertops and stainless steel appliances.
Unit tours are available in three accommodating formats: completely virtual, self-guided or guided. The entire leasing process has shifted to a fully online experience for maximum ease and efficiency. The main office is open seven days a week, and there is an answering service available to take calls at night or in cases of emergencies. The management prides itself on the fact that the main office has stayed open throughout the pandemic, and their focus will remain on assisting residents any way they can.
If you are searching for beautiful features, thoughtful amenities and flexible options, 1201 Midtown is the perfect choice.
To obtain more information on 1201 Midtown, schedule a tour or begin a resident application, please stop by in person or visit their website, at maac.com/south-carolina/charleston/1201-midtown. The main office can also be reached at 843-606-4417.