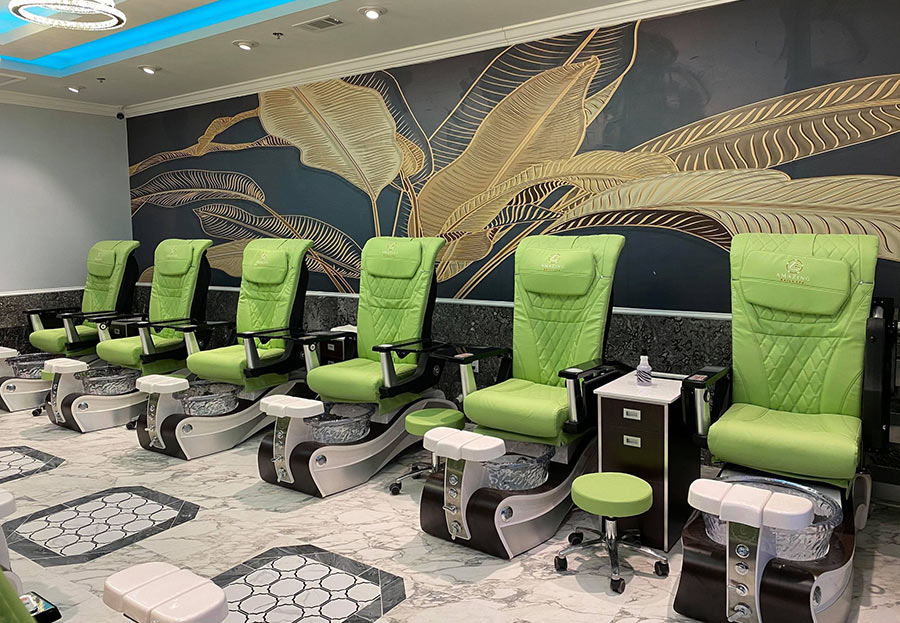 Businesses all over the country have had to reassess their routines during the COVID-19 pandemic to be able to continue to provide their services while keeping customers safe and healthy.
Amazing Nails Spa in Mount Pleasant prioritizes customer care, leading to a new system for keeping their pedicure stations clean. Typically, the spas for each pedicure machine are washed between uses to keep the area sanitary. But cleaning takes 10 to 20 minutes in order to be completely safe, and the jets may still be dirty, even after a thorough cleaning.
Instead, the team at Amazing Nails use disposable bubble jets, a new technology that allows the staff to dispose of the jets after every customer. This prevents any cross-contamination while still providing a relaxing spa for pedicures, and spa staff can spend their time with their clients.
"We have a high-end salon experience," said Kate Nguyen, co-owner of Amazing Nails. "Sometimes customers just want to check in and check out, but we want it to be more relaxing. That's how we treat our customers — we take time and have a quiet and relaxing space."
In addition to sanitizing all workspaces, Amazing Nails staff uses disposable pedicure kits. All manicure and pedicure stations are spaced out so that clients can stay six feet apart, and the salon provides face masks for any customers that don't have their own.
Throughout the pandemic, the salon has received plenty of support from the Mount Pleasant community. Owners Teddy and Kate Nguyen moved to the Charleston area from Columbia, choosing to live and start their business in Mount Pleasant due to the kind and supportive people in the area.
The feeling of community is brought into the salon with friendly staff members who take the time to make sure customers are completely satisfied with their service. The salon is even decorated with murals depicting Charleston scenes.
"We like the people in Mount Pleasant," said Nguyen "They're very kind. They're like our neighbors. This is a really nice area, and it makes you feel secure, and that's why we picked this place to live and work."
Amazing Nails offers services for people of all ages. Their services include a variety of manicures and pedicures, including jelly, collagen and CBD treatments, nail enhancements, face and body waxing, eyebrow and lash tinting, and many kid-friendly treatments. The salon has two pedicure rooms — one with 12 pedicure chairs and one VIP room with six chairs. They are open for events, and they welcome wedding parties, birthdays and other celebrations.