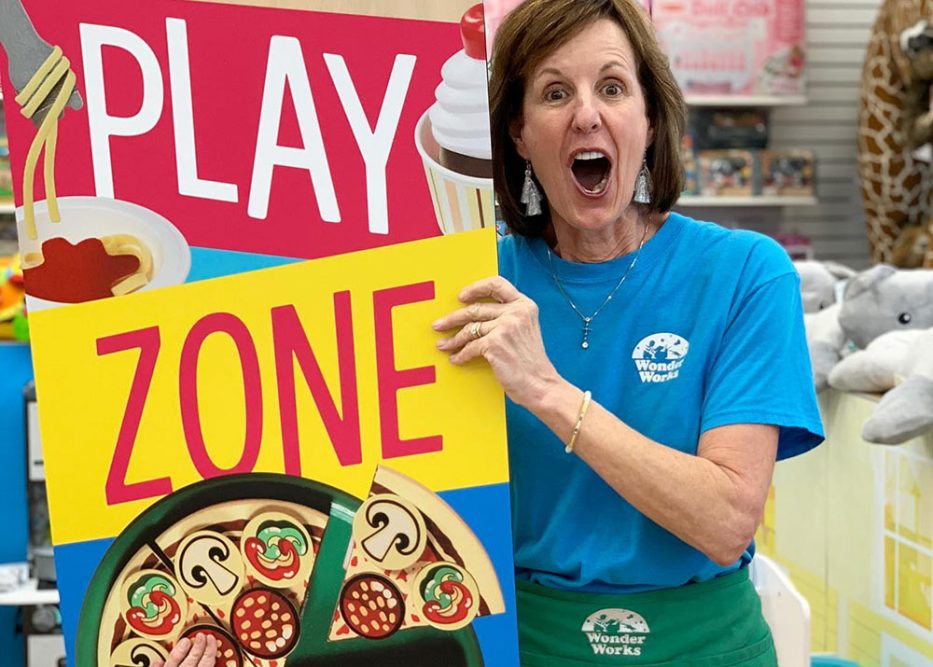 Christine Osborne, owner of Wonder Works Toys in Mount Pleasant, has worked hard to make her business more than a toy store. Customers come from near and far for its wonderful array of toys, games, puzzles and various other fun items for the young and old alike. But it is the warmth that emanates within the store and spreads across the community that makes it so unique.
"I wanted to honor my German immigrant parents," said Osborne, who opened her store with the late Dan Morrisey in 1990. "My parents were the most kind and giving human beings I've ever been around. They taught me that giving is much better than receiving. I want anyone that comes into our store to feel that sense of kindness and love. Mount Pleasant certainly is a wonderful place to make that happen."
With two children, four grandchildren and another on the way, Osborne feels fortunate to have been able to create something of lasting value for so many people. "If we are different from other stores, I think it is how hard we work to have the best and hottest toys, making sure that any child that walks into our shops looks up in amazement."
Osborne and her staff undertake numerous community outreach efforts, such as providing toys — not just a few but many — to children suffering from illnesses. "Bringing a smile to the face of a child in the hospital will make not only the child happy but also his or her parents and the doctors and nurses treating the child. It is the magical ripple effect of a toy," Osborne beamed.
Wonder Works provides a venue for child entrepreneurs, child musicians and singers, child authors and children's charities. Osborne herself and both business locations, in the Belle Hall shopping center and Charleston City Market, have won countless awards and recognitions based on the business' achievements and community involvement.
Osborne and Morrisey met while working together at Southern Pines Hospital from 1981 to 1990. After earning her degree from the Medical University of South Carolina, Osborne worked as an occupational therapist and marketing director. Morrisey helped open the hospital and served as hospital administrator. The two had a passion to start something new and exciting in their lives, and thus was born Wonder Works. Morrisey passed away in 2007 but remains an inspiration for those who knew him.
During COVID-19, Osborne and her staff soldiered on to make magic happen, adhering to masking and social distancing guidelines. "Magic makers" are led by Elizabeth "Schnookie" Royall Darby, a veteran toy expert who began volunteering at age 8 with her mother, who also worked at the store. Darby implemented a more efficient website and point-of-sale system and is instrumental in finding the latest quality items of the industry.
"The pandemic has also led to more adults coming in and getting puzzles and games they can enjoy with their children," noted Darby. "We also set up a virtual tour of the store on our website, where people can see what is on the shelves in each aisle and order for shipping, curbside pickup or delivery."
Osborne and her "wonderfuntastical" team are making sure the magic never stops at Wonder Works.
For more information on Wonder Works, visit wonderworkstoys.com, or call 843-849-6757.