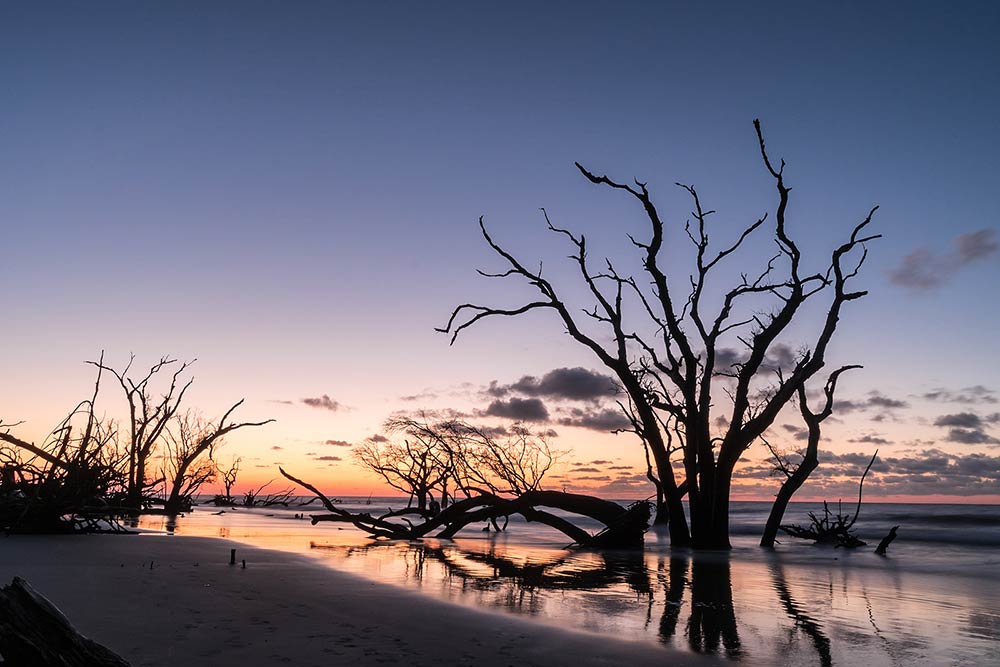 Whether you're the occasional weekend caster or an avid sportsman searching for a prime fishing spot, you can't do much better than the tidal creeks, salt marshes and surf surrounding Capers and Bulls Islands in autumn.
The unspoiled barrier islands, owned by the state and open to the public for daytime recreational use, are located in the 66,000-acre Cape Romain National Wildlife Refuge and accessible only by boat.
As the weather cools and water temperatures dip, it typically results in some excellent fishing here in the Lowcountry. Shane Ziegler, who captains fishing charters in the saltmarshes between Isle of Palms and Capers Island, called November "probably the best fishing month" for the Charleston area.
This time of year, the redfish school in the areas around Capers and Bulls. Once you hit a redfish school, "you catch one almost every cast," said Ziegler. "It's a ton of fun." In addition to abundant redfish, other common fish hauls might include sea trout and sharks.
Fishing the intracoastal waterway on a falling or outgoing tide is a good strategy during this time of year, according to Ziegler, who, along with his wife, Morgan, owns and manages Barrier Island Eco Tours, which offers various naturalist-led excursions to Capers.
The island has been eroding at a rate of approximately 15 feet a year since the 1800s, explained Ziegler — a deterioration which ironically has contributed to one of its most captivating features: boneyard beach, a graveyard of weathered, skeletal trees scattered across the sand. "It's kind of like a sculpture garden of dead trees on the beach," he mused.
This starkly beautiful landscape delivers an ancillary benefit from October to November, when fish teem in the surf at Capers. The surf fishing is particularly good at the northern and southern end of boneyard beach, said Ziegler.
He noted that cut mullet is the best bait to use right now for catching redfish, as there are still a lot of mullet around in November. Baiting with blue crab cut into quarters is another good option, while shrimp are great for catching black drum.
By November, you can also use artificial lures, such as a jighead with a plastic swimbait, as a successful bait. Ziegler recommended a Z-Man shrimp lure or a Zoom swimbait as a couple of different options, onto which you would typically put a fourth-ounce jighead. He also suggested the green and pink Electric Chicken as a solid all-around lure selection.
When booking a fishing charter to Capers or Bulls, you don't need any special permit, but if you're using your own private boat, a saltwater fishing license is required to fish from its beaches, advised Ziegler. For information on local saltwater fishing licenses, visit dnr.sc.gov/purchase.html.
By Colin McCandless