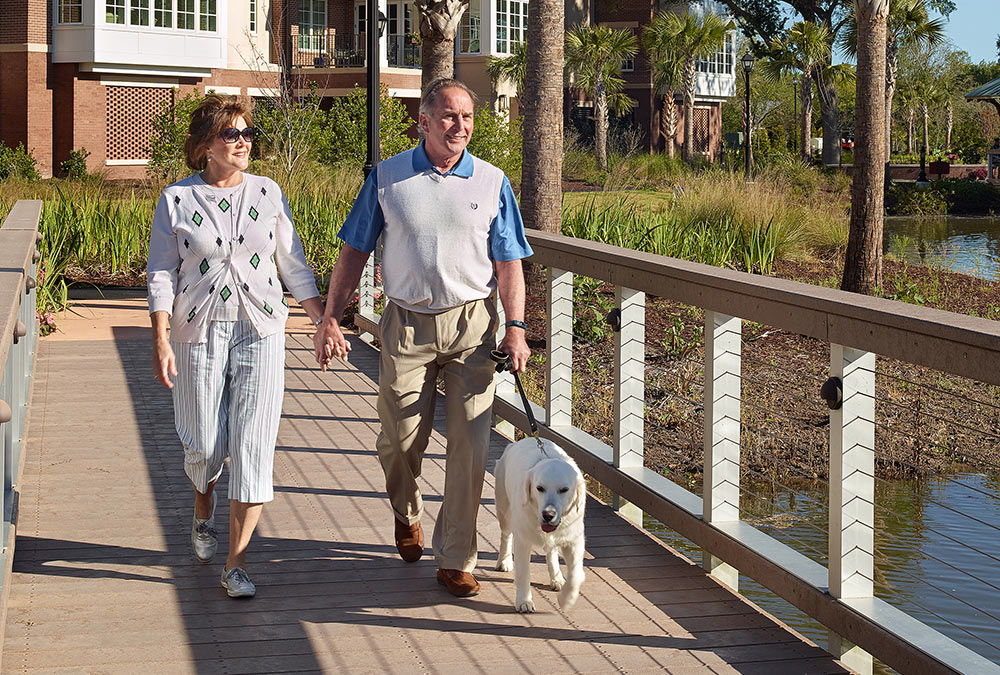 If you'd like to discover what's new at Bishop Gadsden Episcopal Retirement Community, the elegant senior living community on James Island, you may want to speak with Kimberly Borts, the community's director of charitable giving and communications. But be sure you have ample time on your hands. That's because Bishop Gadsden has a rich and unique history of leaning into the future to better serve its residents as well as the Charleston community, and Borts knows it well.
For example, Bishop Gadsden is making progress toward the construction of a new, 150,000-square-foot comprehensive health care and rehab center, set to open in early 2022. "Bishop Gadsden," Borts said, "is innovative and constantly advancing. We continually plan for what's next to meet the ever-changing interests of seniors who are looking to move into a lifestyle community."
According to Borts, the new health center will replace the current building, and that real estate will be repurposed to accommodate a proposed range of new activities: anything from a technology center and theaters to advanced training for Bishop Gadsden's team members.
When it opens, the new health center will afford residents "an even greater sense of hospitality than is already experienced at Bishop Gadsden," she noted. "The overall feel of the new building will be Lowcountry elegance, with an upbeat rehab/fitness gym for getting back on your feet. The high-tech equipment, colors and light will energize and invigorate everyone using it."
The new building will also bring residents closer to nature, as a result of its unique design featuring high ceilings and oversized windows for streaming sunlight and taking in vistas of the surrounding marshes and massive, old oak trees.
It will house an array of advanced workout and rehabilitation equipment and its own spa, offering massage, facials, manicures, pedicures and more. The popular saltwater swimming pool will remain accessible in the Trawick Commons.
Every floor of the two-story new building, which will include 32 memory care residences, 64 long-term care residences and 32 post-acute rehab residences, will feel unique and welcoming. The short-term rehab care will offer services rarely available in the area, allowing respite and a healthy return to one's home.
But after all that working out and the pampered pleasures at the spa, won't Bishop Gadsden's residents feel a little hungry?
"We kid amongst ourselves about the 'BG 15'," Borts mused. "That's akin to the fabled college 'Freshman 15.' Some of our residents and team members tend to gain a few pounds savoring our many dining options."
She added, "Perhaps that's because Charleston has such a vibrant culinary tradition, and we have been fortunate enough to dip into that pool of talent to offer our residents the best in everything, from casual meals to haute cuisine."
Bishop Gadsden has redesigned its café and formal dining areas throughout the community several times in recent years and offers numerous dining options for each.
There's much more to the Bishop Gadsden story, and either Borts, Director of Marketing Laura Wilson or any Bishop Gadsden team member would be happy to inform you about it all, even before that new health building officially opens.
For more information on Bishop Gadsden Episcopal Retirement Community, visit bishopgadsden.org, or call 800-373-2384.