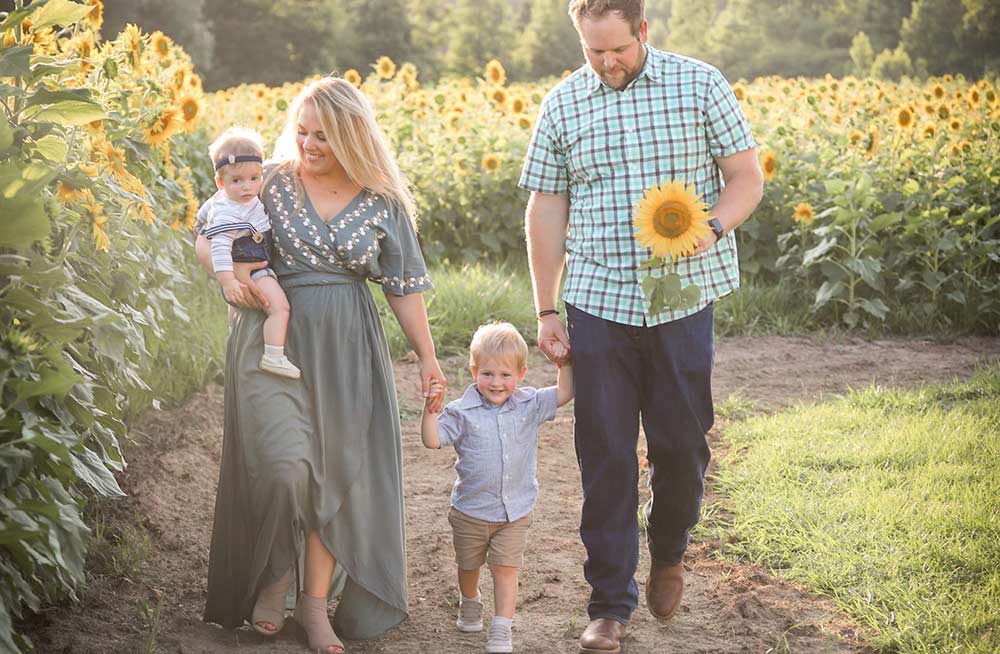 CJ Knighten, a devoted stay-at-home mother of two young boys, put her children down for bed and sat on her living room couch to relax after a long day. However, it was hard to do so with looming thoughts of her newborn son's inhibited hearing, a matter that had puzzled every doctor she had come across so far.
On a whim, she decided a quick Google search of his symptoms couldn't hurt. That "quick" search turned into a diagnosis and a lifelong research process no one could have foretold. "We didn't know that there were any concerns before, and now we have an entire list we need to worry about," Knighten said. "I didn't know my anxieties were real."
She diagnosed her own son, Hunter, with Treacher Collins Syndrome; a rare genetic disorder which affects the cheekbones, jaw, chin and ears. It occurs in about one in 50,000 people, and it can hinder hearing, eyesight and even breathing. Hunter's pediatrician explained to Knighten how doctors often go their entire careers without ever seeing this condition. Knighten and her husband, Drew, are thankful that Hunter's condition is mild, because if he had a severe case, the lack of a proper diagnosis could have put his life in danger.
Crawling became a struggle for Hunter later because he didn't have sounds to motivate him. What took Knighten five minutes on her phone could have saved Hunter two and a half months of missed crucial developmental milestones. "I raised flags," Knighten said. "I raised so many red flags. Testing did too. I know my job is to be the parent and advocate for my child."
When Hunter was born, the Knighten parents immediately noticed he didn't resemble his older brother, Jackson. As they peered down at the baby boy, they saw his ears appeared to be a little bit different and his eyes seemed slanted.
Knighten recalled a moment during the night when nurses came in to check up on her baby. Exhausted, she held Hunter as they put headgear on him to check his hearing. "It was a little traumatic for me," Knighten said. "I had to hold him while he had these things on his ears, and I just watched him for 30 minutes, failing his test."
The nurses said it happens to a lot of babies, and it might be water behind the ear from labor. But Hunter's failed hearing tests began to raise concerns as they continued in every followup.
After several ENT referrals and a ABR auditory brainstem response test, Knighten received a call from the doctor's office and a receptionist, explaining they didn't think they'd have answers for her and wishing her good luck. "I thought, 'Well, where should I go,'" Knighten recalled. "'Is there a problem? Why don't you have answers?' I [was] kind of shocked, like, I don't know what to do."
When her research brought her to the conclusion that Hunter had TCS, Knighten spent hours researching, then told her husband what she found. They cried all night and from then on, decided to advocate for Hunter every step of the way. She was able to make an appointment with MUSC's craniofacial clinic, where Hunter received an official diagnosis. The following two weeks were tearful yet comforting as they had a team at the hospital working on solutions for Hunter's specific needs. "Finding out my son has an entire team working with him was hard." Knighten said. "We had people from all different directions telling us what his future could hold."
Hunter's parents shared the news of his condition with their family and eventually with the world. Accounts under @the_extraordinary_hunt on TikTok and Instagram have almost 6,000 views, showing the happy baby just being himself. He's nine months old now, and, with the help of speech therapy and his bone conduction hearing aid, he has successfully mastered crawling and his recent first word: "Dada." Knighten said TCS isn't something she and her husband are frightened about anymore. They're just focusing on helping their son "live his best life."
"We get stares sometimes, and it's okay," Knighten admitted, holding back tears. "It's okay that other children are curious about what's on his head, and we're happy to answer questions. We know he looks different, and we think it's awesome because how boring would this world be if everybody was exactly the same?"
Knighten emphasized the importance of parents fighting for their child's health, and her advice is to follow their instincts. People can live their whole childhoods without a proper diagnosis of TCS, resulting in delays with education or prolonged breathing problems. Since Knighten and her husband shared Hunter's story with the world on social media, they've received around five direct messages from other parents, telling them they know their child has TCS, and they're unsure of what to do.
"The first thing I say is to love your baby," Knighten said. "Those first two weeks we were bombarded with so much knowledge on TCS, it became overwhelming, and we forgot for a quick second we had a newborn baby who just needed to be held and loved."
Knighten reminisced on their time with Hunter thus far and said having him in her life has opened her eyes to how beautiful everyone in this world is. She shared her thoughts that differences are beautiful, and we should all embrace them.