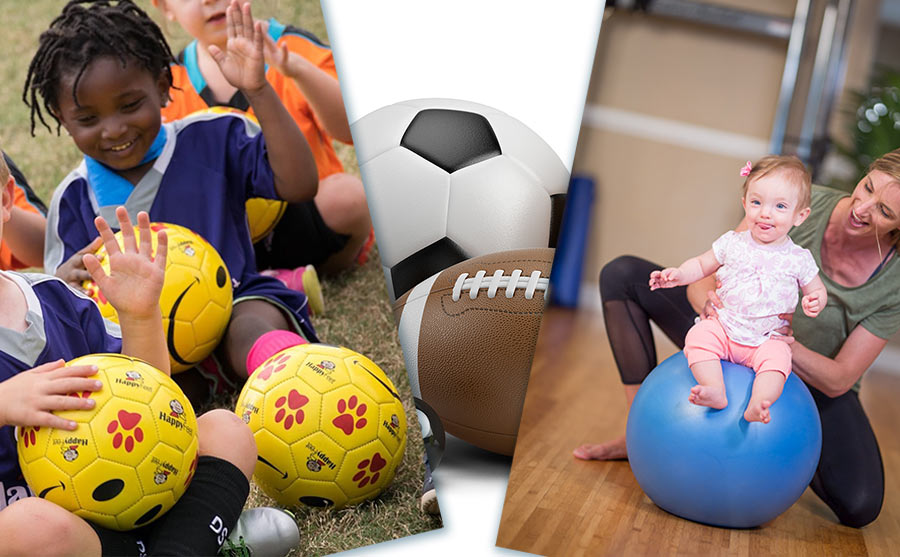 Most of us contemplate our own personal physical fitness goals and regimen in the new year, but it's not often that we extend this focus to our children. Keeping kids active is important for both the mental and physical health of their rapidly growing and developing minds and bodies. "We are talking about longevity of health here," said Jill Zimmerman, owner, physical therapist and personal trainer at Perfectly Fit Charleston. "Instilling healthy habits and physical skills will support and guide the development of these tiny humans as they become adults."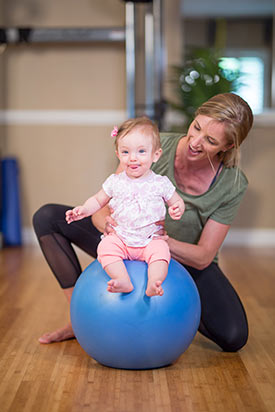 Krista Tilly, licensed marriage and family therapist associate at Life Resources in Mount Pleasant, addressed the current climate children are living in today and the unfortunate way this lifestyle generates stagnant children. "In homes and classrooms around the country, children are spending more and more time on screens and less time outdoors. It is well established that young children learn best through physical engagement and active play," Tilly pointed out.
"Children who spend the majority of their day sitting in front of television and various screens are developing unhealthy lifestyle habits that can have long-term impacts on their emotional and social development, in addition to the well-documented health ramifications associated with physical inactivity."
It's evident that the need for physical fitness is imperative, but many parents are unsure of what they can do to help foster this value and ensure the child carries it into adulthood. Tilly reminded us that "healthy exercise habits taught in childhood are likely to continue into adulthood," — but what captures and keeps the attention of a child is the incorporation of enjoyment. "More often than not, children love being active as long as the adult in charge makes it fun," she noted.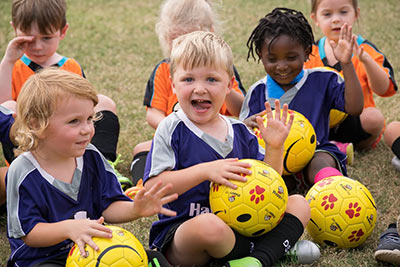 Owners, operators and soccer coaches of Happy Feet Charleston, Jackie Cooper and MJ Phillips are well-known throughout the Lowcountry for bringing fun and fitness to the field. Happy Feet is a youth soccer organization that offers classes, leagues and after-school programs for children ages two and up. Their motto is "Happy Feet — It's Not Just Soccer — It's FUN," and the staff members use songs, stories, adventures and games to turn conventional soccer methods into pure joy.
"Enjoyment is central to the concept of play and must be seen as one of the major priorities in early childhood activity," Phillips said. "As a motivational factor, there is possibly nothing greater than the enjoyment provided by the satisfaction of the play characteristic."
When a program like Happy Feet makes being active enjoyable, kids begin to see physical fitness as less of a chore and more of an activity that they truly look forward to. "Also, physical activity enhances mental health and helps children develop self esteem by helping them set goals and achieve them," Cooper added.
An equally important factor in keeping kids active is interested participation from mom and dad. "Do it with them," Zimmerman urged. "Kids want to know that you're on board with their activities. They want you to like it too." Parents often underestimate the role they play in their child's interest in activities, but "being a physically active role model means everything to a young child," Zimmerman reiterated, adding that demonstrating your own healthy relationship with physical fitness helps a child see value in strength and shape conditioning.
Tilly echoed this notion, adding: "In addition to reducing obesity through a more active lifestyle, exercise has tremendous benefits for our emotional health. Unfortunately, children at younger and younger ages are becoming increasingly concerned with issues around body image. Children take most of their cues from their environment — the adults around them, media and cultural cues."
That said, it's important that adults equip children with the ability to see the value in engaging in regular and consistent physical fitness in order to take care of their minds and bodies. "Body image should relate more to well-balanced physical and social activities versus the messaging of popular media," Tilly advised.
The responsibility ultimately falls on adults to frame fitness as a vital and important part of the day for the next generation. Health and wellness need to become as important to us as school and leisure to ensure our children will lead long and happy lives.